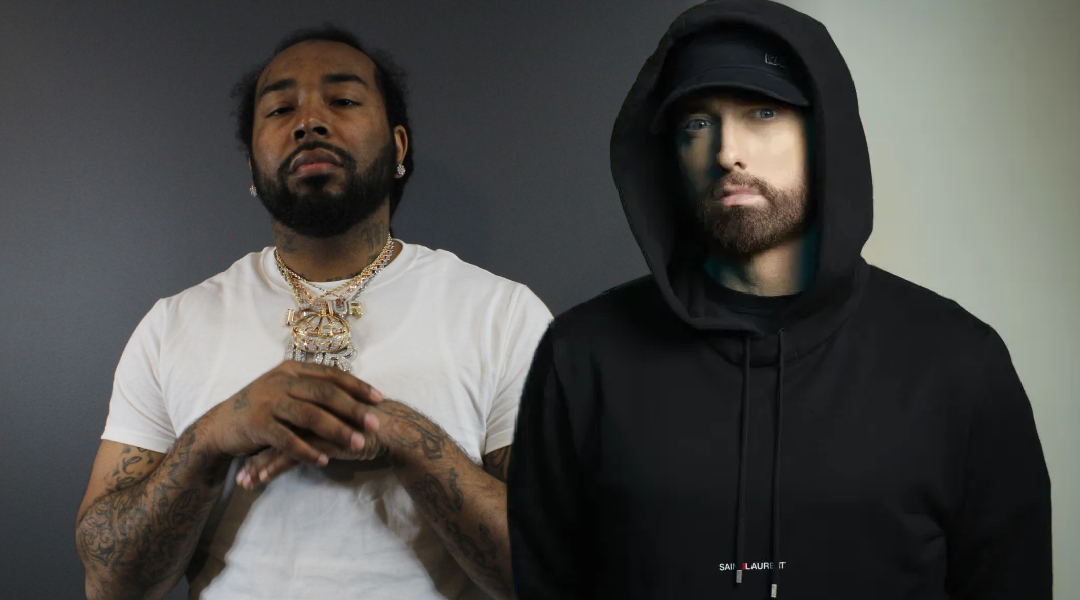 The story is back again. A Detroit rapper says that the young scene in the city wants more attention and support from Marshall.
A year ago Icewear Vezzo was talking about that and provoked a response from Royce 5'9, who offered his support to everybody and invited them to reach out if they feel they are in a bad place. So this time Vezzo shouts out and thanks Royce for showing his love. However, his feelings towards Eminem have not changed: he wants to hear from him, and he wants Em to get involved.
That much Vezzo said on the Breakfast Club show:
As a fan, I love Eminem music. I grew up listening to Eminem when I was a shorty. I got real love for Royce. He always shows us love, always supports us, he always shouts out. He does everything he can to help us out, he really do, I can't take that away from Royce. But shit, it is what it is. We don't know [Eminem]. We don't know homie, we don't know him at all. I don't know anybody that ever met him. Ever seen him. I think Royce and Em kinda get the impression that we feel like homes owes us something. But it's not that. Everything ain't always about a favour or money. I think they're taking it the wrong way. We're just saying, you are a legend, you are a GOAT, you are big! Bro, where are you? We want to see you! Can we get knowledge, can we get some motherfucking motivation, anything?! That's all we're asking for. We are not speaking from the standpoint of like, hey, bro you gotta sign us, you owe us some money. We're not saying it that way and I believe Royce and Em may be taking it that way. So it is a big misunderstanding.
Angela Yee reminded Vezzo about Sean's recent big cypher where Eminem laid down his verse side by side with young Detroit artists and Charlemagne joked about the danger of dissing the wrong people, hinting at a sad story of Tee Grizzley, who dissed Eminem without knowing the Em was thinking about working with him and lost a chance of a collab with the legend. Vezzo didn't look impressed by either:
I got love, everybody fuck with me. I got love for Sean, I got love for Tee Grizzley, I fuck with every artist from Detroit. We're just talking about Em. Yeah, I fuck with his music, but I don't know him. We don't know him. We ain't saying "come outside", either we ain't saying, hey, bro, come reach everything you built up, come in the middle of the hood!" Goddamn, we ain't saying that. I can't speak for everybody, I feel like that. [Eminem] is an icon. I idolised him at one point and I do think he's the greatest rapper of all time, at least one of them, and that's never gonna change. He have done a lot for the community, for the city of Detroit. Ain't nobody taking none of that away. We just saying, musically, we got a vibe right now. If I had a wave that Em had! I'd already embraced all young niggas coming up. I already do that and I ain't nowhere in that type of position, but I do that because it's a right thing. Because one conversation might keep a young nigga from crashing up. That's all it takes. It's just a little push, a little motivation. Any type of motivation can change a person's entire outlook on a self or their career. All it takes is to say, "Hey bro, I see you! Keep doing what you doing! You're doing the right thing!" You know what type of inspiration you gotta be for people who want that from you?! That means you are inspiring! You're really inspiring. Motherfuckers just want you to say, "Hey bro, keep going"! That's it!
This kind of expectation from a renowned recluse seems odd. And many fans feel like these grievances put Eminem in a position where he cannot do right. It would be physically impossible for him to keep feeling his Twitter feed with praises to all Detroit artists, he doesn't even have to like all of them. He keeps his eye on the scene and lifts up some, but it will never be enough, will it? Should he be a daddy for every rapper? His old friends do not think so. Royce talked about this attitude before:
You're assuming that he's somewhere in some far-off enchanted land bathing in the tears of other rappers and blowing his nose with hundred dollar bills like an evil white man misappropriating the culture. You assume that. It speaks to your ignorance, your immaturity and how reasonable that you even are willing to be to demand that he pull up. Pull up where? For what? What are we pulling up for?
Bizarre was even more direct talking about the divide between the young rappers' expectation and their own ability to come forward:
Man, a lot of y'all local rappers, I reached out to y'all personally myself and tried to hook up with you and vibe and build. A lot of y'all were acting Hollywood, like y'all were stars. Ain't even been outside the Detroit area code. But here's me, humble, an eight-million-records sold platinum recording artist. I've been around the whole world, been on the cover of Rolling Stone. But fuck that shit, none of that don't mean nothing. We Detroit rappers trying to stick together as a unit, but a lot of y'all rappers can't see that. […] These are same rappers who were saying that he wasn't even in Top 5 rappers in Detroit. Period. Why would he reach out to do a song with them? That ain't make no sense. We gotta start respecting our rappers. It was never like this when we was going up. Ain't no division. We all as one. You gotta start respecting Slum Village. Big Sean. Eminem. D12. Obie Trice. Danny Brown. All these rappers paved the way for the city, for y'all to be able to do what y'all do today. That's the bottom line.
What do you think about this tension that doesn't seem to go away? Should Eminem get more involved with a new generation of rappers and if yes, in what from and shape?