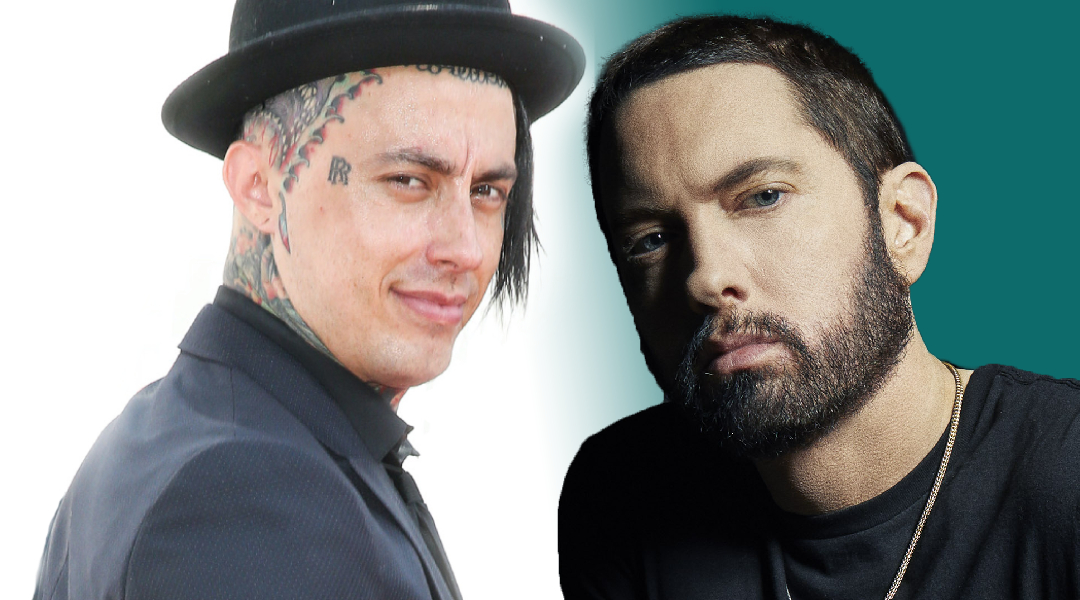 Founder and lead vocalist of Falling in Reverse, Ronnie Radke, twists together genres from post hardcore to metal rap. So it makes sense that Marshall has influenced Ronnie's style.
The former lead singer of Escape the Fate, who re-invented himself after serving time in jail, talked about it on DJ Whoo Kid's podcast recently.
I grew up listening to Dr. Dre, "The Chronic". Look at me, I know, it's crazy. But for reals, I had the tape from my dad. And then Eminem came out, and I was like, who the fuck is this?! I was like, whoa, dude, this is crazy for me. So I grew up on hip hop and rock, and I've been trying for years to make it new.

I love Royce 5'9! I love Bad Meets Evil. I'm talking "Dead Wrong" where Eminem did "There's several different levels to Devil worshipping / Horses' heads". Favourite Eminem verse? Probably, the one on "The Blueprint", where he murdered Jay-Z. "Renegade" with Jay-Z. "Since I'm in a position…" That was my favourite, for sure.
It is interesting that both verses mentioned by Ronnie are linked through the Bad Meets Evil music. "Renegade" is based on the original BME song titled "Renegades", and Em's verse on "Dead Wrong", Biggie's posthumous album, starts by referencing Royce's verse on "Renegades" again.
Also, lest we forget that Redke introduce his girlfriend, wrestling star Saraya, to Marshall's more obscure records, as she said in one of her recent interviews. She is a big Eminem fan herself.
Watch the interview with Ronnie Radke below: