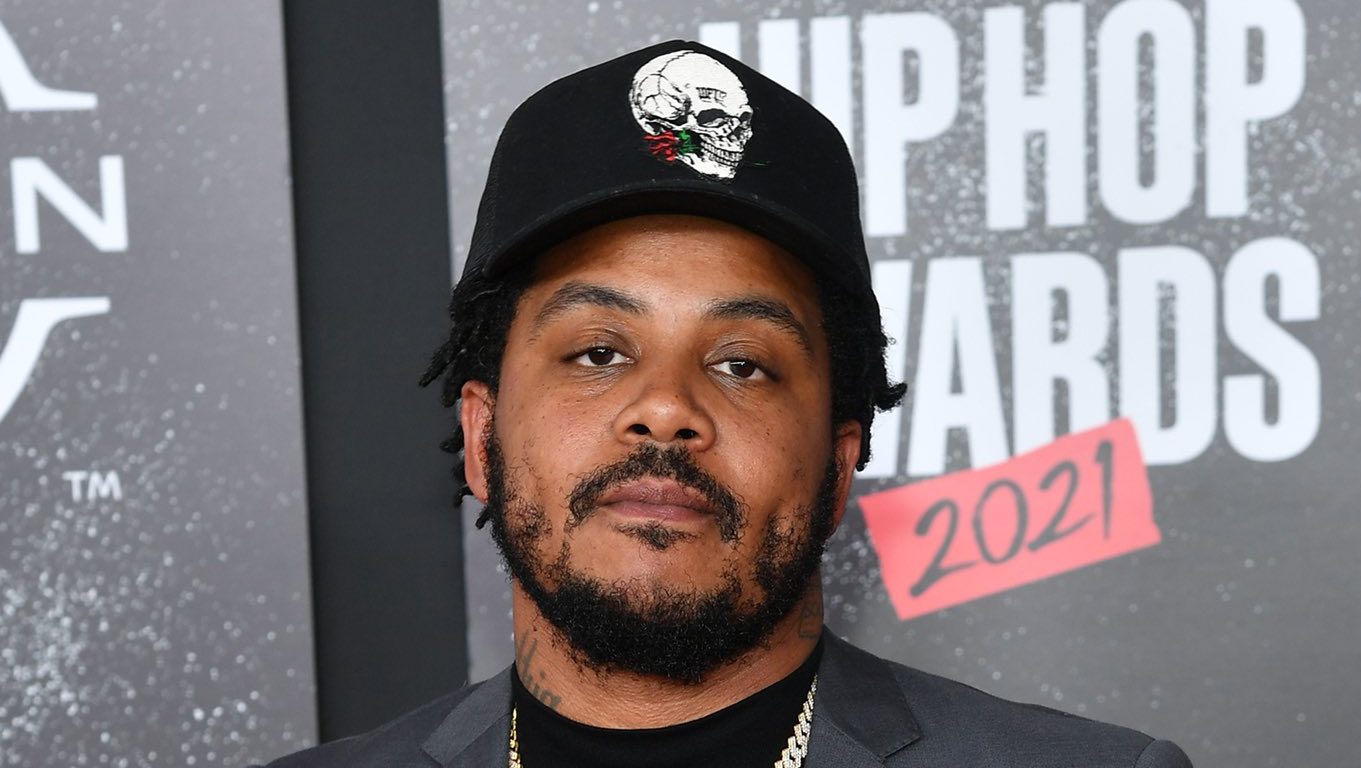 Everything is an experience for a true artist, and experience at the Rolling Loud festival gave Grip a new understanding of the value of his music.
Rolling Loud is a massive event with a line-up that not every music fan would be bothered to read in full. There are superstars printed in a big font, and there are up-and-coming artists shoved to a small stage at a weird timeslot.
The newest Shady Records signee Grip was not treated as a star by the festival organisers, and his set didn't have much chance of garnering a big audience. Grip, meanwhile, saw things differently and used the chance to connect with truly dedicated fans.
The Atlanta rapper then reflected on this experience in a Twitter thread addressed to his followers:
Performed at Rolling Loud this past weekend… I wasn't all that excited about it at first, I honestly think the homies and family were more hyped than I was. Had an early set time of 6:55, n#ggas bein n#ggas we made it to the stage at the last second. I had like 4 min before my set started and as I stood backstage looking out at the crowd of about 20-30 people I couldn't help but laugh at myself because this was exactly what I expected. So many other popular and seasoned acts that thousands of people travelled miles and miles to see and yet here I am about to go on stage watching waves of people rushing past my stage, nonetheless still happy to be there performing. I get a message on here from a lady who's son was in the crowd at the very front. She told me I was his favorite rapper and that she had been sick for quite sometime and that hun seeing me today meant so much to both of them, maybe take his mind off of things he faces on a daily worrying about his mom. The music starts, I go on stage rapn n shit and I automatically knew who the kid was without ever having seen him before. Dude literally rapped every line wit conviction. I spot a few more people that's goin bar for bar wit me, a few people running into the crowd to catch the set while rappin along to whatever song was playin. I stayed after to talk and take pics wit a few of them and I left truly inspired.

I say all this to say, alotta times we only see the top of the mountain, we so focused on that shit that we don't look around and appreciate our current surroundings and situations. Of course I wish it was thousands of people in the crowd goin crazy to my shit BUT those few that showed up and went hard for me means just as much, if not more. Just wanted to say I appreciate every fan, anyone that bump my shit and believe in me. Love yaw

Oh, and new music coming soon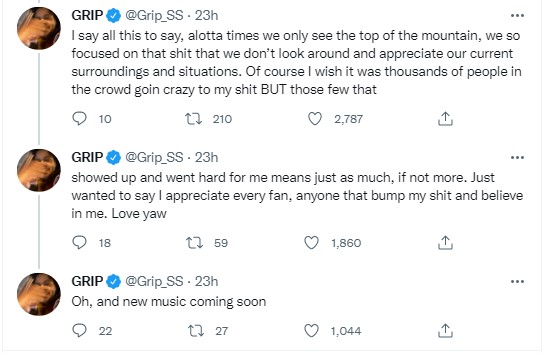 Down the thread a user shared a video from Grip's set.
Was walking by and had to show love! pic.twitter.com/yeJ9PxO1lu

— Coury 😱🔥 (@Officialcoury) July 28, 2022
It is evident how difficult it might be to perform for small numbers in big venues. So it only emphasises how deep Grip dissected the situation and how he turned a potentially upsetting event into an experience that reaffirms the value of his art.
Also, the guy in question posted his own feedback in this thread, and it puts things into the same perspective Grip was talking about:
This was the coolest moment of my life! Literally bought the Friday pass to see you. I'm thrilled that it meant a lot to you too. You made me and my momma day with this thread. Can't wait for the next time! pic.twitter.com/7lJ4WsHchv

— Elwood (@Borngki_B) July 27, 2022
Oh, and to get new music from Grip would be good. Seems like with this thread only he gained a lot of new followers who somehow missed his lyrical masterpiece "I Died For This!?", released on Shady Records in August 2021.
Listen to the album below: