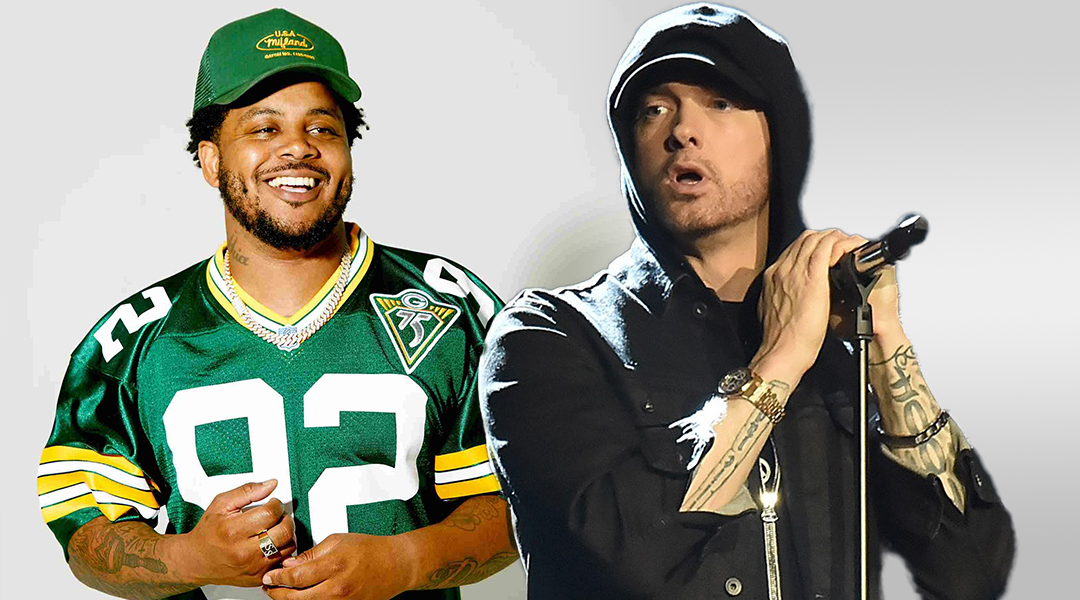 In his new interview Grip credits Shady Records for giving him creative control and discusses his chemistry with Eminem.
Grip sat down with Beats Per Minute to dive into the intricacies of his Shady Records debut album "I Died For This!?" and talk about people involved in its creation.
One of the early questions was the one about choosing Shady Records over other possible partnerships in the music business. Grip's answer was about music than business:
Well, they gave us creative control off the bat. And it was like… fuckin' with somebody who was like a hero, someone who was one of your childhood heroes, a fuckin' legend in this game that you're in. He's been there. He's done that. So it just felt like joining a family, joining the Shady family. They were very reasonable when we had our talks, and me and Tigg [Grip's manager] had an understanding of what we were getting ourselves into by the time we reached the decision. And…it's Eminem.
So I know Royce was the first guy from the Shady camp you met, did you know right away you wanted him on "Placebo", or how did that come about?
It was simple as I sent him somethin' one night, and he sent somethin' back. I wasn't even necessarily expecting him to send anything back, but ya know, Royce is, uh, [chuckles] a master lyricist, so he got it back quick as hell. It was like, 'Aww shit, bet, let's go!' That shit was like… some monster words. It was cool. I wasn't even necessarily expecting that, so it was dope for him to jump on that and body it.
Was it tempting to try and use the Shady label muscle to try and get big guests other than Em, or did you consciously stick with the crew you came up with? I'd love to hear you with Goodie Mob or 3Stacks [Editor's Note: André 3000].
Aw yeah, of course, 3Stacks, one can hope, one can wish. [Laughs] Hopefully one day, get that 3Stacks feature. But nah man, Em and Royce were the biggest names on there, everybody else was like folks that I know. I kinda wanted to keep it that way, not overextending, you know, when people still didn't even know who the fuck I am. Nobody knew who the fuck I was, so, it wasn't my time to try and get something that I couldn't get on my own. Just happy with what Em and Royce gave, I didn't feel like I needed too big of features or shit like that. Of course, I'd like to work with certain artists and shit like that, but, yeah.
So how did you decide which track you wanted Em on?
Once we knew that we could get an Eminem feature, we just made that song. And, yeah, I kind of made it with him in mind. That was literally it. I told Toon to cook up a beat, and he sent me a couple beats and that was the one. Went in and made a hook, talked about something I felt he could relate to and… he bodied it. It turned out crazy. I think we got good chemistry, I definitely wanna get on more tracks with him.
There are more interesting insights in the original interview. You can read it in full on the Beats Per Minute website.
Listen to Grip — "I Died For This!?" below: