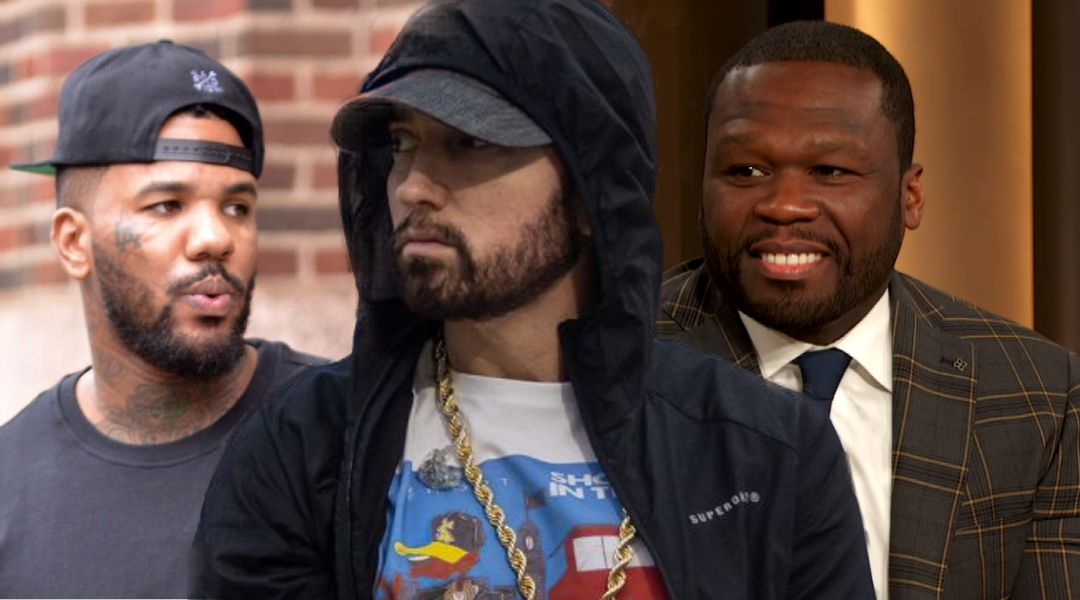 The Game is hyping up his yet unreleased album by staging a beef with Eminem.
From a statement on the Drink Champs to an already recorded diss titled "Black Slim Shady", it seems like an unexpected rivalry with Eminem is the main point of Game's pre-release strategy. His recent appearance on UPROXX's newest show, Fresh Pair allowed him to talk about his superiority over Marshall non-stop:
I always told myself, you are the best rapper in the world. When I say what I said about Em, it is to challenge him. To challenge hip-hop. To ignite a rap riot, not a street fight. Not to pull up the stress, but nigga, get up and rap! Let's rap! Because of me and Em's history, and me and Fifty's history, and Aftermath, and Shady, and Black Wall Street and all of that. And Eminem's career, and all the records that he sold when the records were selling. And the Interscope push. A lot of people don't understand, these buildings can push you to sell records even when you are not as great as you are. We know some wack ass rapper who sold a lot of records. We won't say any names, but whatever. They got Eminem put up here like he's that Rap God. But when dissected by myself, I don't feel like he's a better rapper than me.

For me to take a shot at Em like that, it doesn't sit well with people because to them, he's Rap God. And I just feel like, Rap God, where? At one point, I did. When I was signed to Aftermath, when I'm loyal. Interscope and Em's career had me thinking that he was better than everybody else. At one point in my career, I was thinking that Em was better than Jay just based off "Renegade" because The Source magazine said that Eminem got Jay on that verse. I thought that, and this shit stayed in my brain, and I thought that too. Until I became a vet, a legend in this game. Now, this Game today and Em today… Fuck "The Documentary", fuck every album I've ever put out up until this day. Fuck everything that you did. I don't care if you're richer, and I don't care if you got more plaques, and I don't care who thinks you are great, I'm better today, and if I'm not — get up and let's rap. Let's rap. All I wanna do is rap. I ain't come here to fight. You did it with MGK, why not doing with me? You did it with Mariah Carey, you did it with Nick Cannon.
At this point, presenters who could not insert a single word in this 3.26 long excited monologue broke down in laughter. But it gave Just Blaze, a producer who works with Jay-Z, Kendrick Lamar, Kanye West, Drake, Beyonce and Eminem, to ask a simple question, why on earth it should be Eminem on the other side of this empty beef? The answer was astonishingly simple and brought it back to old Game's wounds:
Because Fifty can't rap. So I gotta go a level up and challenge a better rapper. That's why. Not to take away from what Fifty's doing. He can see it, he can tweet it, but he knows I'm not gonna respond. He can go rap about it, but he gonna lose that battle. I watch his shows, I'm a fan of his shows, BMF was great. But I'm a rapper. He's a rapper, and I'm the better rapper. I'm not the better TV producer. I'm giving him his damn flowers while he can still smell them. But when it comes to rap, he can't outrap me. Your buddy can rap, though. Nobody takes shots at Eminem cause of the preconceived notion that he's better than everybody. Well, I want action. And I want it today! And if you are a rapper or Rap God, God controls everything, so control me. Put me down. Put me in my place, let me know, cause if he outraps me, I'm gonna feel like, shit, he got it!
That one-sided beef just went biblical.