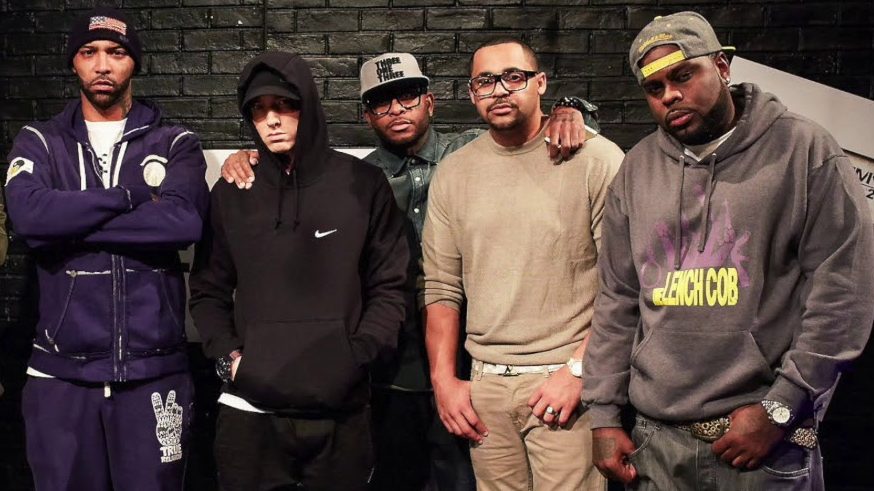 Slaughterhouse remains an important part of life for each band member and Royce does not believe that this project is in the past. He remains optimistic about coming together with his old friends.
That much he told Fat Joe before going into the story of how Slaughterhouse magic took him by surprise and against his own reluctance to participate.
Fat Joe: Will there ever be another Slaughterhouse [album]?

Royce da 5'9": That's a possibility. That's a possibility because we never broke up. We never broke up.

Fat Joe: You always remain friends and so you're saying, "Hey, if anybody wants to work, let's just go work".

Royce da 5'9": That's kind of how I feel. I feel like the first thing we should do is always make sure that we leave open the possibility of us coming together and doing work together. Because that's when we are at our best. It's just that at the very beginning there never was a plan for all of us to be in a group forever. All of us had solo goals that we wanted to reach, all of us had different visions for ourselves as solo artists prior to getting in a group with each other. We didn't realise that it was gonna go so far. We spent probably eight years straight with each other. We gave each other eight years of our lives but we never fell out, we never broke up or nothing like that. we had tons of disagreements but I think that's just part of being in the group.
Royce remembers how the Slaughterhouse journey started for them, unplanned and unexpected.
Royce da 5'9": How did that go? Joe reached out to me to get on the song with everybody on it. I remember because my daughter was being born that same day. I didn't like Joe back then, I didn't like that nigga. When he reached out to me I started not to do it. I started not to do it, then my manager was like, "Nah, man, you gotta". I was anti-industry back then, he was like, "Yo, man, you gotta come off your island for a minute. Just go ahead and give it a shot". So I said, all right. I left the hospital and I went laid the verse and I sent it back to him. And when he put the song out the internet loved it so much! I guess just because it was like a bunch of underground dudes who was just all about just lyrical supremacy. We wasn't really into nothing else but that. And I think it was just a time for that. And the people online started championing it so much that we just decided to just do more stuff together. And you know, one song led to another song, led to another song and Joe started whipping his camera out. He started recording it and then people started really loving the way we interacted with each other. Everything was just kind of falling in place. I'm like one of those universe hippie guys, you know. I don't like to chase things, I don't like to force things. If things seem like that they're falling into place – I go with it. That's basically what it was. Next thing I looked up we were doing "Rocket the Bells".

Fat Joe: It was just a natural thing, it just grew authentically. What happens when Joe Budden takes shots at Eminem? I've always wondered when I've heard him criticise Eminem, how do you feel about that? Being that he's in the group and that's your band. Do you ever feel a way about that or are you just saying "That's Joe being Joe"?

Royce da 5'9": Well, most of the time I say "That's Joe. He's just Joe". But that particular time… I couldn't help but be offended. It was when Joe was making his transition into journalism and I could tell as his friend that he was still trying to find his footing in journalism. But that wasn't enough for me to just let it go. So me and Joe have disagreed. We've had issues plenty of times, that was just one of those times that me and him just needed to speak. We just needed to talk about it. So we sat on the phone, we talked, we yelled, we cursed. We disagreed, we agreed and then finally the conversation ended with him apologising to me and telling me that he loved me and I accepted his apology and I told him that I loved him too.
Watch the video below: