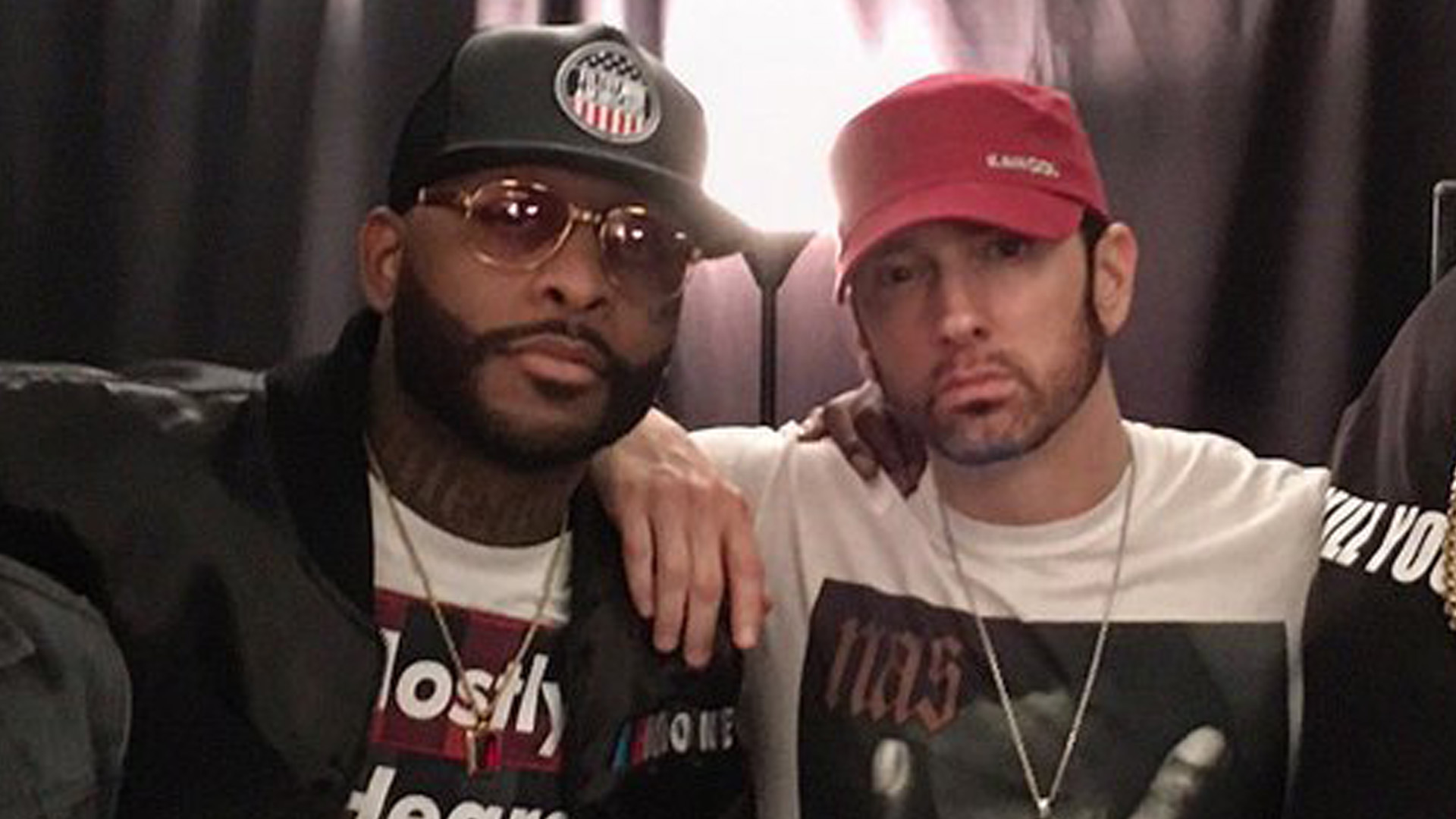 There are always new names on recent Eminem's albums. How does Marshall come in touch with producers and singers who are not in the spotlight? Royce has an answer.
Royce believes that his success does not give him a right to be unapproachable, but gives him a responsibility to help other artists to come to prominence. This is why we hear so often about connections he makes between different rappers.
This is a story about how producer Mike Zombie got on "These Demons" and the role Royce da 5'9 played in making it happen. Mike Zombie is not, of course, an unknown underground artist. He has in his portfolio tracks produced for Drake, Rick Ross, Meek Mill, Boogie, Wiz Khalifa, Lil Wayne and DJ Khaled. The record that really took it through to Eminem was Young M.A.'s Ep "Red Flu".
Young M.A. had an impressive feature on "Unaccomodating" from "Music To Be Murdered By", and Mike Zombie, the producer who works with her a lot, has his production credits on "These Demons" from "Music To Be Murdered By: Side B".
Marisa Mendez told Royce her side of the story of Mike Zombie getting in touch with Marshall and made a point of thanking Royce during her interview with Grammy-nominated Detroit artist:
Marisa: Em was doing Reddit and he said that "Red Flu" was his favourite of 2020 so far. And [Mike] Zombie produced like five out of seven tracks on that. An I was like, "Ohmigod, ohmigod, ohmigod, it means Em knows!". So I screenshot the tweet, what he said and sent it to Zomb. Like, "Broo, Em is captain, he knows you exist, we gotta get a record to him! What do we gotta do?" And then like, "Yo, Royce has always been like real-ass motherfucker. It can't hurt to try to hit Royce. I feel like he always takes care of people and makes sure they're good. So at the very list let's hit Royce and just see what happen". And Mike was like, "Yo, yes, Royce! He always bridges the gap". And he sent you a DM, you hit right back, you were like, "Yeah, for sure, I'll get him on the record". And when you hit back again, you said he wants the stems.
We had no idea that Em was working on the project, so I texted him like, "Yo, you did it! Holy shit!" Eminem released the album. He was like, "I'm hyperventilating".
Thank you, man. That was so real of you. You didn't have to do that. That's so amazing that you're made like that.

Royce da 5'9: I love doing stuff like that. I love manoeuvring in this business and just doing things that come naturally. I found out that people don't actually like doing stuff like that. That's part of success. You elevate in any way, shape, form or fashion. You owe! That's not free, you owe. You cannot just achieve something and take it home. You gotta give it back, back to the element. You have to. It's been so many times when something so simple and so easy, I would call up somebody and ask them to do something and they would be just like, "Spare me". I know how that feels. Some can develop some sort of bitterness towards the game and that would go to another level. You should not be complicit in that type of behaviour. If you have it – give it.
Watch the video below: