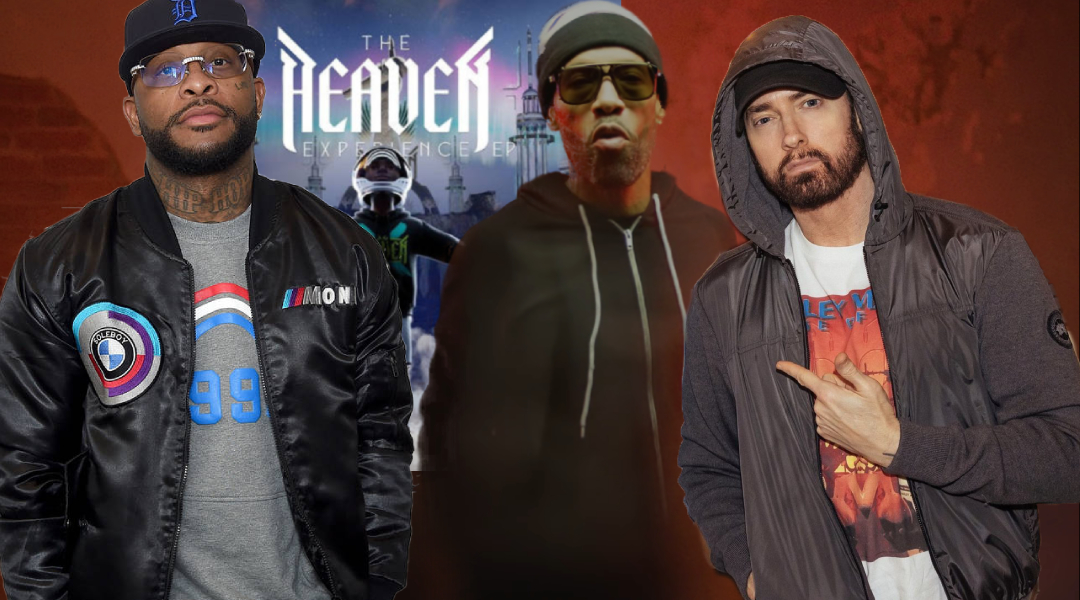 Three out of six songs on Royce's new project contain references to Marshall, from direct shout-outs to wordplay.
Royce mentioned Em twice. The first time, on "Look At This" when talking about the state of affairs in hip hop. It's not all critique, Royce names artists who he sees as the embodiment of ruthless hip hop spirit: "We're talking 2, Dre, or Eazy". Em's name comes up when Royce is rapping about the measurement of success he uses:
I'm still here, performing for millions, call me brilliant, call me resilient,
Whatever you want, just know that I ain't stop
Until I got the game in my side pocket.
No, I don't mean billions, I just hope Eminem know how I'm feelin'
Cause workin' with him is certainly an honour and privilege
First he got me my deal then when my label just dropped me,
I believe that was timing, Shady came back and signed me.
A similar sentiment Royce expresses on "Grown Ass Man" where he talks about dignity, integrity, and priorities. Noting that often a reputation in hip hop might be built on bragging, faking, and connections, Royce still believes that there are skills and credentials that are impossible to forge and that true artists pay attention to them:
This rap shit's designed to take all your confidence
The only genre you can fake all your accomplishments
Black music where calling you old is an insult
But if the same young rappers happen to show up at a Jay-Z or Eminem show
They still gotta show a credential
The next song on the EP is "Royce & Reggie" where Redman joins Nickle on the track. His Em reference is more playful yet still completely in line with his general attitude of awe and respect toward his younger fellow artist. Drawing a lyrical parallel between working out in a gym and building skills and artists in the recording lab, Redman spits the first lines:
It's Red, nigga, my bars up, I hit the gym
I see you walkin' in my shoes they're my old timbs,
And when you ignorant, nigga, media roll film
So here's a cut — I'm Dr. Dre and how I build Ems
There is no doubt that in the house of hip hop where these two masters live Emienm's presence cannot be ignored.
What's your opinion of Royce's new EP? Share it and if you found more references to Shady there hit us up.
Listen to Royce 5'9 – "The Heaven Experience" EP below: