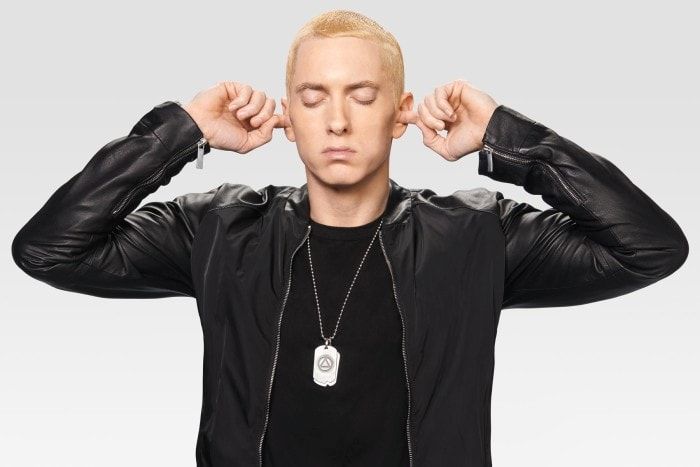 Since Apple Music became available you only have to pay $5-10 a month to get legal access to millions of tracks. I do not even remember when was the last time I tried to use torrents to download new music.
Here are some thoughts on hip hop leaks culture, the topic that became heated again after an unreleased Eminem's verse of "Bang" appeared online, the verse with lines where Eminem dissed Revolt and Joe Budden.
I am not going to present a history paper here but being a hip hop fan you should remember that unsolicited drops from unauthorised parties have always been a thing. Leaks are part of hip hop culture, the same way as fashion is part of this culture that changes along with changes in the genre. Remember Dj Clue, Envy and Dj Whoo Kid, who specialised in leaks and shared unreleased tracks from Biggie, Jay Z, Nas and other rap giants. Back then the Internet was not that deeply entrenched in our life. They got tracks from record studios and magazines that kept promo CDs sent for review.
Leaks are still here. A lot of interesting unreleased tracks and verses surface on the Internet. Many of them get there on purpose. Controlled leaks are beneficial for labels and artists. Let's take the "Revival" logo and track-list leak. The label just came to us and said "Go on". And we went for it, we posted the track list and this shit went viral, with tons of comments and feedback from fans. I think the label drew some conclusions, maybe adjusted the album promo campaign or made up their mind on what to choose to release as singles, or whatever. Same story with "Walk on Water", the first single of "Revival". The label requested to leak the info about a "big super star" featured on Em's track. And again, it provoked a reaction and feedback. We had no exact info about their identity, just knew that was someone very big – and it appeared to be Beyoncé. Let's talk about photos. These wonderful, never published before photos that come to the pages of EJ magazine straight from the cameras of famous photographers. Do you think they were meant for you? Of course not. But the liaisons that pass these photos over to us understand how we use them. Of course, there is an agreement like not to show imperfections on Eminem's skin when he is not wearing make up in photos, not to publish 100% original quality files etc. What about info leaks from producers that hint on upcoming albums? What about news? Many news stories that pop out at the same time with an official press release are the same managed leaks. Label liaisons send to media companies info, instructions on when and what can be published. Leaks are everywhere, it is just people in the streets do not know about it and this is how it should be.
Some leaks invoke more interest than others. Some leaks can damage a reputation, some can go unnoticed. Do you remember how the full version of "Things Get Worse" appeared online, the one where Em raps about Rihanna and Chris Brown? The backlash was strong enough to make Eminem's team to come up with an official statement. Meanwhile, recently surfaced "Cut Back" and "Hip-Hop" were met with little to none hype. At the same time "Nut Up" drew in enough people to crowdfund its purchase.
The recent leak of the unreleased Eminem's verse of "Bang" made a stir because there were some stings sent in the direction of Revolt and Joe Budden. However, it was Revolt that with their hypocritical and arrogant stance made this topic bigger than it was.
From a fan's perspective, leaks provide a lot of interesting information and emotions to a music lover. For instance, there were numerous tracks leaked from the unreleased album "King Mathers" or from the "Relapse" era. These tracks and the topics we hear on them are intertwined with other Em's work and it is incredibly interesting to trace. However, leaks were the only way we would ever be able to hear them.
From the perspective of the hip hop music media, news outlets cannot ignore leaks, cannot withhold information about them. This is not what our readers expect from us. Of course, there are certain personalities with a very strong opinion about unauthorised drops but we cannot keep others ignorant because of them. One leak brings a lot of topics to discuss – reactions of all parties involved, text analysis, cross-references with other Em's song, etc. It is a living chain of information.
I share the same opinion with many of our readers and fans – leaks of tracks and verses, especially those that were consciously withdrawn, are bad. Only, when it is on the Internet you cannot change it. It is not going anywhere, it is there forever. The Internet remembers everything, it is true. And since it is there, everybody, including media giants, will discuss it and spread it. And trying to stop this process is as effective as to mill the wind. However, everyone has a choice – to listen to leaked music or ignore it. This is a choice everyone can make but no one can impose on others.
We have never shared leaked tracks directly on social media and we are not about to start. We provide information, we write a story because in our line of work a leak is an important event. All news posts on our social media accounts look the same: a picture, a headline and a link to a full article. It is very easy to decide what to do if you personally despise the practice of leaking hip hop tracks. If you see a news story about a leak and do not want to hear it or know more: do not open the story. It is that simple.
Peace.
Celebrate The 10th Anniversary Of Eminem's Album "Recovery"
Do not forget to check out the EJ magazine issue #37 dedicated to the 10th anniversary of Eminem's Album "Recovery"
Download EJ (FREE!): PDF
ALL ISSUES: check it out
Support us: Facebook / Instagram / Twitter / YouTube / Reddit / Reddit Sub / Telegram