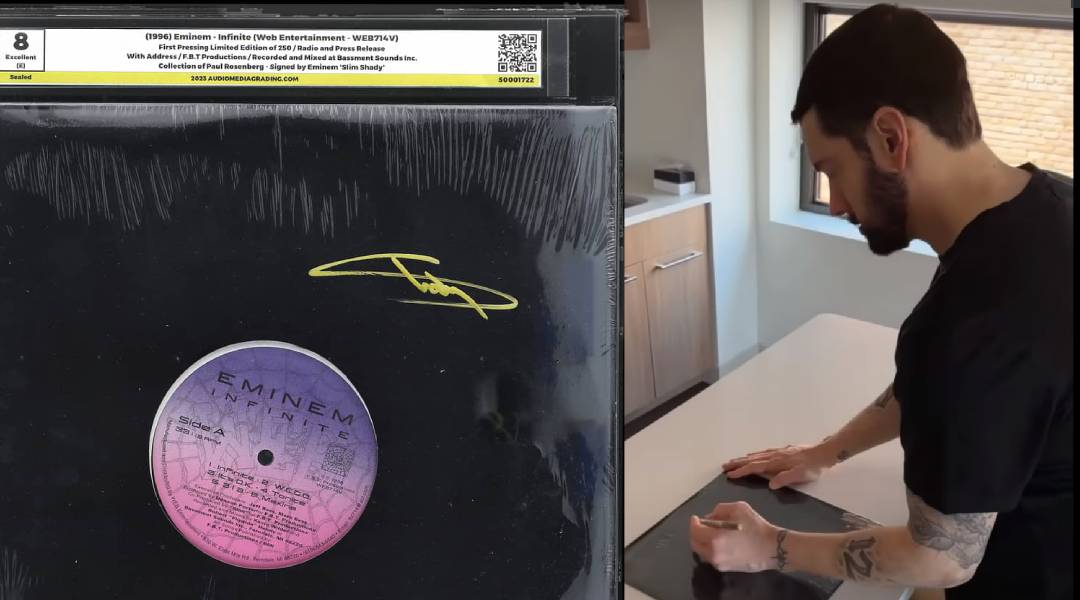 The auction ends Wednesday 9/13/2023 at 10 pm. After eight bids its price went up to over $51,000.
Marshall has signed the rarest vinyl copy of his debut album from Paul Rosenberg's personal collection to put on sale and get more money for his charitable foundation.
The first bid was $25,000,and for over a week it looked like nobody was ready to compete with this price. After that, however, bids had started climbing up until they reached the $43,000 mark. Which, together with the buyer's premium, amounts to $51,000.
Reminding about the closing, the auction official Instagram account gave a little bit more information on the item.
There's only two day's left for Eminem's autographed "Infinite" Album! It's at $51,000 with buyers premium at @goldinco, the auction ends Wednesday 9/13/2023 at 10 P.M. (Extended bidding is every 30 Minutes, if bids come after 10 pm). This album is sealed & signed, graded a 8 by our experts. This is the promotional copy with the "8 Mile" address on the label, straight from Paul Rosenberg's personal collection. This might be your only chance to acquire a album of this caliber, the link is in our bio!

Portions from this auction will go to the Marshall Mathers Foundation, helping at risk youth in the Detroit area

Artist: Eminem (@eminem)
Title : Infinite
Year: 1996
Label : Web Entertainment
Media : Sealed Promotional Vinyl signed by Eminem
Watch Eminem signing the copy below: