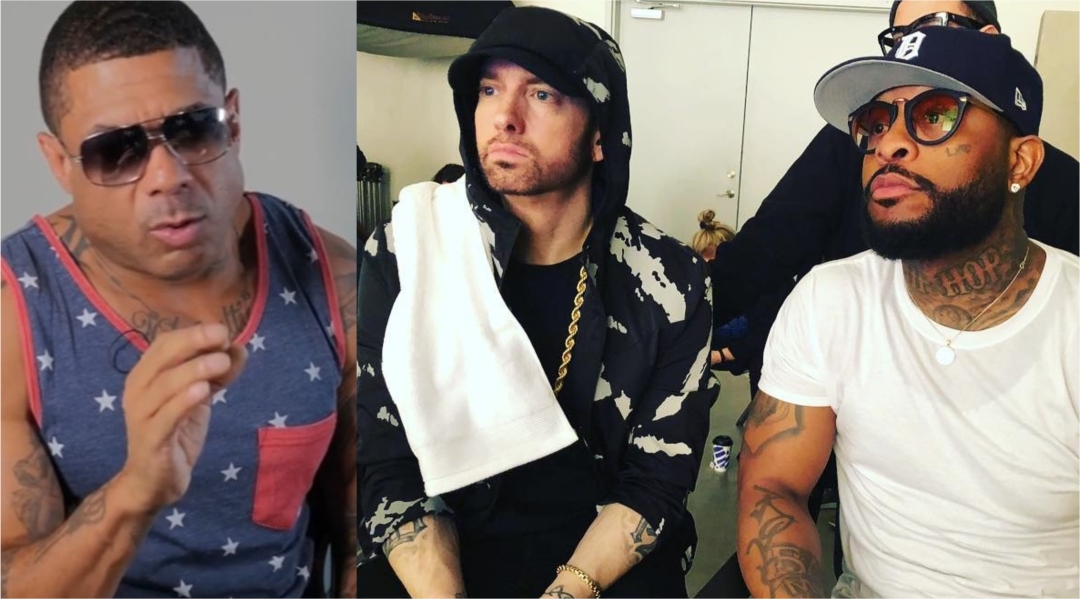 In the name of his beloved daughter Coi Leroy, Benzino publicly admits Eminem's superiority. But also in her name, he wants smoke with Royce da 5'9 now.
Not for the first time, but most recently, Benzino declared the end of his stale beef with Marshall. On his Twitter account, Benzino posted a statement:
To all @Eminem fans & Stans all over the world, the beef is officially over. I'm letting y'all know I have no hate towards any of his fans & recognize his contributions to Hip Hop. He truly is part of the culture & 1 of the best to rock the mic regardless of his color. 🤝🖤🤍
Now, in the interview on VladTV, he repeats it almost word by word. But he cannot resist the urge to swing at Eminem fans who have never stopped defending Em from Benzino's accusations:
Eminem's fans are probably the most disrespectful fans. But disrespectful in a way that they love their artist, and you know what? I understand. They come at me with stuff you couldn't imagine. It's been for years. When you come up the way I come up, you just don't take disrespect lightly. I tried to find ways to ignore it, but the only way I think I can put this to an end so it doesn't mess up my kid's career is if I say what I probably should have said a long time ago. I mean, is that Eminem is a part of hip hop. Eminem is a dope artist. And he is a part of hip hop regardless of what he might have said or done. People change. Who am I to judge.

The motivation was definitely Coy 'cause her album was dropping. She was like, "Dad, it's hard for me to have you around me because these same white people are coming to my shows, and they support me". I'm like, I don't know if they are the same white people. I don't know if Eminem's fans are your fans. And I'm trying to explain it to her. I don't know if you have to be worried about that. But if that's what you're saying, then I'm going to correct it.

It's not like I never liked Eminem songs. I like a bunch of his songs. It's not like he's disrespecting me. It's his fans. His fans are the worst. When it comes to defending him, they are disrespectful.
Benzino said that another motivation for squashing the beef was to stop the online abuse he was receiving. Apparently, he cannot distinguish between online trolls, online discussions and a street code. He tried to fight back every comment, and he could not do it anymore. However, says Benzino, his relationship with Stans has nothing to do with the substance of his message:
Everything I said was true. He is a part of hip hop culture. He is one of the best that ever to rock the mic. He's very lyrically talented. If that's what his fans needed to hear so that they can leave me alone, then so be it.
However, Benzino is not all Zen yet. He still has an axe to grind, this time against Royce da 5'9. And ironically, his daughter might be the cause of his new beef, just as he is the cause of stopping the previous one. Referring to a comment Royce made during one of Benzino's recent lapses into open hate towards Em, Benzino once again shows that he is ready to fight:
Royce said pretty nasty things about my daughter, and I'm hoping that he finds within himself to apologise. Because if he doesn't, when I see him, we're gonna have to have a man to man. A real man to man. Because I believe what he said was not warranted. I hope he sees me being a bigger man, and he can be a bigger man and apologise for the shit that he said about Coi. Because I took that seriously. I've been to Detroit a few times and hosted a few events. I'll be there on April 20. Hopefully, we can get face to face. It'll be in his best interest to apologise.
To remind, what was this disrespectful thing. At some point not that long ago, Benzino tried to fistfight Eminem or go on Verzuz against Royce, who even knows. In a frenzy, he called Royce Eminem's slave boy In this tweet, Royce responded and referred to Coi's Instagram photos that popular media like calling a "thirst trap". He suggested Benzino should focus on his life and his family instead of online wars:
I'm gon take your daughter to the park and let her ride the swings if you don't quit spending your whole day being a twitter goon. She pussy popping on a handstand on IG. Now go hug her and tell her she's beautiful before Drake or Trey Songz does.