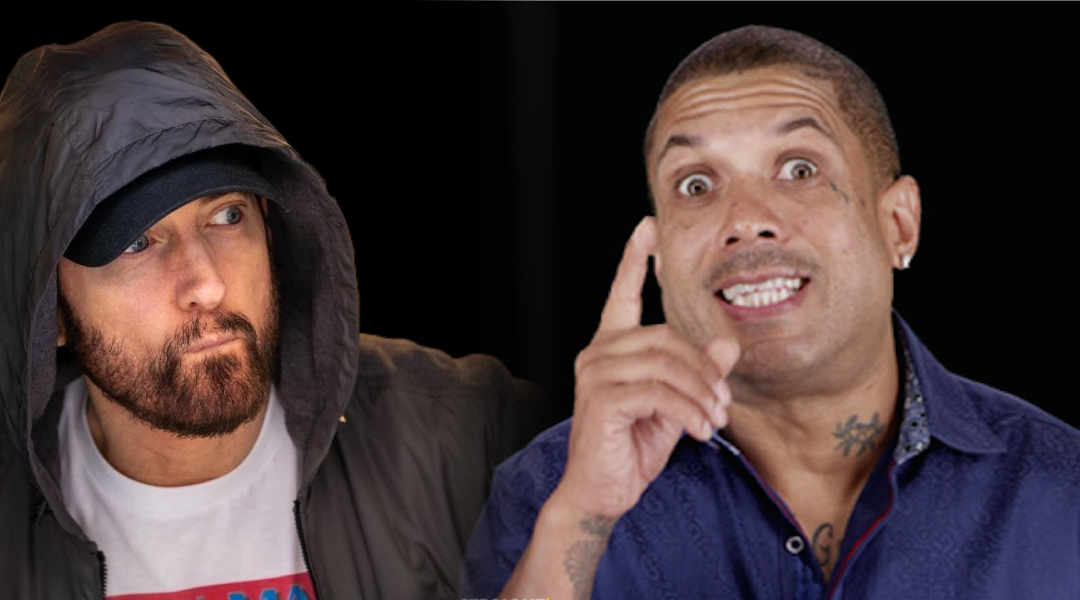 Former magazine editor and reality TV personality Benzino seems physically addicted to the clout. Right now, he is trying to keep up with at least three. Plus, getting back at swinging at Eminem.
A little over a month ago, Benzino publicly ended his beef with Eminem – in the name of his daughter's career success. In the unprecedented display of common sense, he tweeted:
To all Eminem fans and Stans all over the world, the beef is officially over. I am letting you all know I have no hate towards any of his fans and recognize his contributions to hip-hop. He truly is apart of the culture and one of the best to rock the mic regardless of his color.
It was not the first time Benzino offered peace, and many fans started betting on how long the truce would last this time.
Then, in the interview on VladTV, Zino repeated his peace declaration but signed off with threats to Royce 5'9. He demanded apologies for disrespect towards his daughter, up and coming artist Coi Leroy. The same daughter whose album sales prediction he was clowning on Twitter recently. He tried since to flip the narrative and even implied that they worked on a project together. Only for Coi to come, essentially call her daddy a liar and send him to chill.
At the same time, irked by 50 Cent, who posted some suspicious videos implying Zino's peculiar sexual habits, Benzino rushed into a new battle. He dropped another poorly delivered diss track. And back it up with another stream of online abuse towards Fifty. And, as of old habit, Eminem.
Zino employed his favourite trick when he called Eminem's friend his slaves. He also decided that it would be trendy to joke about the war in Ukraine:
and if his massa want smoke I'll knock him out too, Fvck slim shady, the only m&m I know is MADEMEN. It's time real nikkas rise again. They want war? Call me Zino Putin. oh yea and we don't do chicks wit dicks, that's a GGGG UNIT THING.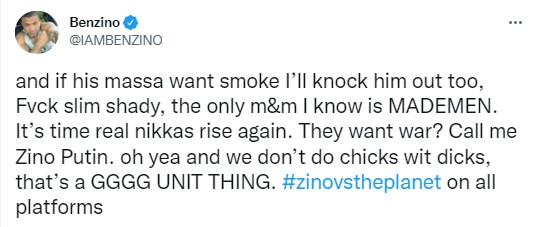 Also, in another tweet Benzino, as usual, offered his opponents a fist fight. He probably thinks he has better chances with his punches than with his punclines.
What is happening to this man, and when will he find help?