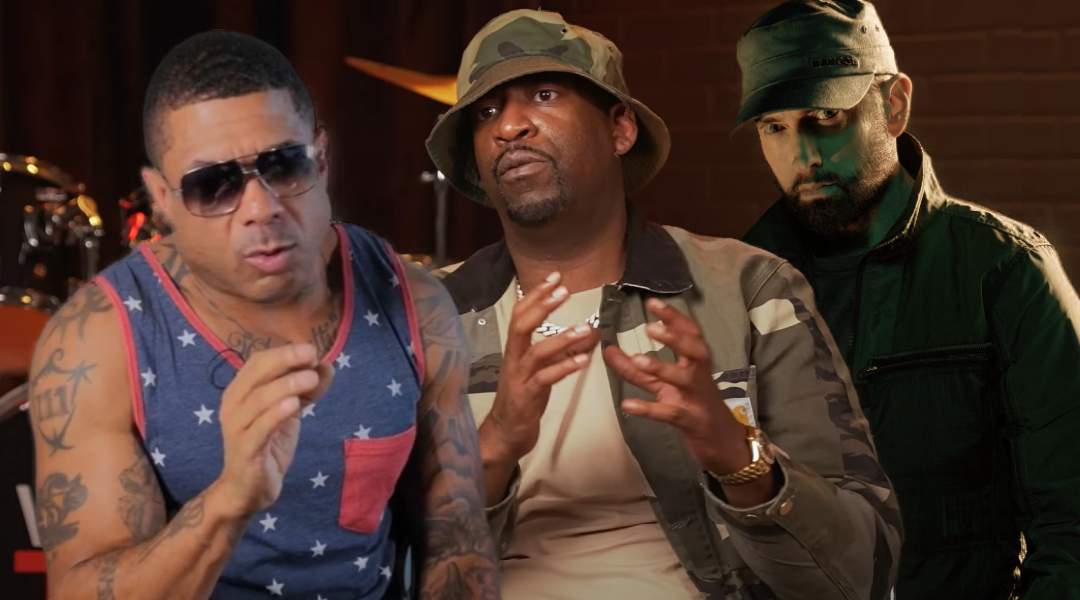 The G-Unit rapper is one of few people in hip hop who has never forgotten where his loyalty lies and doesn't disrespect artists who have helped him along the road. In his new interview, Tony remembers how he tried to press Benzino about his attack at the Shady camp.
VladTV uploaded another segment from an interview with Tony. This one starts with Tony Yayo turning a segue about the recent Marshall's Rock Hall induction into a full-size display of his respect and appreciation. He actually clapped when declaring:
Shout out to Eminem. One of the greatest. Shout out to Eminem. Always loved Eminem. A big accomplishment, one of the best MCs in the world. Shout out to Eminem. Give him his flowers while he's still here. He's always helped me in my career. He's on my first album. He wore a Free Yayo shirt at the Grammys. So, I'm always gonna show him respect and love and salute him as well as Dr. Dre and everybody who else built this legacy. As well as Jimmy Iovine too. Cause Jimmy Iovine was a genius. Eminem was a genius. Dr. Dre was a genius. And we all fell in line. I feel like that was the best deal ever.
But Tony agrees that some people just stubbornly refuse to see the truth. He remembers Benzino particularly vividly, with all his hatred and stubs at Black artists working with Em:
I feel like Eminem always got hated on. From, you know, Benzino and Source Magazine was big at that time, they were calling us "house niggas" and all kinds of shit back then. We were signed to Eminem. Colour never really meant nothing to me. I'm from New York. It's a melting pot of colour. I went to grade school and my first two friends were Ralphie and Frank Harveen. I say it again he was an Italian. I never seen colour. It was white, it was black, it was Indian, Jewish, Spanish, Haitian, Jamaican, Trinidadian, Guyanese, it was everything. So, I never felt that way. But Eminem… Nobody ever did anything for my career besides him and Fifty. He was doing Free Yayo while I was in jail, only for about two years, to keep my name alive. They started putting my name in the videos and Free Yayo shirt was selling. So, you know, I'm always gonna salute him. He's a man who sold 16 million records, hard copies, worldwide. That overseas fan base that G-Unit had! They be like, G-Unit is Louis Vuitton of Armenia! Or Louis Vuitton of Greece. Y'all Hermes of Dubai! All this clientele comes from Eminem. Because we can go out and do 40 thousand, Eminem can go out and do 80 thousand. 40 thousand is nothing. He could fill Detroit stadium. Being attached to Eminem was the best deal. Without Eminem and Dr. Dre we wouldn't have that much success. Eminem, Dr, Dre, Jimmy Iovine, Interscope, Shady, Aftermath – it was a fucking movement, that was just fucking unstoppable. And you've seen how Eminem singlehandedly took down The Source magazine. 'Cause Benzino was always just fucking mad. I don't know why but he was just always mad.

We've been called everything for being down with Eminem. House niggas, all kinds of shit! I remember me and my homies run down on Benzino in Miami. I think that was the year when Suge got shot. I was on my ignorant shit. We ran down on Benzino, me and my men, and I'm like, "Yo, why you always put me on magazine talking about Em like that?" He wasn't so, but he ain't backed down. And we was like, "Yo, we will give you a pass, you want it?" He was acting like he didn't want it. We was like, "You want it?" And he was like, "Yeah, I want the pass". But at the end of the day, that's old shit, go back and forth with the niggas online. I don't do that. But the beef between Benzino and Eminem, I don't know what it was. He was just always mad at Em. And I looked at it like, yo, this is a dude that's looking out for us. Fuck what colour he is. He can spit bars, he got platinum records, he's humble as fuck, he doesn't bother nobody. But once you say something about him or his daughter — it's a wrap, he's gonna rip your fucking head off lyrically. And that's what he did with "Nails In The Coffin". Ripped motherfuckers head off. That's what he's gonna do. Trust me, Eminem is a type of dude, he probably got diss records for everybody in the vault. You never know, he probably got diss records for me. He's one of them motherfuckers. Even though I would never disrespect him. But he's one of the motherfuckers who eat, sleep, and shit hip hop. One of the top MCs in the world. I don't give a fuck what colour he is. He did me a favour that he didn't have to!
The story resonates with Tony's recent remark he made on Math Hoffa's podcast, talking about ungrounded hatred towards Marshall.