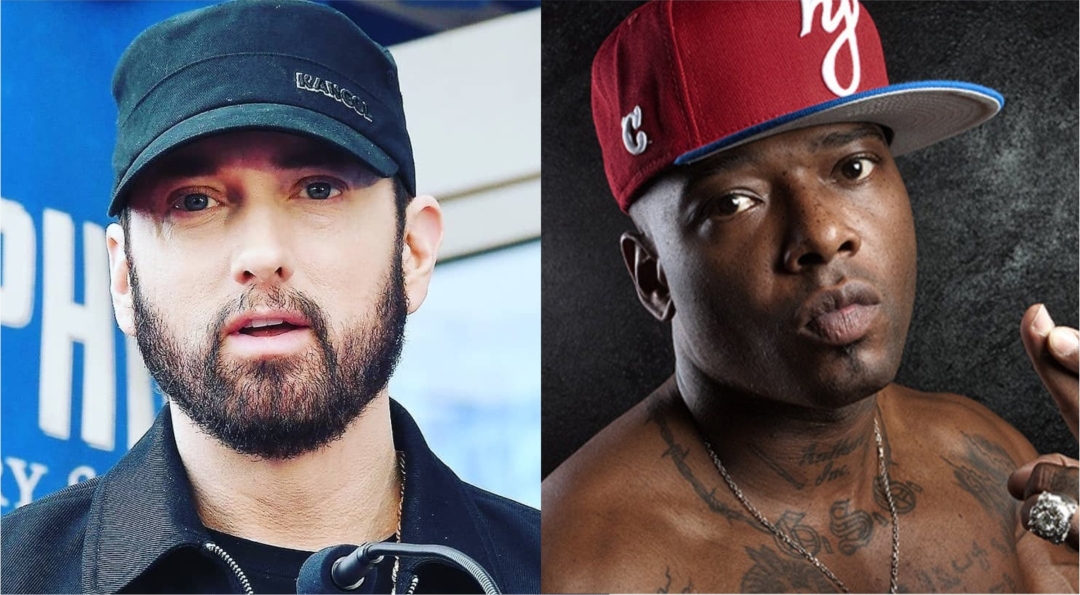 The Naughty by Nature rapper firmly believes that hip hop is celebrating its 50th anniversary because it has a rich and diverse culture that spreads beyond race. And Eminem elevated it to a stratosphere.
Treach discussed it on the Hip Hop XXIV podcast, and his enthusiasm for the culture was contagious:
I tell everybody that Eminem that's my light-skinned twin Slim Shady! Hats off to him, he's one of the greatest of all time, if we talk about GOATs, his lyrical prowess, his consistency throughout the years — no matter what he's been going through personally, he always comes out on top. Still comes out and gives that music, supplies the fans with that real live musical dope. It's no one like him, and it's gonna be no one like him for decades and maybe ever. And to make such a dip in the culture in a positive way as him. Hats off to him always, and I hope he just never stops. Because the way I was inspirational to him, he's inspirational to me. When I hear him, I go and start writing all over again. Even though I ain't stopped, I'll just write more.

Basically, hip hop was a Black man's sport in the white man's world. That's why Eminem was getting so much flack because he was white until he opened his mouth. And the skills took over all the doubts, all nay-sayers. He elevated the hip hop culture to a stratosphere that it would never have reached if it was a black person's music. It was pigeonholed to being a Black person's culture or music genre. Right now, he is one of the reasons why we have 50 years of hip hop coming up. Because when we came out, when our originals came out, from Melly Mel, Furious Five, Run DMC, and LL — they all heard, "You know, hip hop is only gonna be here for about five more years". It was 50 years ago… This is the beauty of the culture. It wasn't just mine, it was ours. It wasn't just for Black people. Blacks and Hispanics started the hip hop, and don't get it twisted, whites were there too. The first female I ever heard rapping on a record was Blondie. What was a genius even with Def Jam, they knew that it could be some racial tensions with white groups. So when Beastie Boys came out, they didn't even have their pictures on the album cover. And when you heard the music, you fell in love with the music. So by the time you found they were white, your hate was erased. Like, I don't care what their skin colour is, this shit right here is a bomb! Then Eminem came in, but he still had to kick the door open. So they knew that hip hop culture is multicultural and everybody is a part of it, no matter what your background, no matter what your race, come up in here. If you make great music, you are doing nothing but advancing the culture.
The host reminded Treach about his plans to release a solo album on Shady Records. In February 2021, Treach said it was the only label he would consider signing to. So, are there any new developments? No, Treach says. He doesn't really talk business with Eminem and believes that whatever has to happen happens without sweating it:
I only want to be on a label with somebody that had the mutual respect I have, loved me, loved the talent, knew what I was about. I feel like if I put out a project, Shady would take it to a level like it was his own. We spoke many times, but we never spoke business. It was always an admiration. I always believed that everything is god's plan and happens at the right time. Whenever that day comes, if it comes, it's gonna be a beautiful thing. If it doesn't, I never gonna be mad with him. Just him saying how much he admired me, you don't know how many doors he opened for me. He don't have to do nothing, he don't have to sign, he don't have to be on a record with me, none of that. He shouted me out and gave me so much love, he did wonders for me that people could never even understand or never even match. I'm actually in debt to him. He don't even understand how much he did for me. And I love him for that. I love him forever.
Watch the fragment of the Hip Hop XXIV Treach episode below: