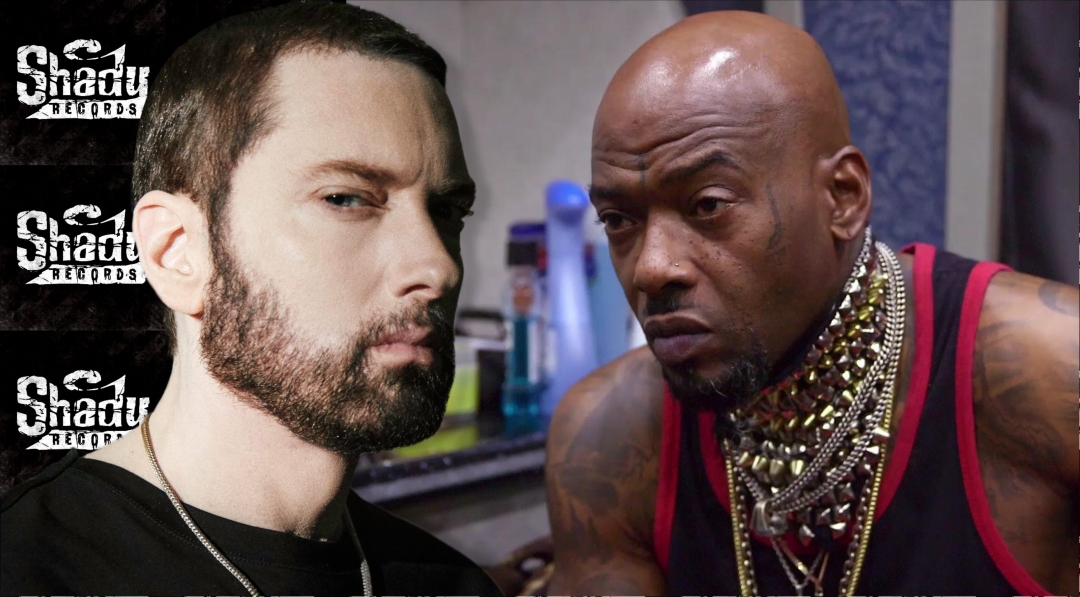 Recently Naughty By Nature MC announced that he would like to get Eminem on his solo album. Now stakes are even higher.
Treach was on Shade45's VIP Saturdays with Superstar Jay, when he answered the question of how it felt to hear Eminem saying that he was the reason Em started to rap. The response was fast and simple:
Amazing, amazing. When we were in the game to come out hip hop was a culture. Even if you ain't coming out rapping, you was DJ-ing, breakdancing, doing graffiti, you was doing something. We know our legends – Run DMC, LL Cool J, Public Enemy, Slick Rick, — these are idols. So when you have one of the hottest to do it and come up and he gives you your props, it sounds amazing. I call him my light-skinned twin right there. Nobody can tell you "Eminem was a white boy, he came out because he wrote all the white folks stuff"… No, no, no, no, no.
However, that was a segue to a bigger announcement. Treach's solo album that he said was in the making, can only happen if Marshall gets seriously involved in its creation:
This is what I'mma tell you. My bro-bro been calling me out and giving me props for a while. I'm telling y'all something. Never in my career ever have I did a solo album. But I've got catalogues for years. I want to release it but I ain't gonna release it to nobody unless Em put it out. He called me out, now I'mma call him out. Never done, never even attempted to do a solo album. I've got heat rocks. And the only one to put it out, the only one I trust to do it with labels and all the rest of that, it's somebody who really got love for me and it'll only go through him.
So if he want the offer he got it, if he don't — y'all will never hear the solo album from me.
Superstar Jay had to make this clear and asked Treach directly if he meant that he was looking to sign a record deal with Shady Records? Yes, says Treach:
In a minute. In a heartbeat. It will also be first time you hear me and him on a record cause you know Em gonna be all on the album.
Admittedly, it complicates things more than just getting Eminem on a verse. The record deal, a distribution, sample clearing, schedule and what not. On the other hand, it is a historic opportunity to connect two generations on one record. Let's hope that Shady Records management will hear Treach's offer and will react faster than they do with album certifications.
Watch the video below:
Full interview: