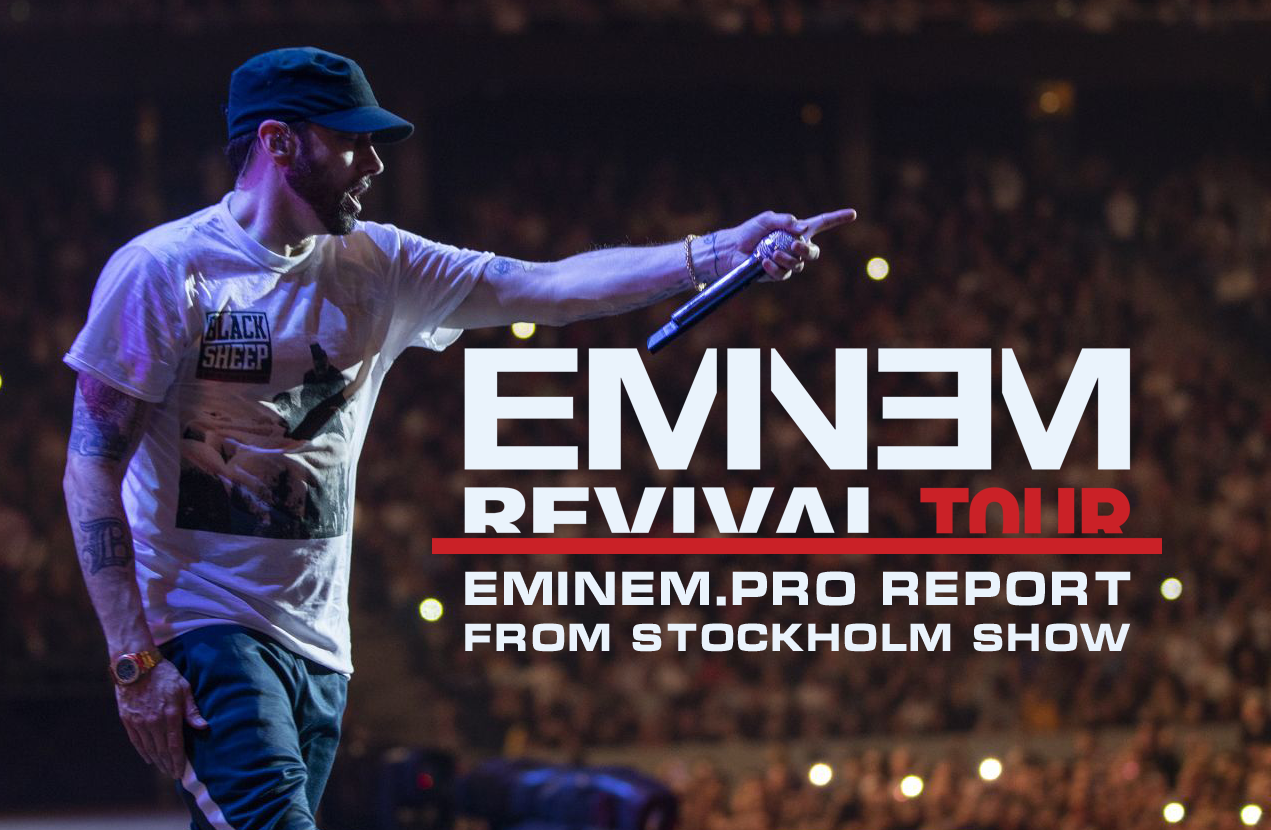 In July we went on Eminem's Revival Tour and prepared an exlusive report from the concert in Stockhom.
Recently I've been lucky enough to visit several Eminem's Revival tour concerts. Marshall's shows are always epic and they give you a lot of things to think about. If only you could see the WhatsApp and Telegram chats of the part of our staff that took part in the journey, even now, 4 weeks later, we can't stop talking about our impressions. It's a perfect demonstration of the level of emotion his performance leaves behind.
One of the most incredible Eminem shows I've been to was his concert in Stockholm, which took place at the "Friends Arena" on July 2nd. If you want to know why — read my full review.
My friends keep wondering: "Why do you go to shows of the same artists so often? The performances are the same". After going to dozens of shows and festivals I can say for sure — that's not true! Each concert is unique and leaves tons of great memories.
I had the chance to visit Eminem's show back in the time of his "Recovery" album, when the giant E-shaped trampolines were on the stage, then his MMLP2 shows with the enormous boombox, and now the Revival tour concerts. None of them can be compared. They are completely different: from set-lists to dialogues. They have only one thing in common: every time Marshall gives his all and displays an unforgettable performance to his fans.
Must go
January 21st, Russia. When numerous European sources announced Eminem's upcoming Revival tour, the first thought was: "Must go". We just needed an official announcement from Em to start planning and packing for a new journey. The announcement followed shortly.
We were eager to visit the shows in Italy and London, but that plan failed. So the next big thing was to visit his concerts in Germany and the Netherlands.
"He's got a date on my Birthday! How about Stockholm?" I don't know who's idea was to go to Sweden to see Eminem, but the show turned out to be one of the best and most memorable for me.
Ticket sales started on February 2nd at 10 a.m. (GMT +3), and, based on my previous experience, I expected them to sell out in a blink of an eye. I was f___ing right! Constant refreshing of Ticketmaster page didn't help — no tickets. I was a bit upset, but, hey, better luck next time!
About the same time Netherlands ticket sales started, and booking them was no problem. Later I've decided to check Ticketmaster once again, and what did I see? "Eminem VIP" tickets to the concert in Stockholm!
Although I had no problem of getting it, I've never treated myself with VIP-access, except for a few times I got these tickets as a present. I have always preferred the standard admission tickets, to come earlier, to be first in line and eventually to be in the first row.
But this time I had no choice, so I bought VIP tickets. The fact that our tickets granted us an early entrance, of course, made us happy. A week prior to the concert we received letters from organizers, which contained a detailed description the code of conduct during shows, instructions about using early access and information about receiving gifts from Eminem.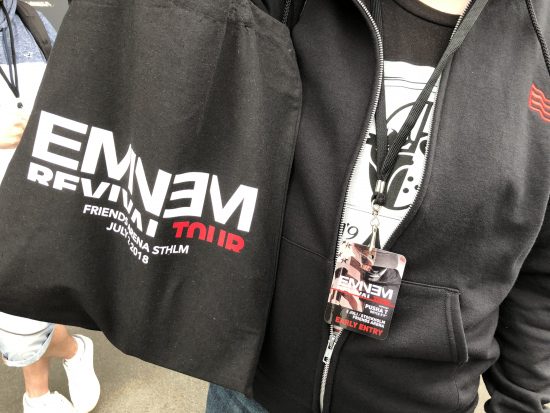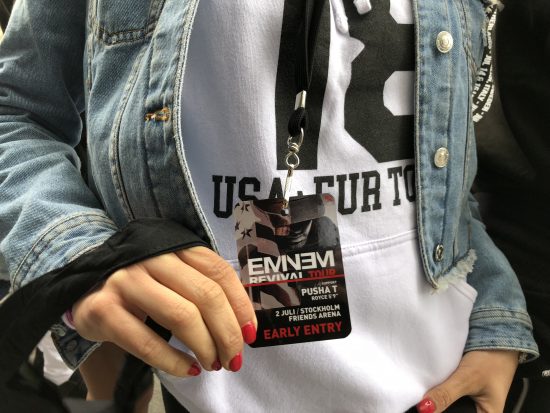 VIP access. It's not that easy!
Sweden, July 2nd. Because our tickets granted us an early access to the Golden Circle zone, the closest to the stage, we've decided not to come too early, and showed up 2 hours prior. Before the concert we took a walk around the old city of Stockholm and visited the library. Only insane Eminem fans would visit a library before the show 🙂 Off topic I must say that the Stockholm library is a stunning place, so be sure to check it out if you have a chance.
At noon we were in a line with 4 more people, all with VIP tickets. We got to know each other a bit, it's usually the only way to entertain yourself during the long wait. Two more girls arrived, and we all shared numbers. Guys with general admission tickets were in a different line, and when we arrived it already grew huge.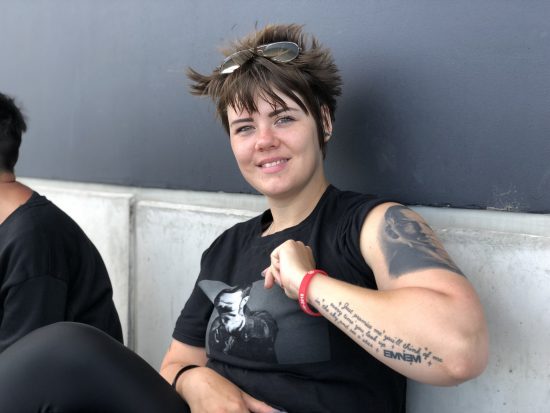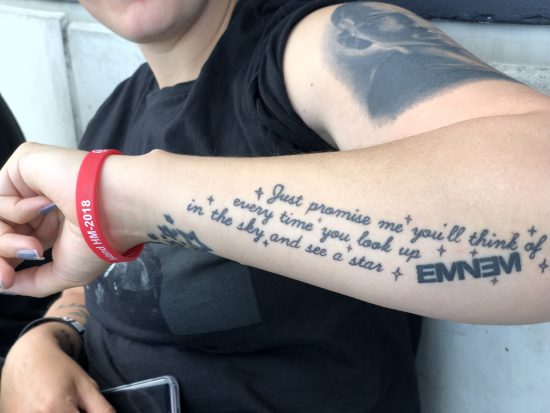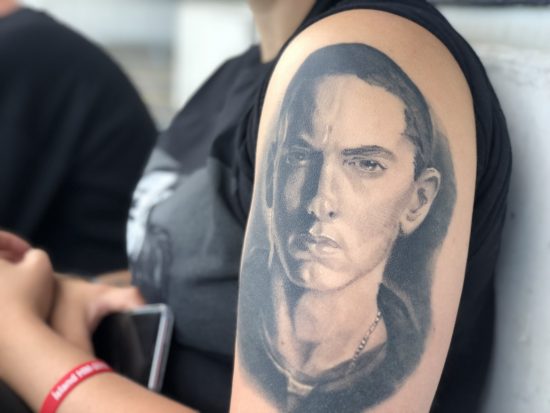 The first half of the day was warm and sunny, but windy. After an hour of waiting near "Gate G", the security asked us to move to "Gate Gx", where the VIP entrance actually was. It was a bit dark, and it was quite windy, so we got a little cold. We tried to warm up a bit and continued waiting.
As I've mentioned before in "Eminem.Pro" articles, and will say it again, a festival or a concert of a well-known artist is a special event, which takes a lot of preparation. You have to think about every little detail, like appropriate clothes: a hoodie or raincoat can make your life a lot easier. I've used both hoodies and raincoats at every Revival concert I've visited. So be prepared!
Later we went for a walk around the stadium, checked out merchandise stores (noticed two of them), then had some lunch. Our places in line were safely guarded by our new friends — another reason for socializing while you wait.
Speaking about merchandise. We've seen two places, but there was nothing too exciting. They offered almost the same merch as they did for US, except it came for a different price. T-shirts and hoodies were cheaper, than in US, but beanies, caps and raincoats were more expensive.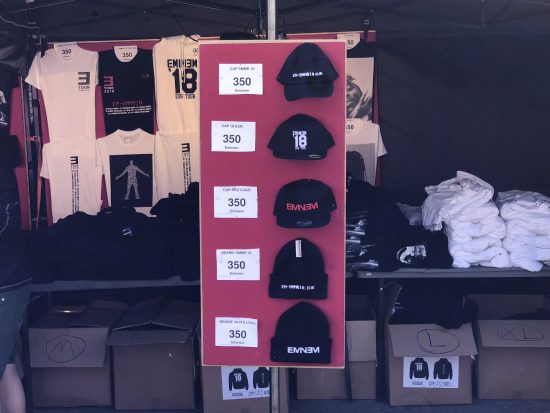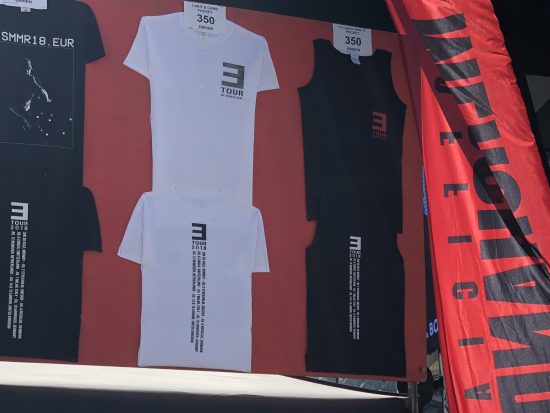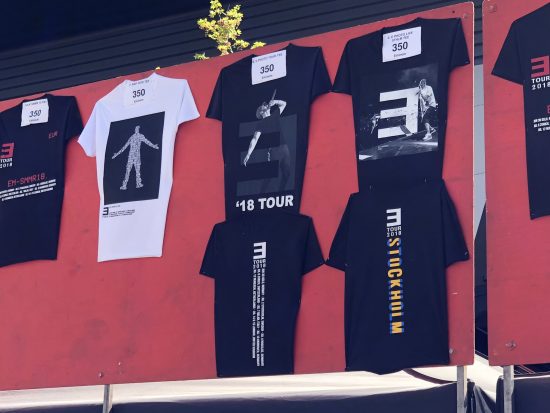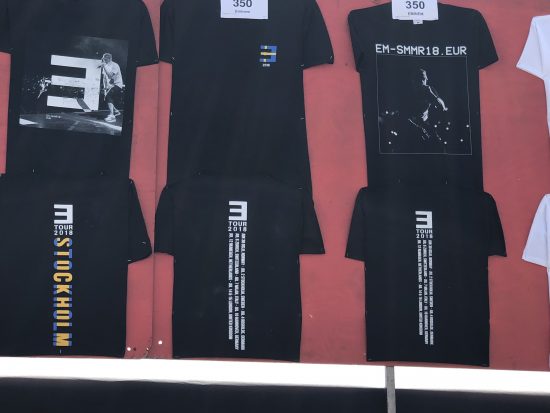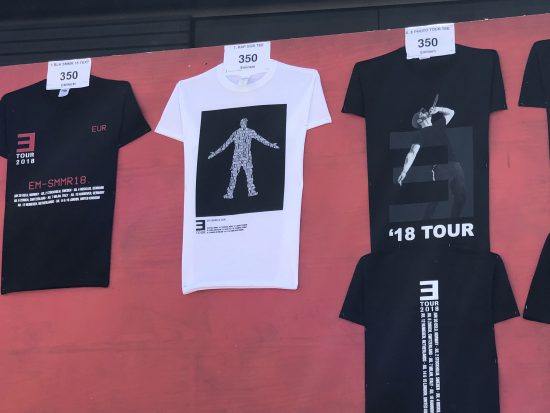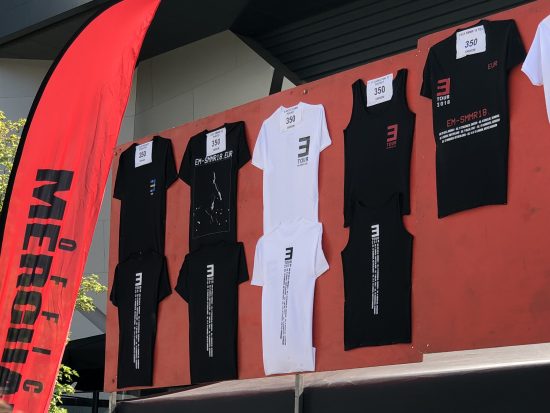 At 2 p.m. the organizers set up the registration tent. By that time our line was much longer, with approximately 300 people in it. It was clear that VIP guests would get the first row, leaving no chance for aother fans with regular tickets to get to the front.
According to our sources, there were 500 VIP tickets sold. The Staff kept bringing more and more bags with complimentary gifts. I was surprised by the number of VIP guests, thought there would be less of them.
Before that I was usually questioning myself who were those 100-200 people you see in front of the stage when you first enter the venue. Now I know they're VIP.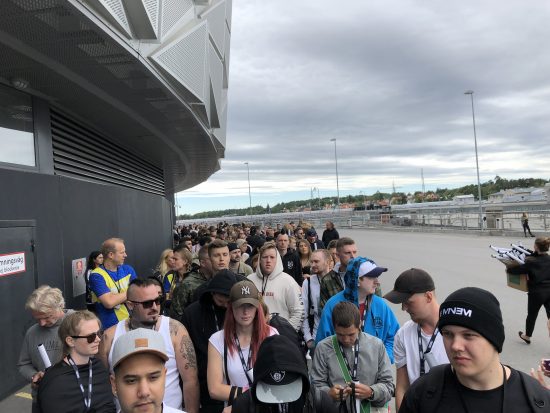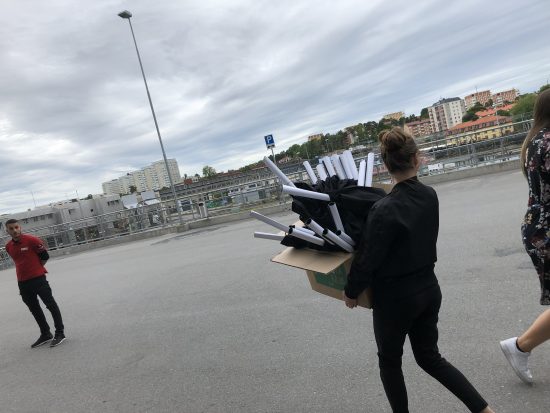 Everything was organized perfectly, there were no crowds, running, no injuries. The GX sector, where we were entering, is located at the upper level of the stadium, so to reach the stage we had to take the stairs (if you have ever been to a stadium, you can imagine what would happen if people started running there). But everything was calm and safe.
Me and my friend, Julia, were lucky to be the head of the VIP pack and to reach the stage first. We were shook by the number of spots in the front row and by the opportunity to choose any place we liked. Naturally, we chose the place right in the middle of the stage.
The day before we had a discussion about choosing a place in the front row. Many people think that it's better to stand on the left wing, because Em is left- handed and spends more time there. Sometimes it's true, for example, on some concerts he likes to perform his Rap God speed verse there, also he occasionally goes there to have a sip of water (in Stockholm I even noticed him using some sort of throat spray — never seen this before. Check out his performance of Not Afraid in Stockholm on our Eminem.Pro YouTube channel).
But I still think that the view of the show is from the center. It gives you an opportunity to see the artist wherever he goes, and Em does like moving around the stage. Also, being in the middle gives you a chance of being caught on the performer's selfies, and increases your chances to be in the official photo reports. Another cool thing about it is that you get the best view of all stage effects, especially 3D.
And so we chose central places.
What also stuck in our minds about Stockholm is the stadium itself. It looks amazing, and it's covered. We have visited a stadium like this for the first time. 7-9 pm in Stockholm is still not dark, and the covered stadium creates that twilight atmosphere, which is best for watching the show. Fans kept coming, the VIP Golden Circle zone was packed. A few moments later general admission visitors entered the stadium. There were people everywhere.
Usually, the spots are filled closer to the headliner's performance, but in Stockholm the stadium was full even before the warming acts. It was impressive. No wonder Eminem broke the record of attendance in Sweden (and Norway before that). Europeans must have really missed the great and mysterious Slim Shady. Last time he had a concert in Sweden was in 2001. Tickets to the show in Stockholm were sold in 6 minutes, according to the officials.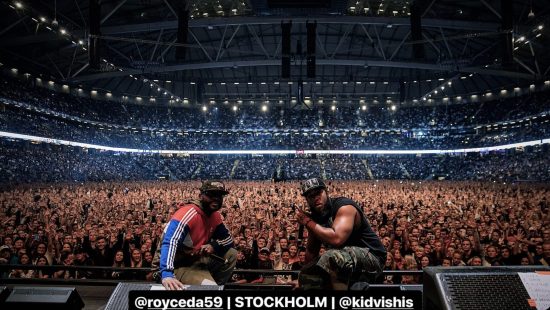 The warm up acts started on time
First to take the stage were Royce 5'9 and his hype man Kid Vishes. People welcomed him warmly. He is a great MC (or, as Em said called him recently — an "ok rapper"), his performances are always captivating. Last time I've seen him performing was back in 2013, as a part of the Slaughterhouse group. He changed a lot since then. He's matured, sober, and with great, new material. I was looking forward to see him live again.
Royce had a full 1-hour set, he performed all his main hits and tracks from the last two albums. I liked his last album, so I was waiting to hear some songs off of that.
A few days before the show, a video from rehearsals leaked into the web (watch it on Eminem.pro channel). The video had part of the instrumental from the new Caterpillar collab with Royce and Eminem. We thought that this track would be performed on stage, and, of course, with Eminem taking part in the performace.
The stadium burst into exultation at the sound of the first beats off "Caterpillar's" Instrumental. Royce stormed the stage with lyrics. It was indescribable. Alas, the song was performed without Em, but it still was a joy for the ears, it sounded splendid.
One of the most memorable moments of Royce's set was him performing the Bad Meet Evil's single, "Lighters". Eminem was still a no show, but we knew, the time will soon come.
To tell you the truth, I've missed this track, because Eminem excluded it from his set list long ago. The live performance of Lighters to me is one of the most mesmerizing and powerful acts. This time, with only Royce performing it, was no exception. The whole stadium lit up with thousands of lighters, phones and flashlights. It's indescribable and no photo or video can give you the right impression. You have to live through the moment yourself, see it with your own eyes. Thousands of people singing the melodic chorus of throughout the stadium, just unforgettable.
Royce's performance almost stole the show, it didn't feel like just a warm-up. So, yeah, cool! Royce is a great artist! There's a video on our YouTube channel, watch it. Although that's just a glimpse of the full spectrum of emotions we have endured, you can kind of get the idea.
In my opinion, Royce's performance was the best warm up act of the whole Revival tour.
After Royce, Pusha T was on stage, but I won't be going into detail about this part of the show, because he is not my type of artist, and he didn't impress me much.
Right after that, Eminem's crew started preparing the stage for his entrance. Not once in "Eminem.Pro" reviews I've mentioned that his team is incredibly well-cooperated and professional, but this time they've outdone themselves. The stage was ready in minutes. The famous white curtain was up, and the crowd of fans, who have missed their idol very much, was longing for the Intro to drop.
The same Intro the fans know so well after watching hundreds of YouTube videos online but sounds different every time you hear it live. We all were waiting for Slim Shady to land on stage. His entrance is always something out of this world.
Speaking of the stage, though… It was relatively small. Almost like in Glasgow in 2017 (the best of Em's shows if you ask me). The Screens were located far, and there were no pass under them, so Em didn't move much, and we have been watching him up close the whole time. The stage was not very high, we saw Em even when he was lying on it. Yes, he was 🙂 Another advantage of being up front: you see lots of little moments that people in the back rows don't get a chance to enjoy.
White curtain
So the stage is ready. White curtain is up. The crew waits for their Boss to enter the stage. The Intro rolls on screen. We didn't see it well from where we were, because, as I said, the screens were quite far away. But it's ok, it's not the Intro that we were craving for. We waited as the giant Eminem prowled the city like Godzilla and wrecked everything in his path, cause we knew the same Godzilla will soon be wrecking the stage.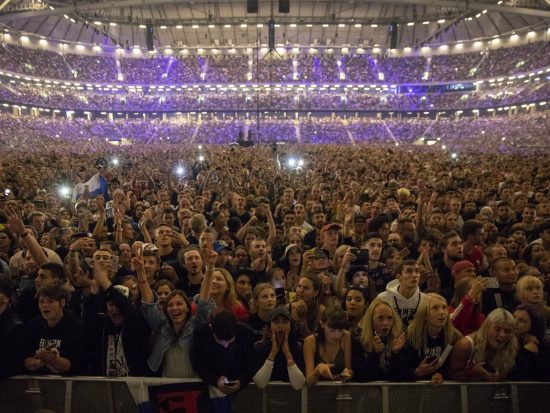 The Intro fades, the stage fills with special effects and we hear "Believe… Believe", the first notes of "Medicine Man". A shiver rushes through the body. A feeling of pure excitement.
His "Medicine Man" verse was just what the doctor ordered 🙂 The white curtain lights up with a spotlight, we see Eminem's team passing. They are waiting for the signal to drop it. A second spotlight shoots at the curtain, and we see Em' s silhouette with his hand up. Sixty thousand people all staring in one spot. He waves his hand. Curtain falls, fans are filling the stadium with deafening roar. Can't be compared to seeing it on video.
Em is standing in the middle of the stage at the microphone stand and rapping his "Medicine Man" verse, though we barely can hear him. But it's impossible to control these emotions. You can hear how every minute spent waiting transforms into emotions in those screams. Seconds later, the noise fades, we hear Em spitting the first lines. He drops the mic stand, and you realize: Shady is on stage. Damn! Fucking Eminem is on stage!
We were lucky to see Marshall in Stockholm in his "classic" white hoodie instead of his Nike outfit he' been wearing lately. Eminem was running, jumping, destroying the stage so close to us that it felt like we could almost high five him. He looked just like we've remembered him from last year's UK concerts. It's just that his beard is no longer news.
Em showed his middle finger twice during "Medicine Man", he looked like he was enjoying his performance more than us. The first verse gradually transcended into "Won't Back Down", which works great for live performances. Em's funny, sometimes childish jumps were like an extra dose of charisma.
With the exception of starting off with "Medicine Man", the first part of Em's shows hasn't changed much during the last few years. Em still starts by killing it with his upbeat hits: "3 a.m.", with signature tottering moves and running up the stage, the classics "Square Dance" and "Kill You", with the whole stadium shouting the lyrics in unison with Em, and, of course, "White America".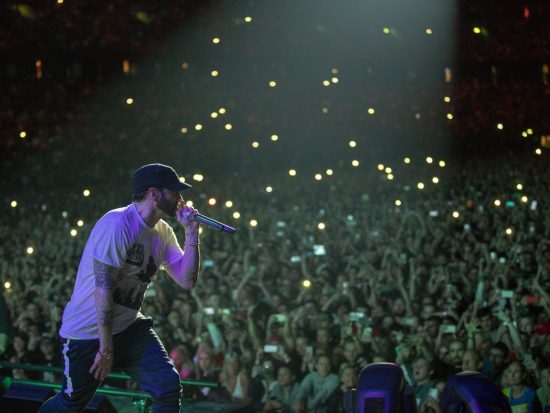 "Stockholm! How many of you know words to this shit? Stockholm! I can`t hear you! If you know the words to this shit, sing with me", — Em shouted with first beats of "Kill You". By the way, the gunshot sound effect after "Kill You" didn't scare anyone.
After "Kill You" Em took a sip of water while Mr. Porter was entertaining the audience. No Trump discussions this time.
"Ayo, Stockholm! Sweden, what the fuck is up, yo?", — says Porter. — "Oh, all the motherfuckers in here (points to the last rows), all of you (points to the balcony)… Hold on, I said what the fuck is up, yyyyyo? Ok, yo, I`m gonna change real quick, all the kind of think, ladies and gentlemen, I need you to make as much noise as possible, one, two, three! One more time! One, two, three!".
"Ok. Hey, Sweden, check this out. Now, one last time, what I need you to do is scream so motherfucking loud, they can hear it back in America!", — screams Em before the start of "White America".
I love first notes and the first verse of "White America". That sound of a plane taking off once again brought shivers to my body. This Eminem's classic sounds perfect from the stage, and we were all screaming with him "White America, White America".
With no pause, the instrumental of White America transforms into the well-known "Rap God" intro, and the stadium goes crazy.
Porter announes that we're about to hear the Rap God himself.
Em sips some water, touches his beard and starts fires a couple rounds of punches and rhymes, showering us with words at incredible speed. Everyone in the first row wished Em would stand across them during the fast part of the second verse, and this time, we were the lucky ones!
He started the speed flow right in front of us. This surprises and amazes you every time, no matter how many times you've seen it before. It's when you suddenly realize that one of the greatest MCs of all time is standing there, before your eyes.
This song allows you to see the amount of preparation that goes into an Eminem performance, and also underlines the importance of the hypeman, Mr. Porter. He gives Eminem just enough time to catch a breath and deliver those lines with the grit and power we are used to hearing from him.
While people were catching their breath after emergence of the "Rap God", Em went to soak his throat and wipe off sweat.
The "Sing for the Moment" sample started playing, Porter told everyone to put their phones up and lighters up. It is always a spiritual moment, and we've seen it's best manifestation in Stockholm. Thousands of people lit their lighters and the whole stadium was literally "on fire". Em' s photographer, Jeremy Deputat, has made stunning shots. The semi darkness of Friends Arena stadium have added sensation to this moment.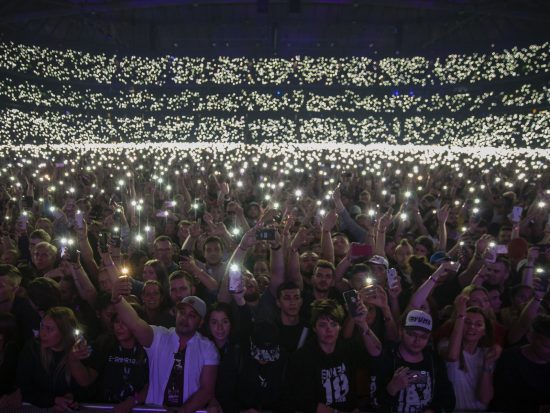 It's interesting, that this year Em started to use an original Aerosmith hook from the song "Dream On", which he used as a sample for the track "Sing for the Moment". European concerts were no exception. During the chorus Em made the whole crowd wave their hands. The performance ended with his goofy jumps.
The track "Like Toy Soldiers" was dedicated to Em's best friend Proof, who was killed in 2006. Marshall together with thousands of fans honored his memory. "Stockholm! Here is what I want you to do. Say "been through", say "been through"! Say "We miss you!" Say "We miss you!"", — Says Em.
And the stadium was screaming. All this was accompanied by lights from mobile phones and lighters. It was an unforgettable experience.
Another change to the 2018 set list was shifting "Forever" towards the first part of the show. This track sounds wonderful live and European fans love it. Maybe the only downside was the absence of Drake? Naah!
This was the end of the first part of the set, Em took a short timeout, Porter and the DJ were chatting and entertaining the audience with their dialogues, preparing us for Shady's [brain dead like Jim Brady] return.
Mr. Porter: Stockholm, are you still with us? One more time. Are you ready to go? You wanna go home now? It's still early. I said, Stockholm, make some motherfucking noise! [Yeaaaaaaah!!] So, this is my friend and our dj, his name is DJ Alchemist, say "Hey, Alchemist"!
Alchemist: Hello, Stockholm!
Mr. Porter: So, Alchemist, we have a couple questions for you…
Eminem: Wait, I thought I was your friend, too.
Mr. Porter: You are my friend, but you left, I thought you'd gone home.
Eminem: I did, I'm back.
Mr. Porter: Sprint like a flash. So, listen. So, check this out.
Eminem: What are we doing?
Mr. Porter: How about ask some questions I just want to see something.
Eminem: Ok, Wait, before you ask them, tell me first what you're gonna ask them.
Mr. Porter: Oh, tell you first?
Eminem: Yeah.
Mr. Porter: Ok, hold on.
Alchemist: Whisper and make sure it's ok.
Eminem: Nah, I'm not cool with it.
Mr. Porter: Ok, so we ask the damn question?
Eminem: Ask the damn question.
Mr. Porter: Ok, so, how many of yours since the beginning?
Eminem: Ok.
Mr. Porter: Ok. Here is a little test. How many of you all over here got "The Slim Shady LP" [I doooo!!!]
Alchemist: That's a lot of people, that's a lot of people.
Mr. Porter: You think? You think they did?
Alchemist: I think, they did.
Mr. Porter: How about, how many of you got "The Marshall Mathers LP"? How about "The Eminem Show"? [Yeaaaaahhhh!] Hold on. How about "Recovery"? [Yeaaaaahhhh!] Oh. How about "Revival"? [Yeaaaaahhhh!]
Alchemist: Holy shit.
Eminem: OK
Mr. Porter: Ok, hold on. I think they not actually our soul. I think we can do the song I'm pretty sure they don't know the song we do the next song.
Eminem: I think so. Ayo, Stockholm, if you've been right from day one, you should know this song right here. Yo, Sweden, put your fucking middle fingers in the air, yo. ????
Marshall still performs one of his earliest tracks from "The Real Slim Shady LP" album, the track was recorded around 1996-97.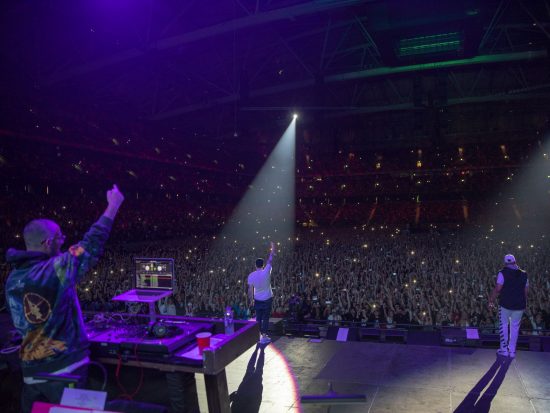 My name is Marshall Mathers, I'm an alcoholic (Hi Marshall)
….
I just don't give a fuck!!
Though only one verse and chorus from this track were performed, it still was a great summoning of Slim Shady's spirit and it made us feel like we've been sent back in time to the start point of his career.
If you were there, you could show him your middle finger and if you're lucky, he'll do so in return. Name another artist at who's concert you could see thousands of people flipping a bird.
"Just Don't Give a Fuck" suited the Revival Tour set list perfectly, it opened the part of the show, when Em performs his funny, mocking, offensive tracks as Slim Shady, his dark alter ego.
One of these tracks was "Framed" — the first track from "Revival" album to be performed live that night.
"If y'all got the damn "Revival" album, you may know the shit right here", — Shouted Em. Many fans loved Framed. It sounds well live, although I can't say that it's my favorite one, it perfectly complements the set list.
The stage was lit in pink and violet. This created an atmosphere of insanity.
Fraааа-аааmed!
Another track which fits smoothly into the set, was "Criminal". Nearly half of the stadium knew the words. You should have seen how energetic he was performing these tracks, showing us the real Slim Shady.
Before "Criminal", Em made a jab at Porter "I've just realized something. Before we came out here tonight, you forgot to put on underwear! Do you know how I know, Mr. Porter? Because I'm wearing it. But I don't really care, Mr. Porter. Do you know why I don't care about underwear?" Cause… I'm a criminal! Everybody puts their hands up
At last Slim Shady, released by Eminem, dropped one of his most energetic & gritting songs — "The Way I Am". The guitar chords at the beginning and end let Em catch his breath and freshen up, while the band virtuously plays the well-known melody. The only thing I missed was the giant 3D boom box, well, things change.
And I am whatever you say I am
If I wasn't then why would I say I am
In the paper, the news everyday I am
Radio won't even play my jam
Cuz I am whatever you say I am
If I wasn't then why would I say I am
In the paper, the news everyday I am
I don't know it's just the way I am
The heavy chorus concluded the second part of Shady's performance.
Bitch, I wrote Stan
As soon as "The Way I Am" was over, magic was in the air, everything calmed down, the "Walk on Water" melody began and the gorgeous and inimitable Skylar Grey appeared on stage. [Love you :)]
I've been listening to Holly before Skylar Grey even existed, she was performing under her real name (Holly Brook), and wasn't connected to Eminem. Hearing Skylar live was my long time dream, which came true thanks to this tour.
If you like Skylar's music I advise you to check out two of her early albums: "Like Blood Like Honey" and "O'Dark: Thirty EP". You will discover another side of her personality.
Skylar was welcomed on stage with joy and loud applause. People truly love her, not only as Eminem's supporting act. When you hear her divine voice, you understand that it's impossible not to love her. She sounds beautiful live, and she also has incredible looks. You enjoy both: her singing and her beauty.
The Revival set had Em put together all the tracks with Skylar Grey. Their first track, "Walk on Water", the first single off "Revival", I've never heard live before Stockholm. And exceeded my expectations. This track is one of my favorites, but after such a powerful live performance I'm obsessed with it.
It's so soulful. It's the only track (besides the two intros: "Medicine Man" and "Bad Guy" from the 2014 show) that Em performs with a microphone stand. Shades of sunset and violet were dominating the stage to emphasize the theme of Em's frustration and fury. This performance turned out to be so emotional that we all were captivated by it. Outstanding track.
If "Walk on Water" wasn't impressive enough for you, the live version will make you change your mind. It rightfully became one of the most desired compositions to be performed live by Eminem.
The emotional flow had a powerful climax — Em angrily threw away the microphone stand. His smiling face showed that he enjoyed performing the song.
"Walk on Water" slowly changed into one of the fans' most well-known melodies. Have you guessed already? You're right — it was Stan. The chorus by Skylar Grey sounded just great. If you are a real fan -you must hear "Stan" live at least once. It will be a great pleasure. Girls appreciate Marshall lifting his t-shirt, showing off his tattoo, when he rhymes about it. Em and Grey match so perfectly on this track, it feels like it was their song from the start. The rainy special effects help creating the special atmosphere for the song.
The final part of the set with Skylar was the "Love the Way You Lie" performance. When the spotlight was aimed at Skylar, standing in the middle of the stage, the fans couldn't get enough of it. The chorus sounded incredible. The number one song on many people's playlists, #1 on the charts of numerous countries, sounds equally good on the radio and on stage.
I was very glad that Eminem invited Holly to join him on this tour, she definitely deserves this. And I bet, as one of the authors of "Love the Way You Lie" and "Walk on Water", she was thrilled to perform these songs on stage in front of hundreds of thousands (during the whole tour) of people. This was the best part of the show for me.
"Stockholm! Make some noise for extremely beautiful and extremely talented Skylar Grey!", — Shouted Em, Skylar simply said "Thank you" and left the stage.
Marshall saved the coolest, most anticipated and powerful tracks from various periods of his career for the final part of the show.
"What are we doing?", — Em Asled Porter when he returned to stage. "Right now I wanna do that one song that makes you do that crazy face", He answered. "Сrazy face?", — repeated Em. "Can we do that song? Our favorite song? I'm sure you know it. Check this out! Let's go! "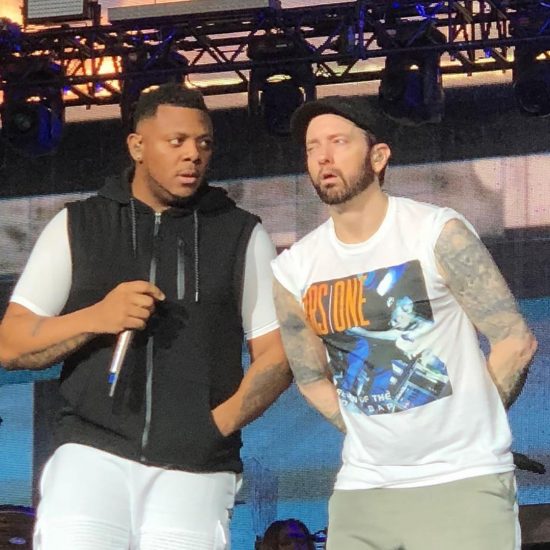 They were talking about "Berzerk". Do you know what we've missed about this performance? Those 3D effects from his concerts in 2013-2016. They were beautiful, and that boom box was associated with this track. It still makes the whole stadium rock, you just can't stand still.
I'm bout to bloody this track up, everybody get back
That's why my pen needs a pad cause my rhymes on the ra-aag
The following two tracks were one of the most popular among European fans, and maybe even fans all over the world. "Till I Collapse" and "Cinderella Man" are meant to be performed on stage.
During the first nores of "Till I Collapse" Eminem asked "Stockholm, are you motherfucking tired? You wanna go home? ". Sure we are, but there's no way we are going home! With every new track gives you the power and the hunger to stay on and long for more. You say "Nate Dogg"! Say "Nate Dogg"! Say "Nate Dogg"! Make some noise!", — Says Em.
Instrumental after instrumental, Em was destroying everything: "I love you! Stockholm! I wanna do this one! ".
After three upbeat tracks, Em went backstage once more, while Porter introduced a guest.
And half of Bad meets Evil climbs the stage
"So right now, ladies and gentlemen, I wanna all of you up! [We are standing, bro] If you know "Hell: The Sequel" album, make some motherfucking noise!" [Daaaah!! Who doesn't know it?] And we all were screaming. So loud that by the end of the show we could barely speak.
I adore life performances of "Fast Line" during Eminem's concerts. Those two mad rappers running across the stage while doing crazy verses is a precious moment.
Royce was on stage, rapping his verse so fierce that the stage might have been broken that night. And when Em rushed to the stage to rap his verse, with its speedy flow, things heated up even more. When Royce performs his verse, you're thinking: "Damn, it's so cool, can't beat that", and then Em comes out… These two do unbelievable things on stage.
Before leaving Em shook Porter's hand "Stockholm, make some motherfucking noise. If you didn`t buy "Book of Ryan" [Royce's latest album], go buy this shit, cause this shit is fire!"
Ooh-ooh-ooh-ooh
The last track off "Revival" that night was "River". Of course I wanted to hear it live, but even more I wanted to hear it being performed by Em and Ed Sheeran.
Unfortunately, only the show in London had guest appearances of Ed and 50 Cent.
"Ladies, help us to sing this shit. Fellas, you may help, too", — Em asked the whole stadium. "Sing it really loud! I wanna hear everbody!", — said Porter. I enjoyed the live version of "River" much more than the album one. In the end we heard sounds of thunder from the video. So cool!
After "River" Em started rapping his hit single "The Monster", which was recorded with Rihanna for "The Marshall Mathers LP2". It would be better to hear the chorus performed by Skylar Grey rather than the recording of Rihanna's voice. I don't know why Em didn't ask her. I think her voice would have been perfect for this song. Traditionally, he performed the whole song.
Before the finale the guys chatted with the audience some more.
Mr. Porter: Ok, ladies and gentlemen, I need you to say "Yooohooo", one, two, three. That's cool, I like it, and you? I saw your face, you liked it! One more time! One, two, three! Ok, let's do this, on the count of three say "Shadyyyy"! One, two, three! [Shaaaddddyy!] One, two, three! [Shaaaddyy!!] There he is!
[There goes Em]
Mr. Porter: I ask you something. So, check this out. I think the side over here [left one] is louder than side over there [right one]. Before you cheat.
Eminem: I won`t cheat.
Mr. Porter: I know, I know you.
Eminem: Hold on, first of all, are you saying that this side right here is louder than this motherfucking side? Ha!
Mr. Porter: Yeah, that's what I'm saying. I'm saying this side over here is louder than this side over there. One more time…
Eminem: Hold on, this side over here, make some noise! Holy shit! Jesus Christ, I want you to make some motherfucking noise! Holy shit, so many people right there! Jesus Christ, I want you to make some motherfucking noise! [the stadium roars] Oh, shit, there is a lot of motherfucking people in here tonight. It appears to be a lot of fucked up people in this crowd tonight. [Yeaaaahhh!]. Wait a minute, hold on, wait, that seems like half. Is there only a half of you that fucked up? How many people in this building are just fucked up mentally? … Because you all here! [Hell YEAHHHH!!]
Mr. Porter: Do you wanna take me back in time when we were fucked up? How is that feel?
Alchemist: I think it's a good idea.
Mr. Porter: You think so?
Alchemist: Yeah.
Mr. Porter: How about this? How about we take you back when we used to be fucked up?
Eminem: I don't know, man, I don't know. Yo, Stockholm, everybody, here in the middle, in the back, up on top, everybody here, in the front, on the sides, in the back, can we take you back when to the time when we used to get fucked up?!
Shady's back, Tell a friend!
Eminem leaves the best for last. Once again he let Shady out to play and performed his classic hits "My name is", "The Real Slim Shady" and "Without me".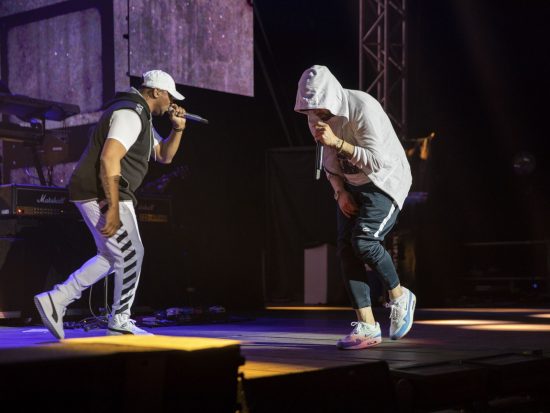 If you were there with us, I guarantee you would scream and shout as much as we did, because it's impossible to hold those kind of emotions. The song "Without Me" with his "na-na-na-na-na-na-na" makes the crowd go wild. 5 minutes of pure excitement and mischief with the real Slim Shady.
And then, suddenly the jokes are over, cause it's time for the curtain to go down. Eminem has been entertaining us for more than an hour with the best songs from various time periods of his long career. By the end of the show, everyone, not just Eminem is a little sad. An hour and a half is definitely not enough, but then, you can never get enough of Eminem, his energetic and passionate live performance is out of this universe.
"Hey, is this the loudest crowd we've ever had? Is this the loudest crowd we've ever had? [Yeaaahhhhhhhh!!] Holy shit, oh yeah, it is!", — Says Em "Stockholm, since we've been over here, you know, we realized that you are real fans. Ok, we would just like to say that we appreciate you for your support for all these years", — Added Porter.
Eminem: "Yeah, man, listen, Stockholm, before we get out here this last song I wanna dedicate to everybody in this motherfucker who has been with us from day one, who has been through all the bullshit, Stockholm, this song is for you".
The stadium became silent when the first notes of "Not Afraid" were played by the band. That is until Eminem broke the silence, performing his powerful anthem. An enchanting moment. "60 thousand people all jumping out their seat", as one of his songs goes.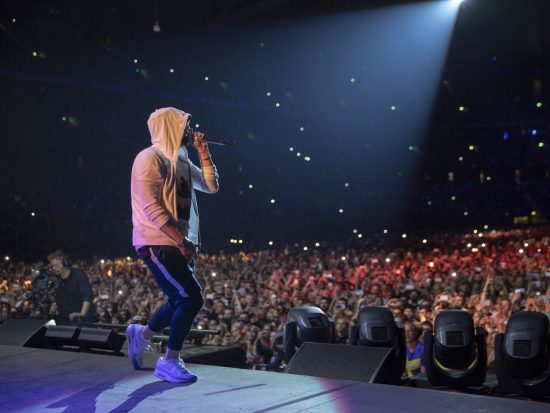 The performance was done, Em waved his hand, showed us a peace sign and left the stage quickly. His band continued to play the "Not Afraid" theme. We were standing there happy and excited, because not one Eminem show ends without one moment. Without one opportunity. An opportunity for the fans to hear the song that is well-known by everyone, even if you are not an Eminem fan.
The band was still playing, with the crowd chanting "Lose Yourself, Lose Yourself". This time the pause between "Not Afraid" and "Lose Yourself" was very small, just a few seconds. On his previous concerts it was much longer, up to several minutes.
The stage turned into a starry sky. The band began to play familiar notes. We were ready to burst with ovations. Em didn't keep us waiting too long, he stormed on stage and began spitting the intricate circuit of interconnected bars forming the beautiful sound of "Lose Yourself" that earned the song an Oscar.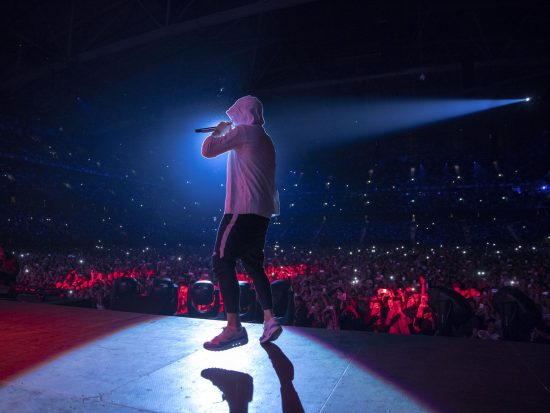 After performing "Lose Yourself" Eminem hang out on stage for a while, made his signature dance moves and then was on his way, thanking his faithful audience.
"Stockholm, thank you so much for meeting us! We love you! Everybody go home safe! We're out here! Peace!" Flips the bird and gets of the stage.
In conclusion I want to say that this show was incredibly cool. My personal second favorite (after Glasgow, of course). Shows like this undoubtedly are worth the money, the time and effort you spend on them. If you're still only dreaming of visiting Marshall's concerts — just do it. You will never regret it.
Look.. If you had..
One shot, or one opportunity
To seize everything you ever wanted.. In one moment
Would you capture it.. Or just let it slip? Yo..
…
You own it, you better never let it go (go)
You only get one shot, do not miss your chance to blow
This opportunity comes once in a lifetime
…
You can do anything you set your mind to, man
Thank you, Em, for the unforgettable show. You have made us a bit happier again! It was another unbelievable journey.