Aftermath producer FredWreck posted one more piece of evidence of activity in the Dr. Dre camp.
Fred captioned the picture of Dre and Snoop with a short "The Dynamic Duo", and this is true on so many levels.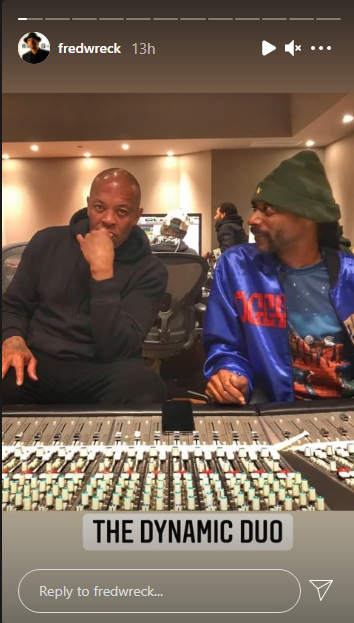 These two go way back to the early 1999s. Snoop Dogg was featured on Dr. Dre's debut solo single, "Deep Cover". And then, in 1993, Dre produced Snoop's debut solo album, "Doggystyle", which became an instant hip hop classic.
Whatever these two icons touch turns into gold, and to think that two legends were cooking together just the other day gives so much hope to any hip hop fan.
But the evidence of the intense studio work has been mounting recently – from KXNG Crooked's revelations that he saw Dr. Dre working through the long list of songs, to his recent photo with Eminem and The D.O.C. taken in the Aftermath office.