Skylar Grey has been one of the most consistent Marshall's collaborators since "Love the Way You Lie" hit the charts. They have 12 songs together so far. Will her streak continue?
Lately, a certain segment of Eminem fans have started feeling tired of Skylar's presence in Em's discography and is open to the idea to hear more new names, or more very old names, depending on their taste in music. Another segment of the fandoms is always on the lookout for clues and hints predicting Marshall's next move. And this is where these worlds collide.
Skylar posted a photo of her working in the studio with a couple of producers and captioned it with a self-explanatory:
Things are happening…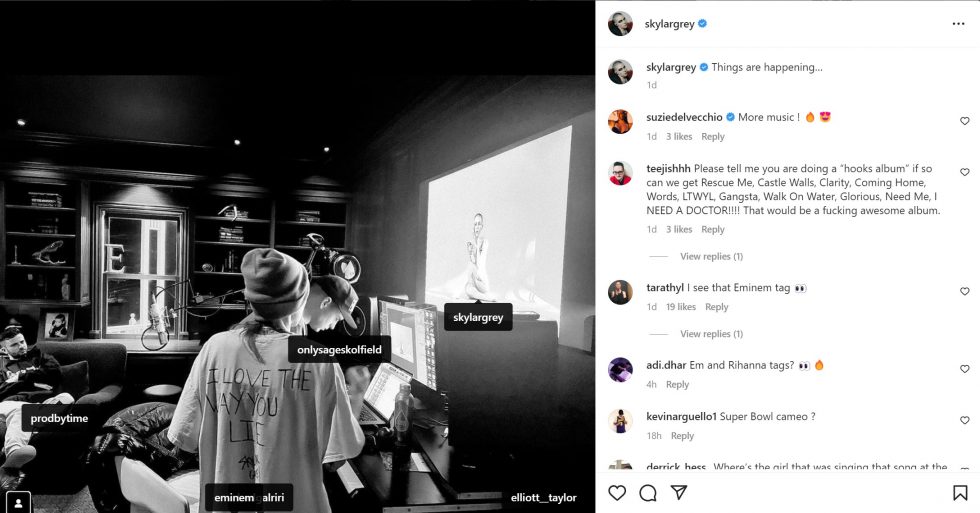 But the thing that excited the Eminem fans the most was the layer with tags. Skylar tagged producers Time and Sage Skolfield, her fiance and collaborator Elliott Taylor, and, finally, Eminem and Rihanna who, obviously, were not in the frame.
The most straightforward way to interpret this post would be to jump to the conclusion that they are somehow involved in Skylar's new project. It happened and some fans were not looking forward to it, while others were happy to possibly get another banger from them. There was also a theory about Skylar's cameo at Rihanna's Super Bowl Halftime show this year. However, it feels to be a little bit far-fetched.
If you look closer, you'll notice that Rihanna and Em are tagged not just close to the border, they are tagged over Skylar's T-shirt. The same T-shirt with a hand-written song title that Skylar was thinking about selling as merch.
To shout out two people who made "Love the Way You Lie" an international hit would be a logical and polite thing to do.
Watch Eminem and Skylar Grey performing "Love the Way You Lie" live from Nijmegen, Netherlands on the Revival Tour: