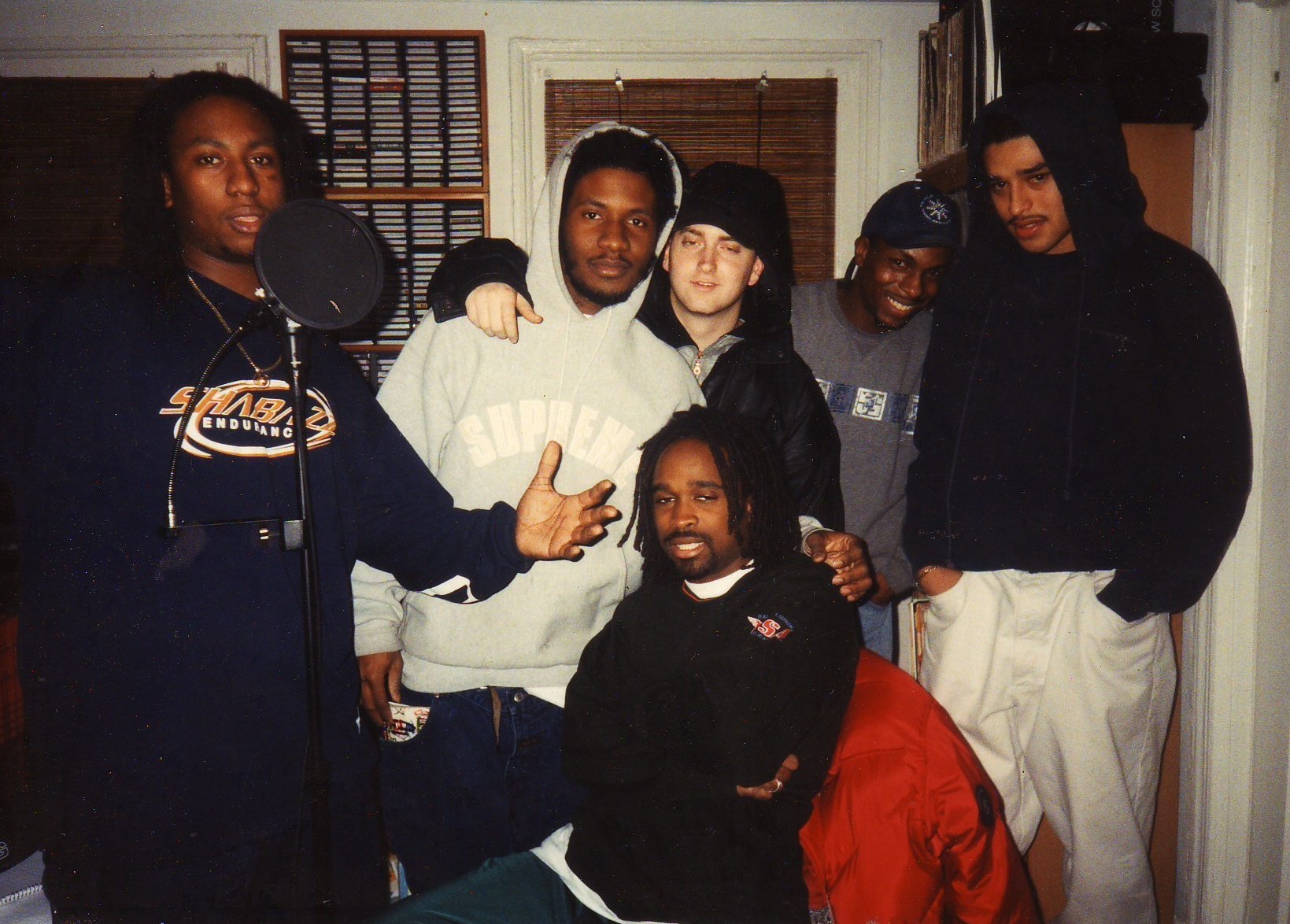 "The Slim Shady LP" 20th anniversary capsule collection will be released this Friday! And it seems that Eminem has prepared something really special to celebrate the twentieth anniversary of his first successful album, which brought him worldwide fame.
For the anniversary of "The Slim Shady LP", Marshall decided again to colaborate with the artist SCAM2 and photographer Danny Hastings, who were involved in the creation of the record booklet and cover.
"YO! PSA – #SSLP20 stuff drops Friday! Went back with @dannyhastings and @skam2official to make an anniversary capsule from the original + unseen Slim Shady LP art. More info and content this week before we drop Friday. "I even got that underground s@!% you did with Skam" – relinked with @SKAM2official for #SSLP20 – read about the early days and his work on the Slim Shady LP on the site. Capsule drops Friday. Link in bio." posted Eminem on Instagram.
Prior to the premiere of the # SSLP2 collection, Eminem and the Shady team prepared some stuff (an interview with SCAM2 and Danny Hastings on working with Eminem 20 years ago) and a lookbook (which will apparently create the photographer Jeremy Deputat ). Yesterday became available the first one – an interview with the artist SCAM2.
INTERVIEW: SKAM2
It's been 20 years since the world officially met Slim Shady with the release of SSLP. An exclusive merchandise capsule marking the occasion wouldn't be complete without the work of the two artists who provided iconic illustrations and photography for the album respectively.
To mark the occasion we linked up with Skam2, whose illustrations can be found in the original album packaging, for unique products that capture the era of SSLP, along with a bit of a retrospective on what it was like to work with Marshall during that time. See what he has to say about it all two decades later.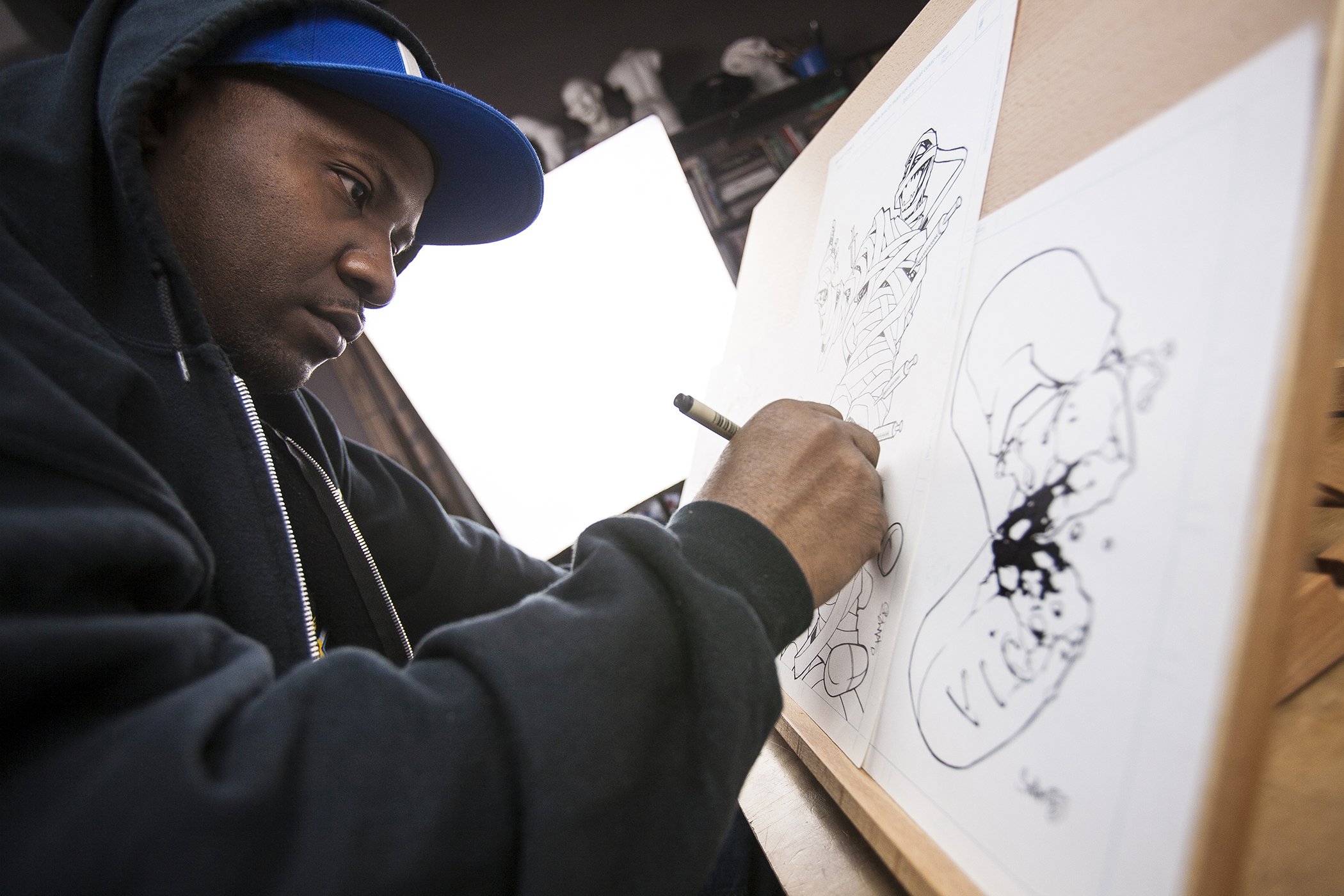 How did you first link up with eminem?
I was introduced to Paul (Rosenberg) by a mutual friend that felt I need representation. At that time he was a lawyer at the firm that now represents Em. Paul let me hear the Slim Shady EP. Back then, they weren't that connected with the NY underground scene, and I felt that it needed to be heard. So, I passed it on to a few key underground college radio folks like Bobbito, Mayhem, Baruch, Stony Brook, etc. A.L. Skills and I then took his music up to Riggs at The Source to get him the Unsigned Hype feature. Riggs later ended up being an A&R at Shady for a while. Somewhere in the middle of all that I eventually met Em on one of his trips to NY when he'd come in for shows and studio sessions. We had a lot in common and would hang whenever he was in town.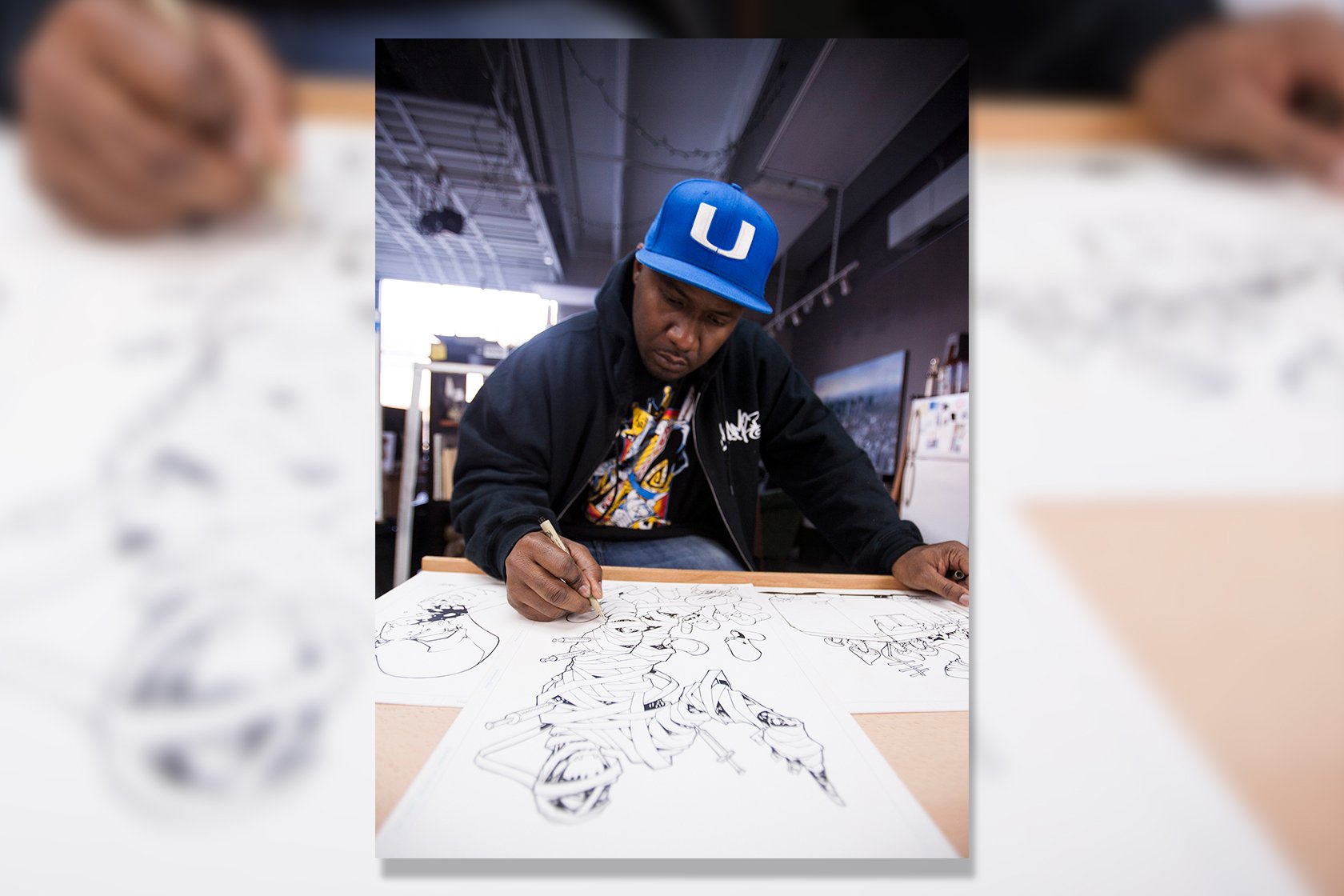 "I even got the underground stuff you did with Skam2". What was it like working with Eminem this early in his career?
He was referring to my song "3hree6ix5ive" on "Stan". When he and Proof played me that line over the phone, I had no idea of the context, so I was just like "Sick, That's wassup". They had a better idea of how epic the song was and how big it might be. Honestly, working back then wasn't anything more than hanging out with your homie and making music; that's one of the best ways to make music in my opinion. Recording "3hree6ix5ive" & 5 Star Generals (some of that Rawkus shit) at DJ Spinna's was just fun and Spinna's studio was home turf. Em had experience and was pretty seasoned at the time, so I learned a bit from just peeping what he was doing: linear buildups, connectivity and taking the punchlines up a notch. I learned about compounds from him and Proof. Em and Shadow would push me to be more personal with my music. Took me a while but I finally got there. So in short, a bit of learning, a lot of rhyming and even more jokes.
What brought about being commissioned to do the illustrations for the SSLP?
More of the homie thing. Em and Paul just figured that I knew the music well enough to visually do it justice, so they just let me do my thing. No suggestions, no notes. I sketched up the Mummy during one of his sessions. I honestly didn't even deviate that much from the original sketch.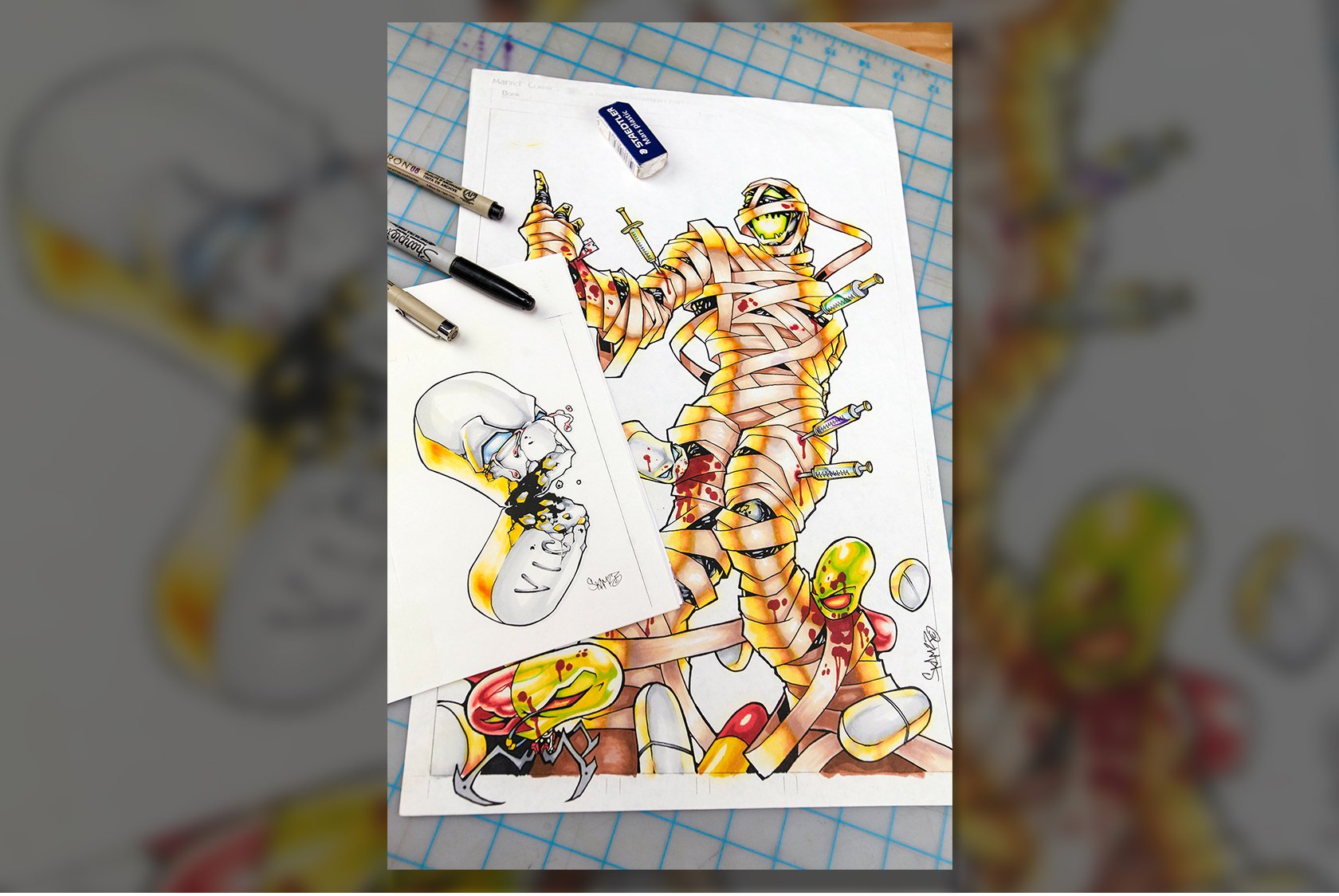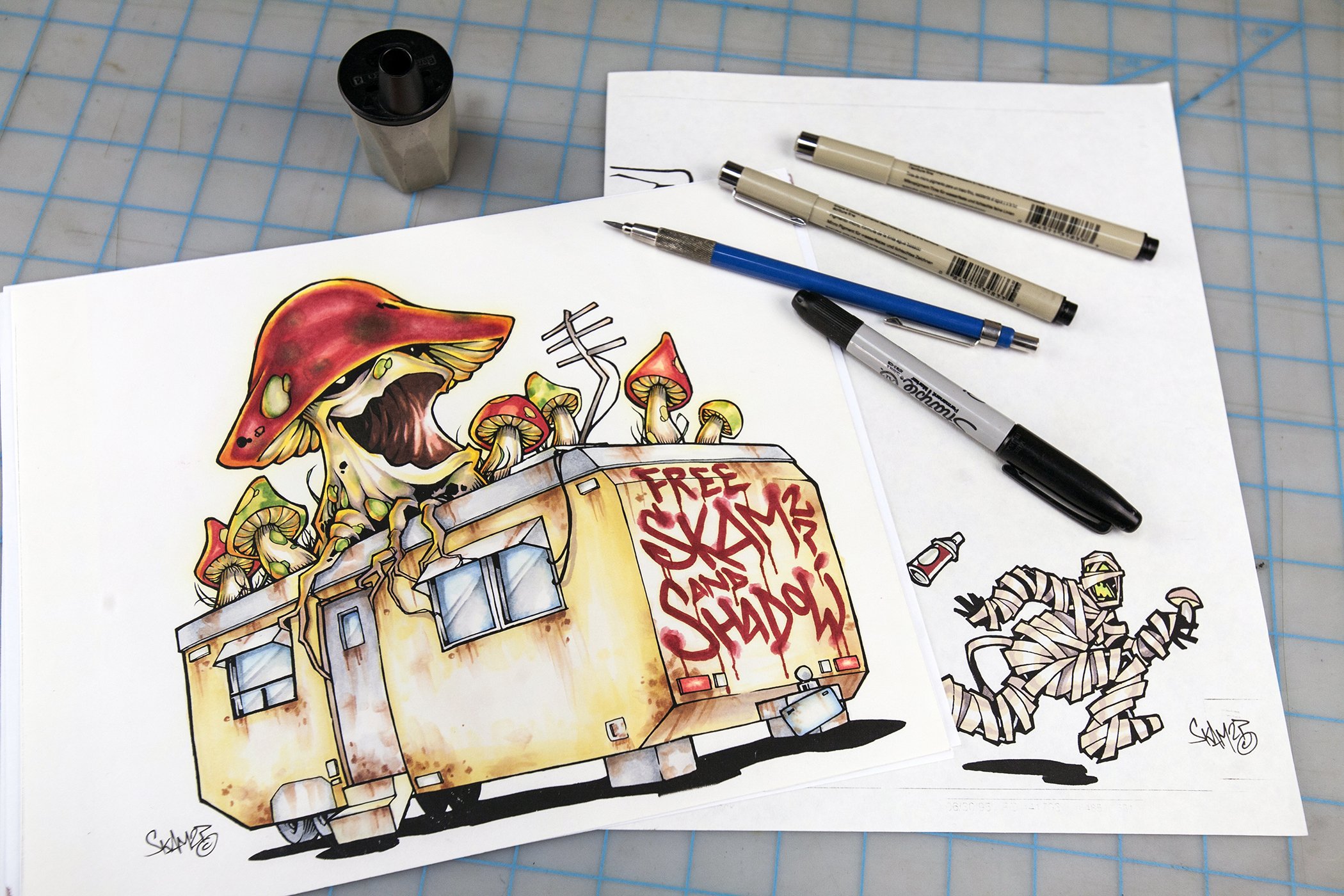 Where did you pull inspiration from for the SSLP art?
"If you ever see video for this shit, I'll probably be dressed up like a mummy with my wrist slit". That line from "Cum On Everybody" brought about the Mummy. I think it was one of my favorite lines from that song. Or at least the one that stood out to me the most. "As the World Turns" and "My Fault" Inspired the Trailer scene. The screaming Vicodin was expansion of one of the pills from the Mummy scene. There were other pieces that didn't get used that we will be unveiling for these 20th-anniversary drops that I think the fans will get a kick out of.
In '99, did you have any idea how big the album and Em's career would get?
The label didn't wan't to spend too much on artwork for an unproven artist. Understandable, but I was riding with them on it. So yeah, I did have an idea. Not the full scope though, but coming from a skateboarding, punk and metal background, I knew the vibe and attitude of the music was something that wasn't really done in rap at the time and there would be a lot of kids who he would be a voice for. I don't think that the average underground hip hop personality was on it like that. So it was a truly underserved market. When Paul played me "My Name Is" and told me he dyed his hair blonde I thought he hit the L.A. shit pretty hard and didn't quite get it. But when I saw the video, I started to see it take shape for real.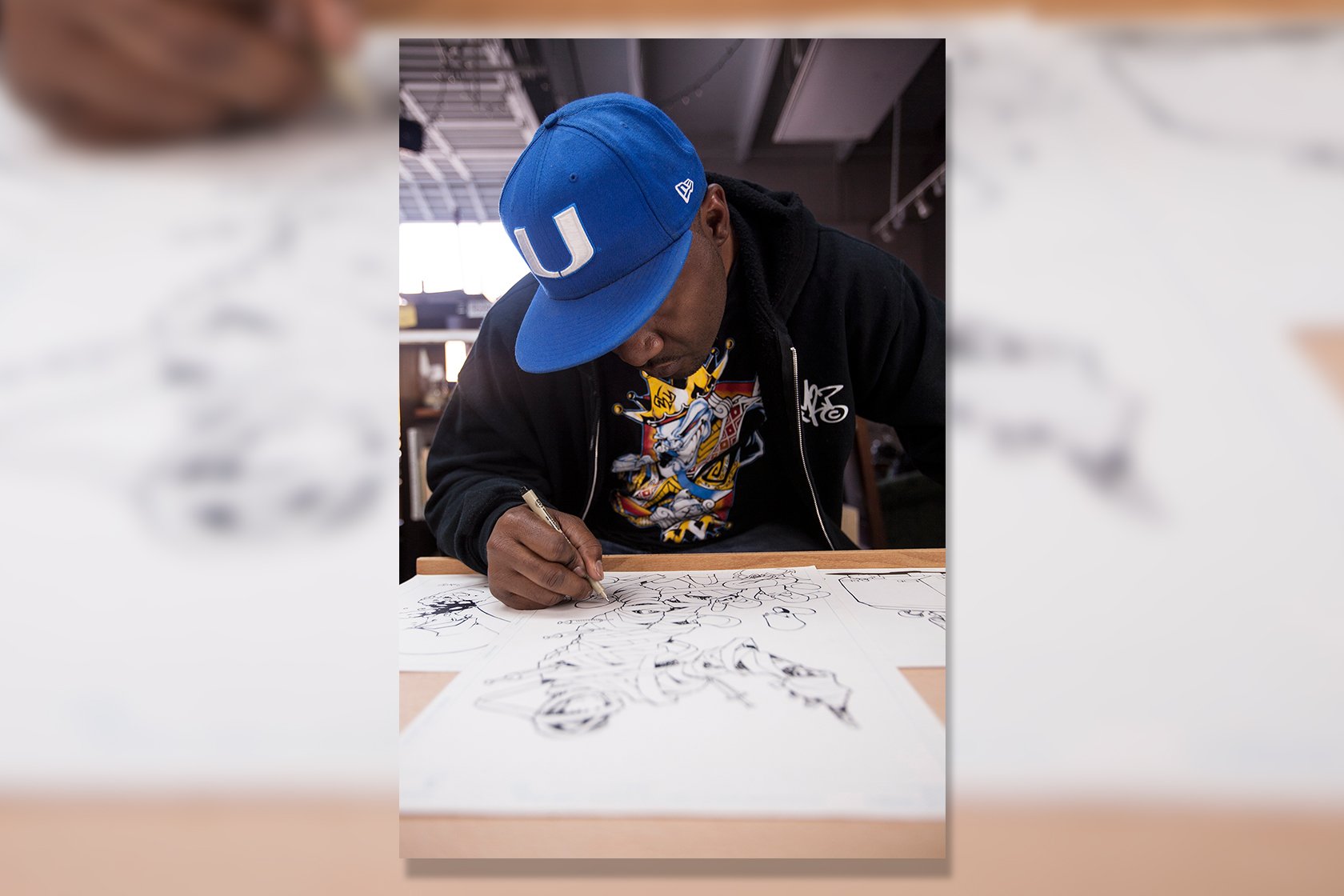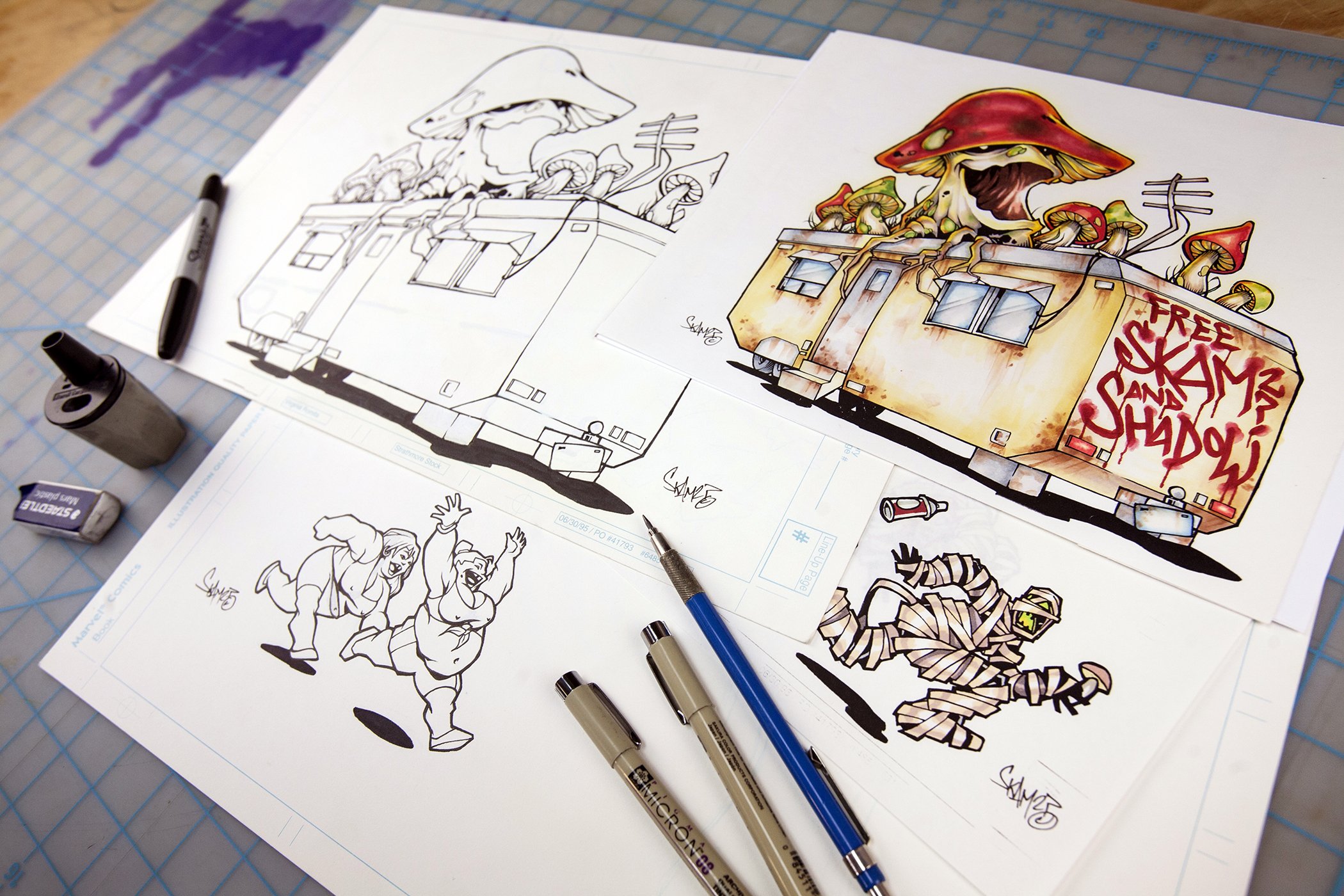 What's it like reflecting back on the SSLP and your work on it 20 years later?
It's a trip to see all the people who have my art tatted on them and tell me how they used to draw the pill and the mushroom when they were younger. Some have even told me how exposure to that art cemented their decision to pursue art. As a fan of music, I know first hand how the visuals can complete the experience for a great album so I'm appreciative of my work being thought of in that manner and even more psyched to know that something I did inspired someone in any positive way.
Anything else you want the fans to know?
As far as music goes, I'm about to release some Robots Make Better People material to follow up "Flying Monkey Murder Cirkus" as well as solo work. On the visual side, a collective art book, comic cons, comic art, galleries and whatever else I can get into.