Having worked with a number of established hip-hop icons before SSLP, Danny Hastings knew a legend when he saw one. That's how he ended up shooting the now iconic album cover of The Slim Shady LP.
To celebrate 20 years of SSLP, Shady Records askeds Hastings to dig into his archive for never before seen photos from the original album cover shoot. These photos, along with the classics, are used throughout our exclusive merchandise capsule.
For a deeper look at what went into the shoot (pre-Photoshop and other editing tools) and how it came to be, check out Hastings' Q&A below.
ps:
Don't worry! #Eminem didn't shave! 😁 This is not a fresh photo! It has been taken during photo set for a @Complex magazine cover story in 2013! #MMLP2 #SSLP20 https://t.co/mw3nwtoJXG

— ePro Team (@Eminem_Pro) 24 апреля 2019 г.
BEFORE WORKING WITH EMINEM, YOU SHOT HIP HOP LEGENDS AND CONTRIBUTED PHOTOGRAPHY FOR HIGHLY REGARDED CLASSICS – WU TANG, BIG PUN, NAS, ETC – WHAT WAS IT LIKE WORKING WITH EMINEM SO EARLY BEFORE HE TOOK OFF? WHAT WAS YOUR FIRST IMPRESSION OF HIM?
My first impression of Eminem in comparison to other "more famous rappers" at the time when I shot Slim Shady, was that Em was the nicest, most humble, respectful and collaborative artist I've ever worked with. I'm serious. Up until then, the majority of rappers I felt were very self conscious. There were certain things a rapper would not do for the camera in the 90's. They never made fun of themselves. Em was not afraid of looking silly for visual support of his music. He got serious when he needed to get serious and fun when he needed to get fun. He brought something different to the table and I recognized that immediately and appreciated that. It was like a breath of fresh air. When I heard his music, I was blown away. When we met, we clicked right away. He was young and new to the game and because I shot a bunch of his heroes, he was willing to try anything for the shot. I was like: "put this light on your head, trust me it's gonna be dope", and Em was like "lets do it". Em was a blank canvas, I got to create some great imagery with him.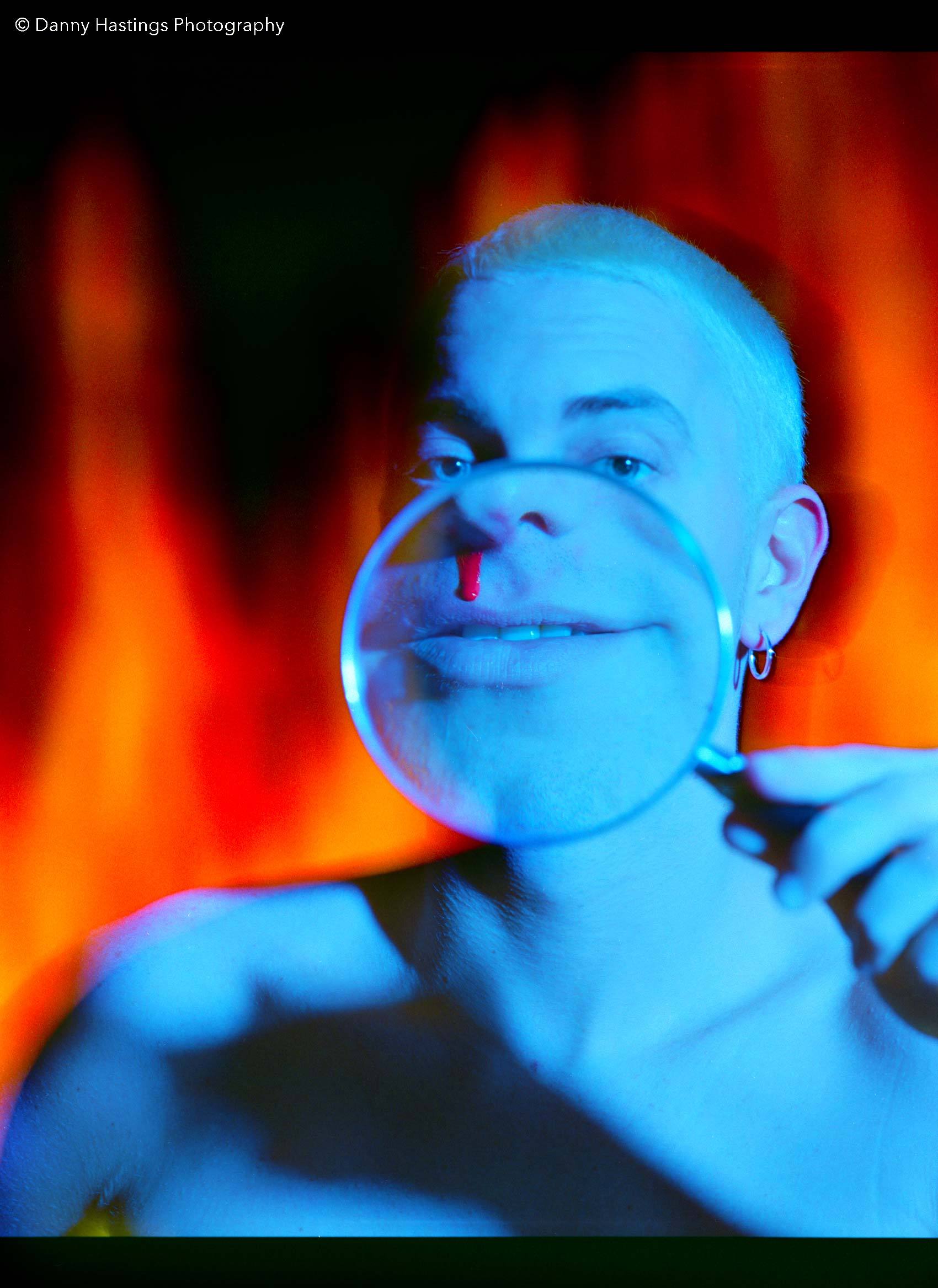 WOULD YOU HAVE GUESSED IN 1999 EMINEM WOULD STILL BE AT IT 20 YEARS LATER? DID YOU HAVE ANY IDEA HOW THE NEXT 20 YEARS WOULD GO BACK IN '99?
The record company send me an advance copy to find inspiration for the photographs, and as soon as I heard it, I knew he was going to be big. Remember, in 99 I already had a bunch of platinum records under my belt. As soon as I heard the music, I knew he was going to become #1. I don't think he knew at the time. The day of the shoot, I remember clearly his manager Paul Rosenberg, another cool brother, he said to me he has to take Em to his first MTV appearance, so we had to break the shoot and come back to continue. If you look for Em's first appearance on MTV, that day… He left the my studio, to go and shoot a quick interview with Carson Daily and then he came back to finish the shoot with me. With the work ethic I got to see first hand that Paul and Em had, I knew it was going to be a success. When he came back I remember asking him: What was it like to be on MTV for the first time? and he replied "He felt very blessed".
WHAT WAS YOUR INSPIRATION FOR THE SSLP SHOOT?
His lyrics. His lyrics inspired the photography techniques I used. I wanted to do something different. I wanted to show the fans that we were inside the mind of a lyrical maniacal genius.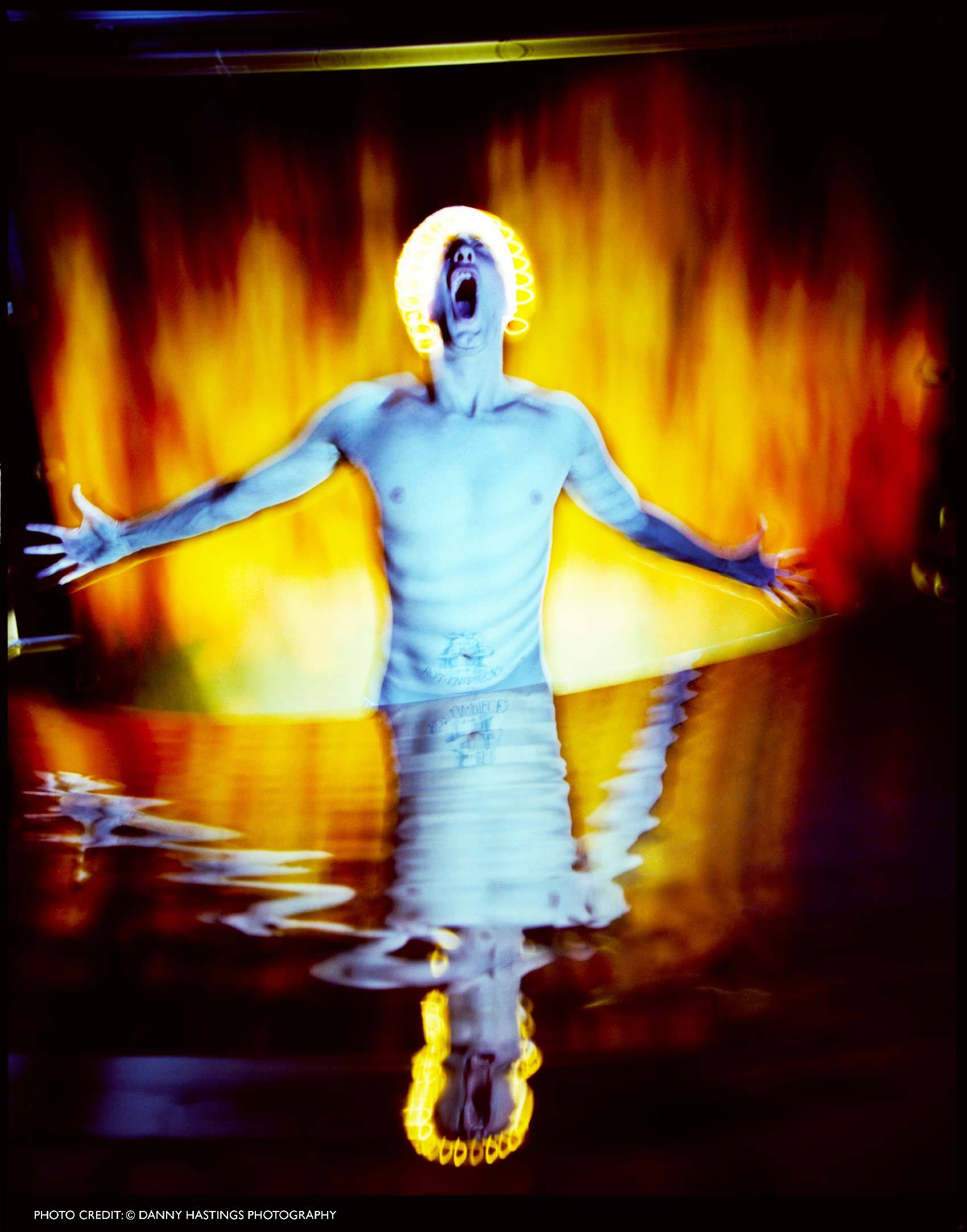 YOU EXECUTED THE SHOOT FULLY ANALOG, NO PHOTOSHOP. WHAT ALL WENT BEHIND SOME OF THESE SHOTS THAT FRANKLY LOOK AS GOOD AS PHOTOSHOP? WHAT IS IT LIKE TO LOOK BACK ON THESE TECHNIQUES 20 YEARS LATER?
OH the film days!! I miss film. I study traditional photography, not only techniques in the camera but also techniques in darkroom. The complete photographer in my days was the one that developed his or her pictures. Taking your pictures to the lab, to me, was amateurish. This is my opinion. Printing your work was something that no one could do better than you. I relied on lab techniques like, burning, dodging, Cross Processing and Color CMY dials on the Enlarger. I could ad in the darkroom my final touches. Nothing I ever shot was normal so I couldn't just send my work to a LAB, I had to print it myself. Most photo labs would always try to color correct my work, I didn't want my work white balanced. I would crank up blue, or red, or the contrast on the film by dumping the film in the wrong chemicals (Cross Processing) and experimenting that way. I was the Instagram Filter before Instagram… lol… but it wasn't just pressing a filter button, it took a lot of work to get a stylized artistic picture without Photoshop, you needed to understand ALL THE ELEMENTS OF PHOTOGRAPHY.
On the studio, I challenged myself even further. If you look at the blue pics I did of Em, You will see some graphic texture in front and behind him. I hired an artist to freestyle some graphic work in the the background to add some texture then I had him do the same to a 5 x 5 clear plexiglass. I placed Em in between the glass and the background. You don't understand how hard is to shoot a subject behind a glass. I had to black out the entire studio, create a box around the plexiglass so that I didn't get any reflections, all of this while testing images with polaroids. At the end of the shoot, you never really knew what you had in the film canister. You couldn't see it for 2 to 3 days. That was the magic of film, the latent image. Latent Image is Dead.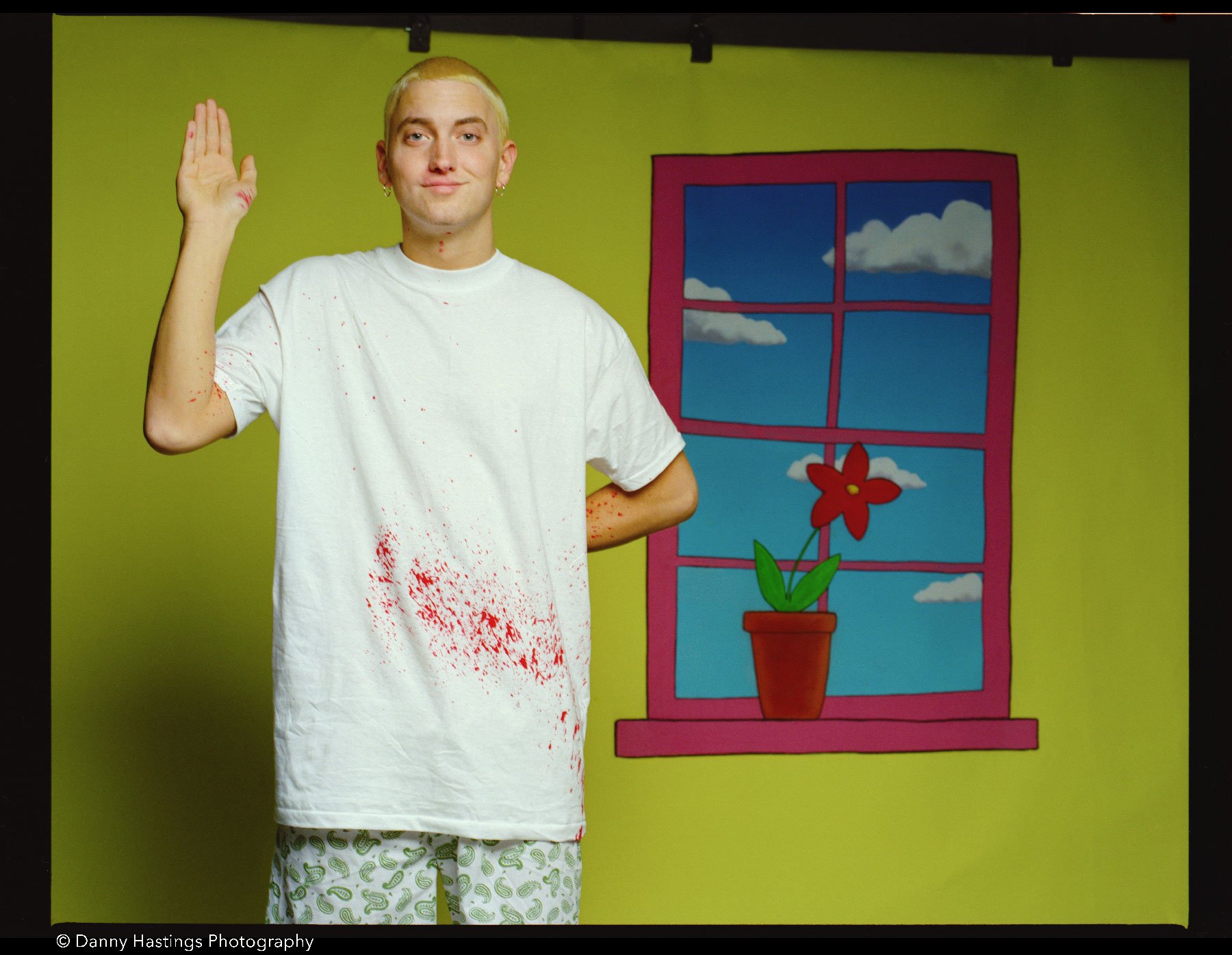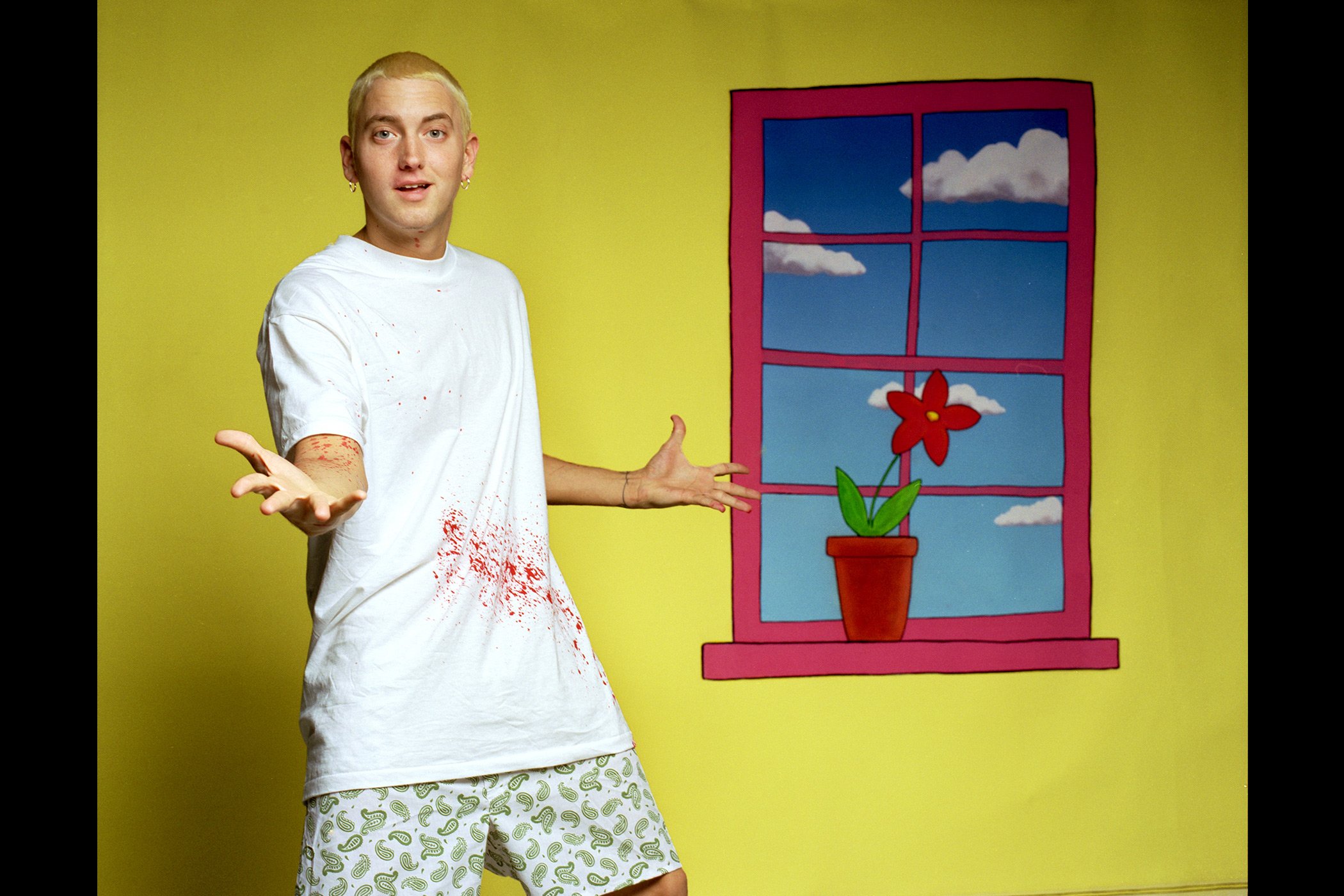 YOU AND EM HAVE WORKED TOGETHER SINCE '99 – WHAT HAS IT BEEN LIKE WORKING WITH HIM THROUGHOUT HIS CAREER?
It's waaaaayyyyy different now, and rightfully so. He is one of the most important music artist of the century. He put in the work and came on top. When I shot the first album he just showed up with Paul, It think they cabbed it to the studio. Today it's a big production. Creatively he is always open, he is a lot of fun to work with.
ANYTHING ELSE YOU WANT THE FANS TO KNOW?
He is kind of reserved, and quite honestly he is very quiet. I think it's because he is always thinking… I can tell the wheels are turning on him all the time.