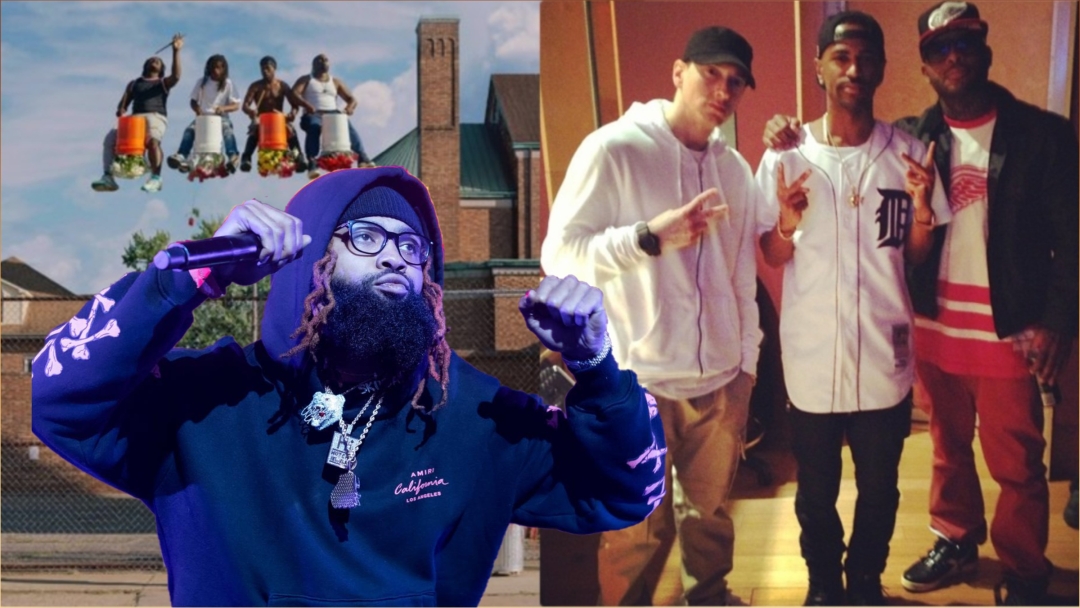 Sada Baby did not know that Eminem would be on the track and now he refuses to listen to it. He states that there is no way that Detroit beefs can be squashed.
Young Detroit rapper Sada Baby explained in his recent interview how he ended up on "Friday Night Cypher" – Big Sean's ambitions project to bring together MCs from his native city. Apparently, Sada connected with Big Sean to work on some other project together and they started with playing their new music to each other:
He played me the album, that was crazy! That shit was amazing! And he played the cypher. At the time that was only Tee, Kash Doll, Payroll, Drego and Cash Kidd on there. At that time he wasn't offering me to get on the song, he just let me hear it. I liked it. Immediately I felt like I could fuck him up on that bitch 'cause he said some bullshit. But I was cool because he let me hear his album. Before it came out. So I didn't give a fuck if he was gonna clue me on it or not.
Sada said that they started working on a record together the same day but the topic of getting on the cypher did not come up that day. Until Big Sean contacted Sada Baby:
A month or two got passed and he hit me up a couple of weeks before "Detroit 2" was coming out and asked me to put a verse on it. He sent me a couple of parts and a beat, like, pick your part and do what you want to. I had it and then I forgot to do it. And then I just happened to be in the studio and he was like, "Hey, you ever knocked that verse?" "Urgh, I forgot. I'm gonna do it right now". I picked the part of the beat I want to go, knocked the shit out and sent it back. And then a couple of more people were added after me. And I don't know if you would did it if I heard their verses first. I think he is smart enough to do my shit first, before the people he added.
The last people added to the cypher were Royce da 5'9" and Eminem. It is understandable that Sada Baby would think twice before agreeing to go on the same track with the rappers and lyricists of such power. Or maybe he would have put more thought and effort in his verse rather than recording it at the last moment.
It is clear that Big Sean's ambitions to unite Detroit rappers are not being supported by everyone. Sada Baby admits that he joined the posse cut mainly to body Tee Grizzly. And to the question, if this record has a potential to unify Detroit he responds negatively:
Not possible.
His resentment is so strong that he refuses to listen to the final cut of the cypher until this day. He knows, though, that some bars were cut out from the draft version he heard. So it probably means that he listened to it and hit the stop button before the verses of real masters from Detroit started. Very mature. Probably that explains why Eminem is not in Sada Baby's Top 5 – he just never heard him rapping.
Watch the video below: