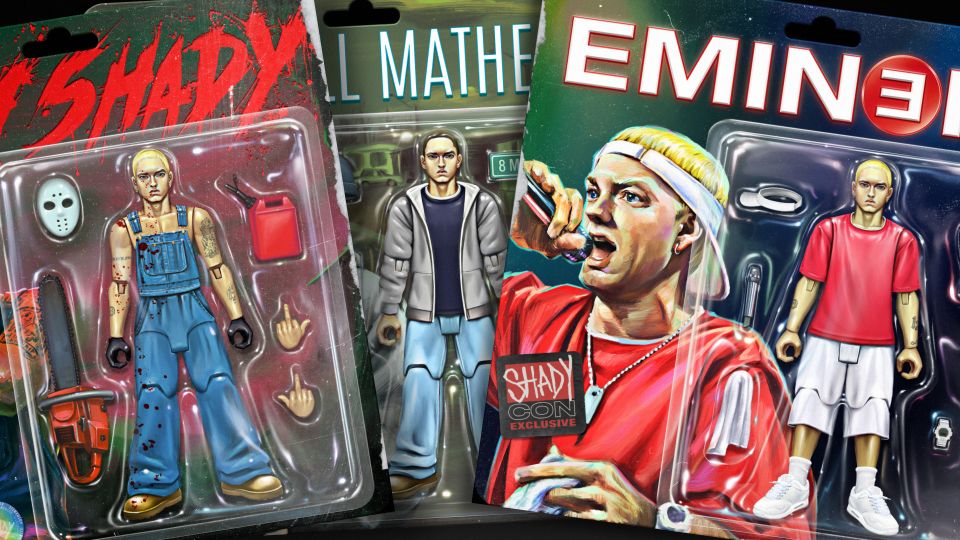 This Sunday, Eminem releases his first Non-Fungible Token, and now we know that it is a combination of collectables and instrumental beats.
The official website informs:
Eminem announced that he will be dropping his first NFT (Non-Fungible Token) release this Sunday, April 25 at 6:30/7 pm ET on NFT marketplace Nifty Gateway. The drop, dubbed "Shady Con," will feature a variety of Eminem-approved NFT collectibles.
In addition, the collection features original instrumental beats produced by Slim Shady himself specifically for this release. The tracks will be made available only as part of the limited-edition and one-of-a-kind NFTs. You can get a sneak peek at one of the offerings – a set of NFT action figures – below. But this only scratches the surface of what's coming this weekend!
The official press release also quotes Eminem:
I've been collecting since I was a kid, everything from comic books to baseball cards to toys, as well as every rap album on cassette I could get my hands on. Not much has changed for me as an adult… I've attempted to re-create some of those collections from that time in my life, and I know I'm not alone. I wanted to give this drop the same vibe of, 'Oh, man I gotta get just that one or maybe even the whole set!' It's been a lot of fun coming up with ideas from my own collecting passion.
Meanwhile, Marshall shared an animated promo video for the drop on his social media accounts:
SHADY CON is goin down Sunday on NiftyGateway