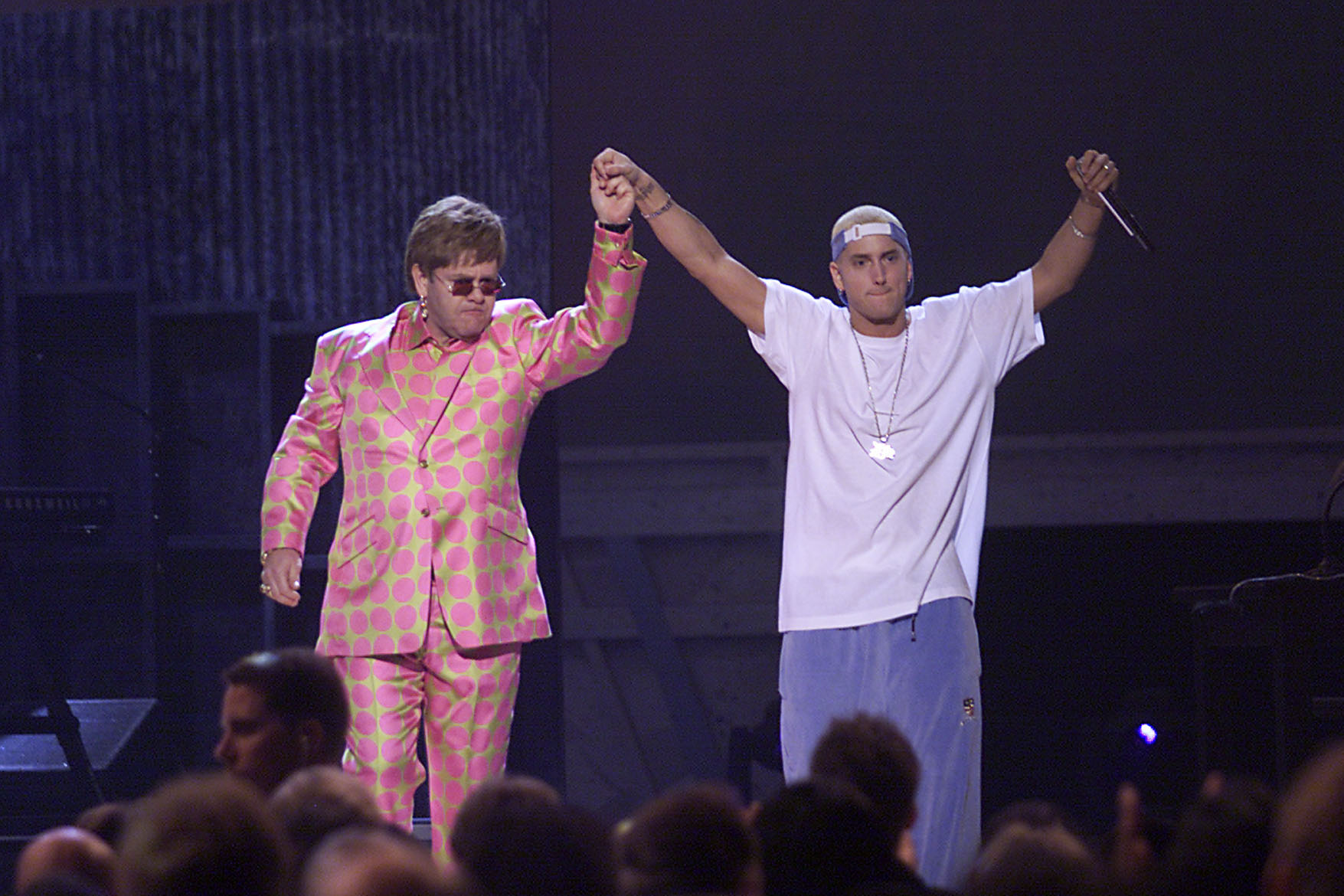 When The 43rd annual Grammy awards in 2001 took place Eminem was in the midst of controversy surrounding his lyrics on "The Marshall Mathers LP". Anti Woman hate groups and The LGBT community were protesting everywhere and anywhere he went.
That very night at the Staples Centre was no different. Signs such as "Award Music, Not Hate" were seen in amongst the protests. While many in the Gay community were highly critical of Eminem's lyrical content one was a supporter from the very beginning.
Elton John recognised that Em's songs and lyrics were from the perspective of an evil & twisted character named Slim Shady and not that of Marshall Mathers himself. In a show of support he agreed to perform "Stan" with the Detroit MC at the ceremony. In what is now regarded as one of the greatest ever Grammy performances in the history of the show Elton played the piano and sang Dido's part. At the end the pair held hands aloft, hugged and Eminem flipped the audience. The reaction was with great applause and a standing ovation for the pair.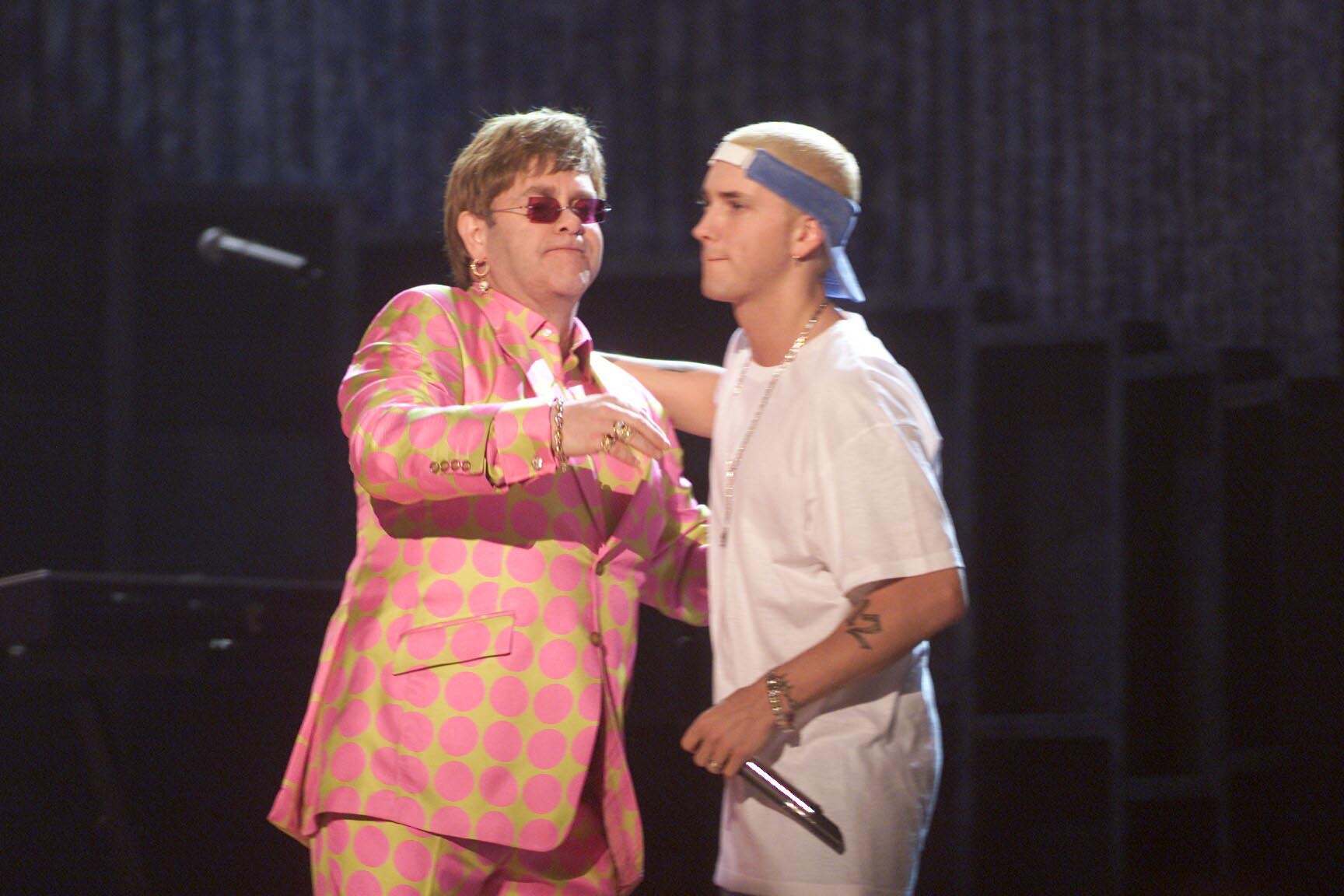 In the years after the performance Eminem and Elton have became very good friends. "I love him" Elton told Rolling Stone magazine in 2010. "I don't see Marshall, but we speak a lot. He's worked very hard with his Sobriety, and it's changed him so much. I'm so happy for him, we have such a great laugh. We call each other cunts. I ask him how he's doing and I tell him how proud of him I am. He's got a great sense of humour. When David (Elton's now Husband) and I had our civil partnership, he sent us a present. In a case, on velvet cushions, were two diamond incrusted cock rings. So there's a homophobe for you". It's also worth noting that Elton is Eminem's sponsor for AA and as of April 2020 he has been 12 years sober.
In December of 2017 Elton interviewed Em for U.S Magazine Interview shortly after album "Revival" had came out. Em opened up on his issues to John, Saying "Getting clean made me grow up, I feel like all the years that I wasn't using, I wasn't growing as a person".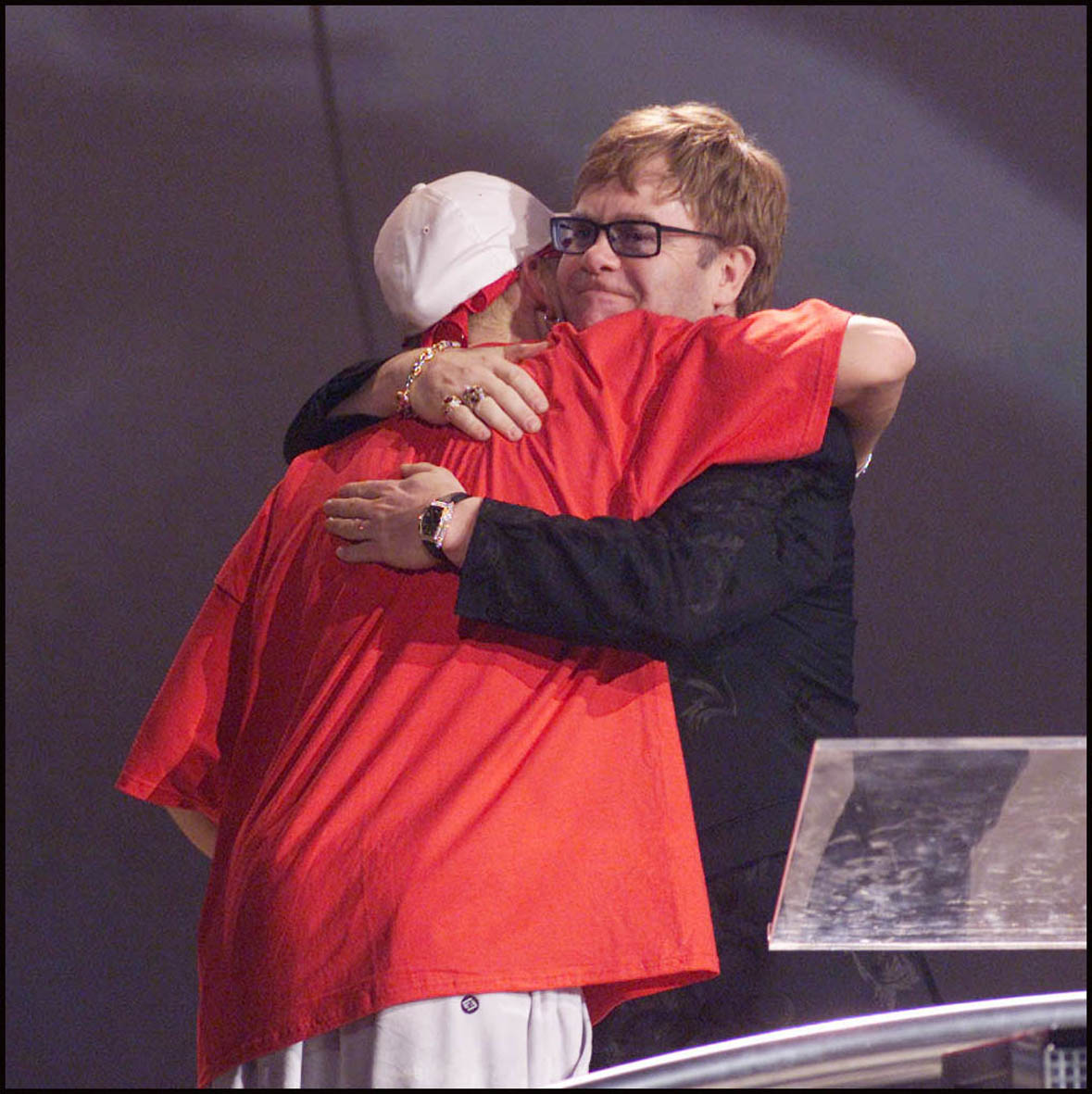 The most recent meeting with the pair came in February of 2020. Eminem performed "Lose Yourself" at the 92nd annual Oscar Awards. A picture of the two was uploaded by Em on twitter stating " I got to see my Uncle Elton tonight, congrats on your win too, Sir!".
It just goes to show as unlikely a friendship it seemed at the time, the bromance has went on to become a very strong one which has lasted well over 20 years, and it all started with that Grammy performance.