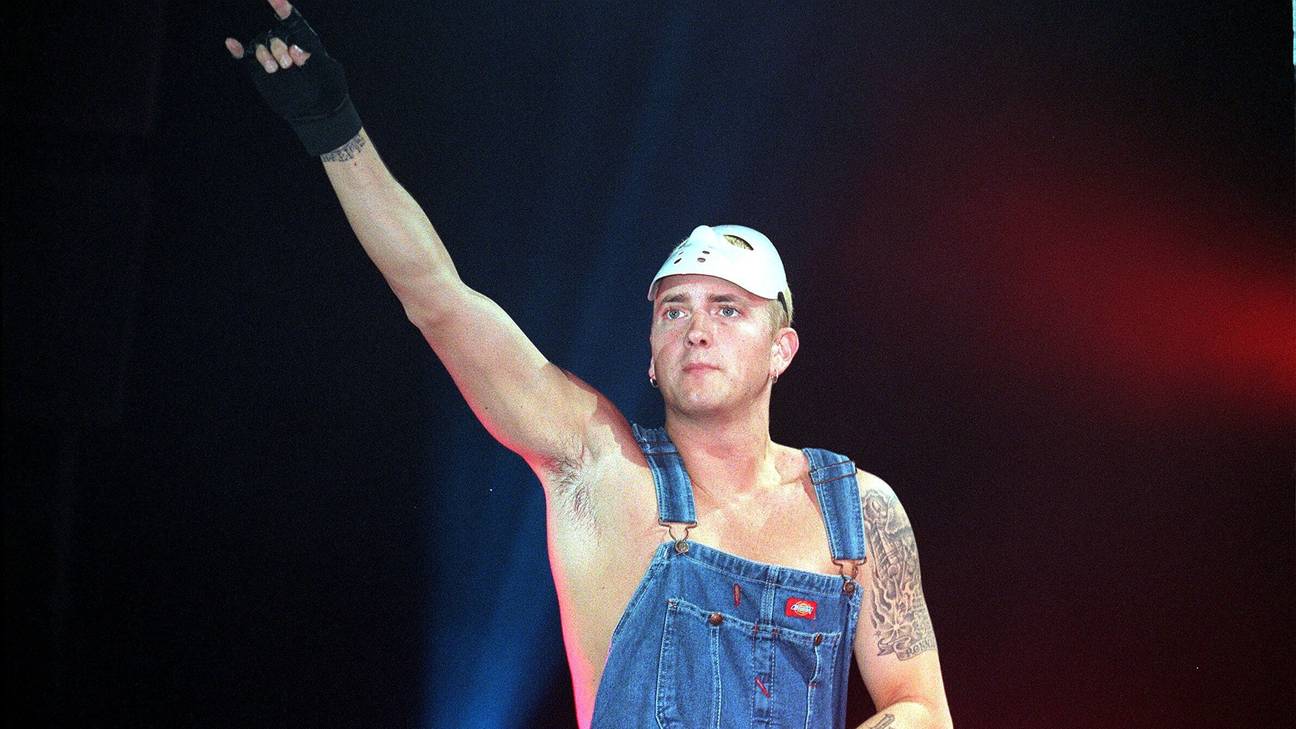 Spin published a long and detailed review of Marshall Mathers LP, looking back at the world that has changed forever since the album was released.
The author set the mood with a detailed description of Eminem's first nationally televised full-length concert, a private performance of his 2000 Anger Management Tour set. The parallel between Slim Shady and a psychopathic maniac – an easy one and offered by Marshal himself – runs through the entire article, starting as a fitting one and turning to a tired trope in the end.
The album, however, received nothing but praise:
Twenty years old this week, Marshall Mathers LP is the record the rest of his catalog is measured against. It cemented his place in the pantheon. If you include him in rap's enduring GOAT conversation, as Zadie Smith did in her 2002 VIBE cover story, you point to Eminem's incendiary third album with one hand and extend the middle finger of the other.
Eminem's rhymes and wit were never sharper, his narratives never more convincing. He was a chainsaw with endless fuel, on ecstasy but never on E. Antagonistic and angered, political and politically incorrect, jesting and juvenile — he cut down enemies and innocents like it was an autonomic function. Apart from "Kim," the grotesque and screaming diatribe, his delivery was never more fluid or in the pocket. Chalk it up to the right combination of THC, pain pills and hallucinogens, the production from Mel-Man, the Bass Brothers, or Dre's coaching.
The author pays special attention to Eminem's lyrical skills:
Listening to verses of interlocking internal and end rhymes on "Kill You" or even lead single "The Real Slim Shady" is like watching a gymnast solve a Rubik's Cube while performing a flawless Triple Double during a floor routine. Syllables in each block of language rotate swiftly on their axis, aligning as though they couldn't be arranged another way. He flips in and out of cadences and character voices without a sidestep, perhaps only as a medaling Rap Olympian can.
The article comes to a halting stop with the statement that MMLP is Eminem's peak and since then he has become a cringe-worthy parody of himself. Well, some people certainly grow in different directions. Still, it is an interesting take on Eminem's classic.
Read the full article on Spin.com