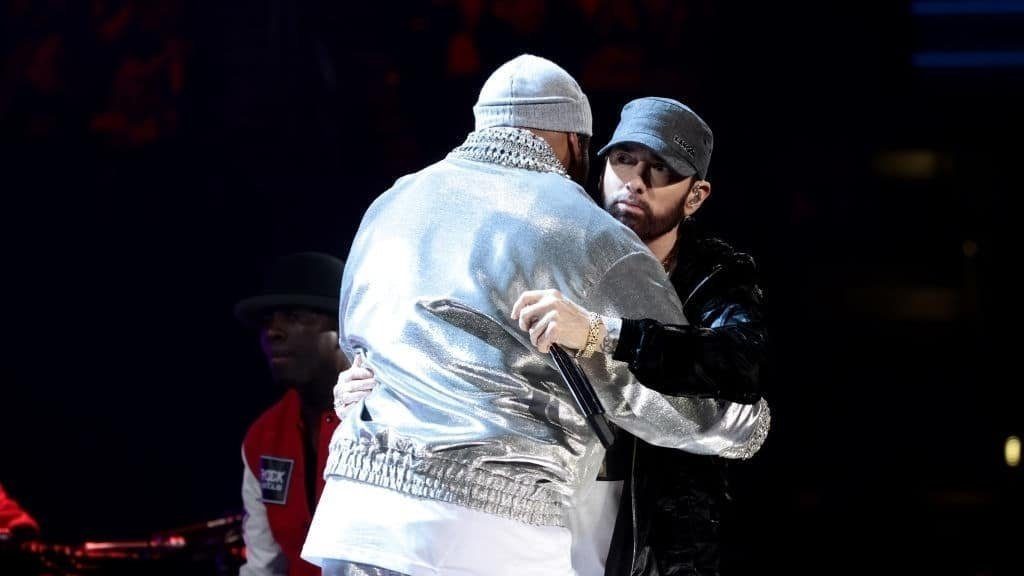 Eminem hit the stage with the legend who inspired him to rap – and delivered an unforgettable performance.
LL Cool J was inducted into the Rock & Roll Hall Of Fame on Saturday night. Dr. Dre did the honours of delivering the induction speech. Cleveland.com quotes his Talking the audience through LL's career Dre statement:
What does LL actually stand for? Ladies love? Living large? Licking lips?. I'm here because I personally think it stands for Living Legend. LL's longevity is unparalleled in hip hop. [He's] the rare artist loved by you, your mom and all of your kids all at once.
Then LL Cool J took the stage. His set was jam packed with timeless bangers and supported by two major surprise guests — Eminem and Jennifer Lopez.
MORE: [New Photos & Videos: Eminem at Rock & Roll Hall of Fame – Performance and Backstage]
Marshall joined his hero for a new "Rock the Bell" rendition. Both rappers turned the pressure up high, challenging each other and not pulling punches – that was a stunning display of talent and mastery, they executed the full control of the stage and command of the flow. Leaving the stage, Eminem encourage the crowd to join him ion his appreciation: "Make some noise for the muthafuckin' G.O.A.T!"
This is not the first time Eminem has performed this song. In 2009 he and Black Thought delivered their take on "Rock The Bells" on the Hip-Hop Honour Awards stage (watch in on our channel).
Watch Full Multi-Camera Vid of LL Cool J and Eminem Performing "Rock The Bells" at Rock & Roll Hall of Fame
Eminem's Surprise Performance With LL Cool J – Rock The Bells at Rock & Roll Hall Of Fame 2021 (Multicam Pro Shooting):