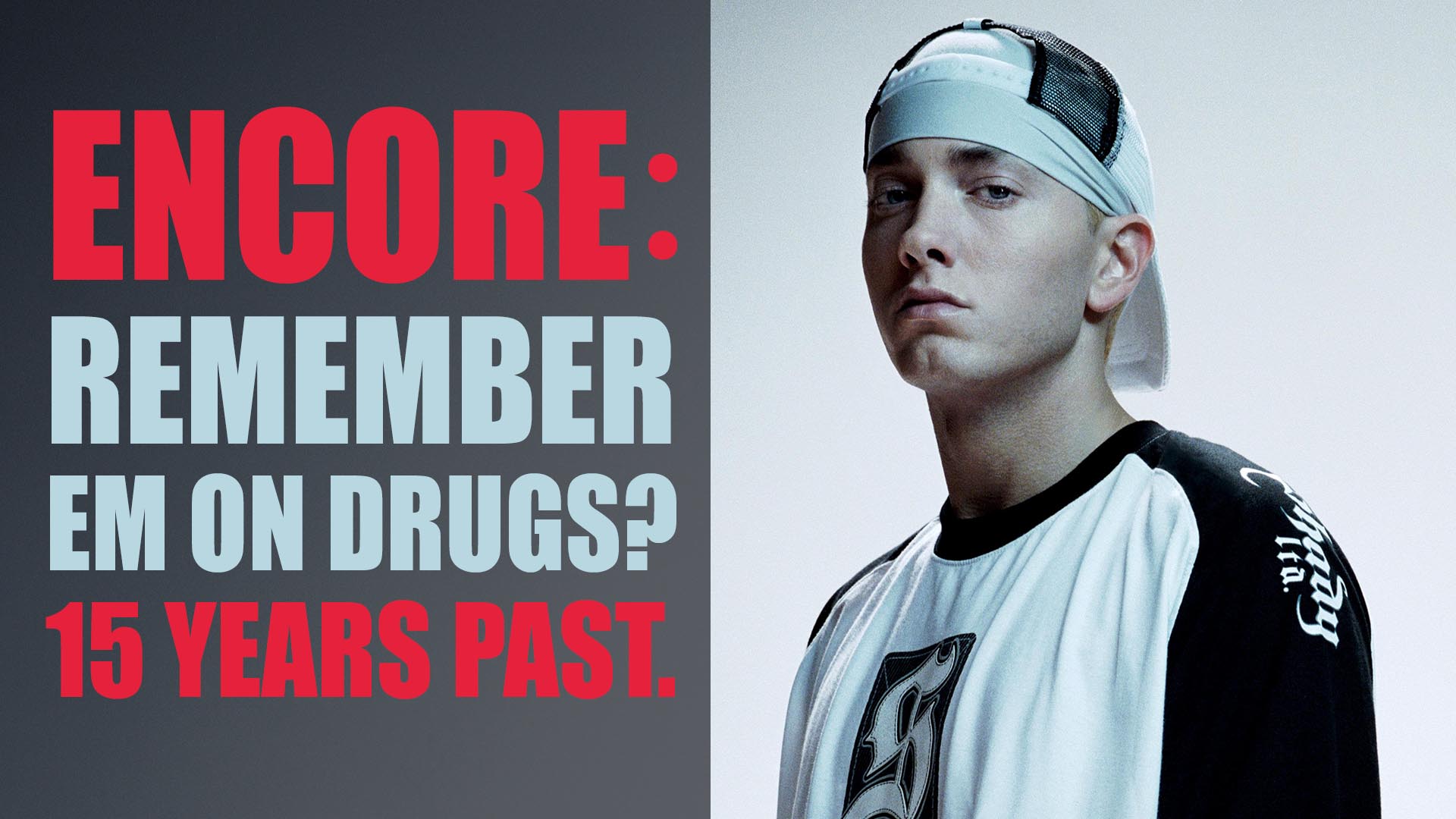 Encore (2004) – Marshall's fifth studio album – approaches its fifteenth anniversary this year. One of the most controversial Em's albums that did not find a warm reception from critics but became a commercial success. What impression has it left?
"Encore" is what is said on the cover, an encore to Marshall's previous album The Eminem Show (2002). It continued to explore the topics of hate, politics, love and celebrity culture that Em ridicules all the time (and we love him for his courage). It seems like there was nothing new, everything was as usual. However, the front cover presents Slim Shady's final bow. Having said "Bye-bye!", Shady shot himself, and it is obvious that Em's alter ego left us. Well, almost on every album Em "promises" that this is his final project and he is leaving the stage. It goes on and on for 20 years. And Slim Shady goes out to take a bow again on Relapse.
I would not say that I remember this release as a consistent record. Some tracks, such as Like Toy Soldiers and Mosh, became classic. However, the album was not successful and was left ignored by all major awards such as GRAMMY and AMA (both did not award Encore in The Best Rap Album category). Interestingly, the album was seen as having good prospects: more than 800 thousand people came to the album launch in New York, making this event a Guiness Record. An absolute peak of popularity of the artist.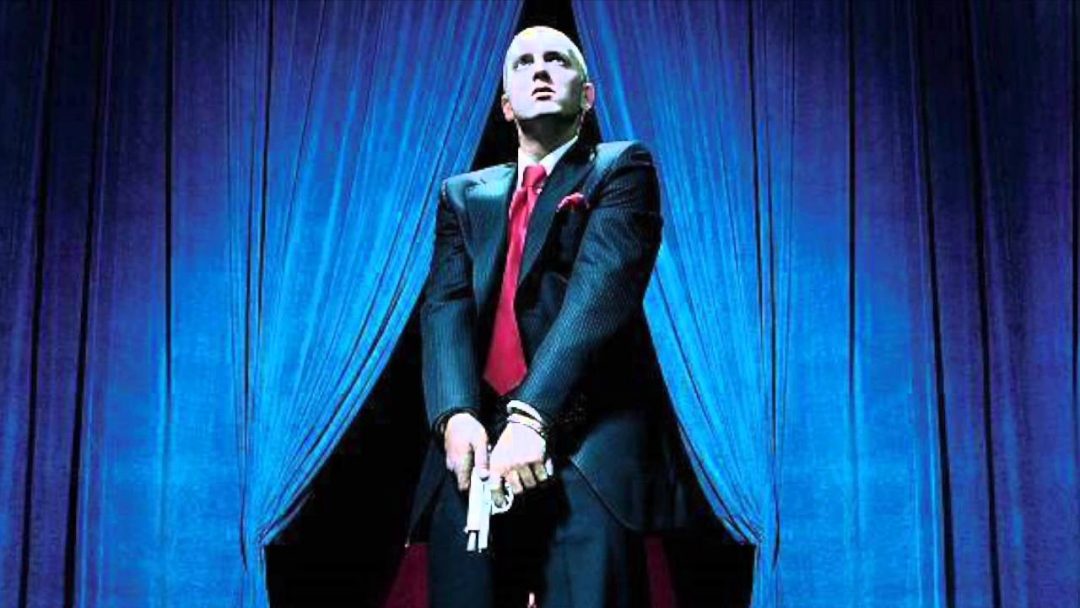 The album spent eight weeks at the top of the Billboard Top 200, the global sales were high. Everyone wanted to hear Em who had never been afraid to tell the truth when others were too scared. He says "Fuck Bush" on Mosh and declares that he "would rather see the president dead" on We As Americans – Em disagrees with Bush's politics and talks about it openly, voicing the opinion of thousands who share his dissatisfaction. It led to Marshall being marked out as a threat and investigated by the Secret Service. Maybe they still investigate him as he keeps being vocal about Trumps' politics as well. And for that we really love and respect him.
The album was commercially successful but received a negative response. What expectations were set by The Eminem Show, the most successful Marshal's album? Very high. Having received Encore that did not reach the same level of success but became a pale copy of the previous album, people split into two camps. Some were glad to get something new, others fiercely criticised the release.
Media mostly criticised. The review on Genius: "Big step down from his normal level and was his only album not to win him even one Grammy, despite being nominated for three". Similar thoughts were expressed in other reviews. Some did not like the lyrics, some did not like Dre's simple beats, angry opponents of Marshall's new "accent" emerged, some disapproved weird background noises (especially on Puke, when Em was vomiting in the toilet. Not the most pleasant of experiences, I agree). "This was the beginning of Eminem's downfall", – stated Focus Hip Hop.
Indeed, at that time Marshall's career was going downhill. He became addicted to drugs, lost his best friend and isolated himself from the music scene for several years. Probably, having received such harsh feedback, he also lost faith in himself and his music.
The lyrics style became threadbare as many drew comparison with his previous albums and the repetitive mockery of celebrities, politicians and critics. Just Lose It, where Em parodied and mocked Michael Jackson (well, not a smart move Marshall…) was heavily criticised. Everybody was especially annoyed with his new East European accent on Ass Like That, where he raps in the voice of the puppet Triumph the Insult Comedy Dog, the dog smoking a cigar and ridiculing famous people. The music side of the album did not help the situation. Everyone was disappointed not only with how Eminem produced it but also with Dr.Dre's beats. Not that it was bad, but it was not exciting, the audience was offered the same sound on three albums in a row (we do not count Infinite in).
Still, there were moments that impressed everyone. Like Toy Soldiers and Mockingbird are deeply emotional and personal tracks where Em laid his heart bare. He touches on the topics of friendship and fatherhood in all his albums including this.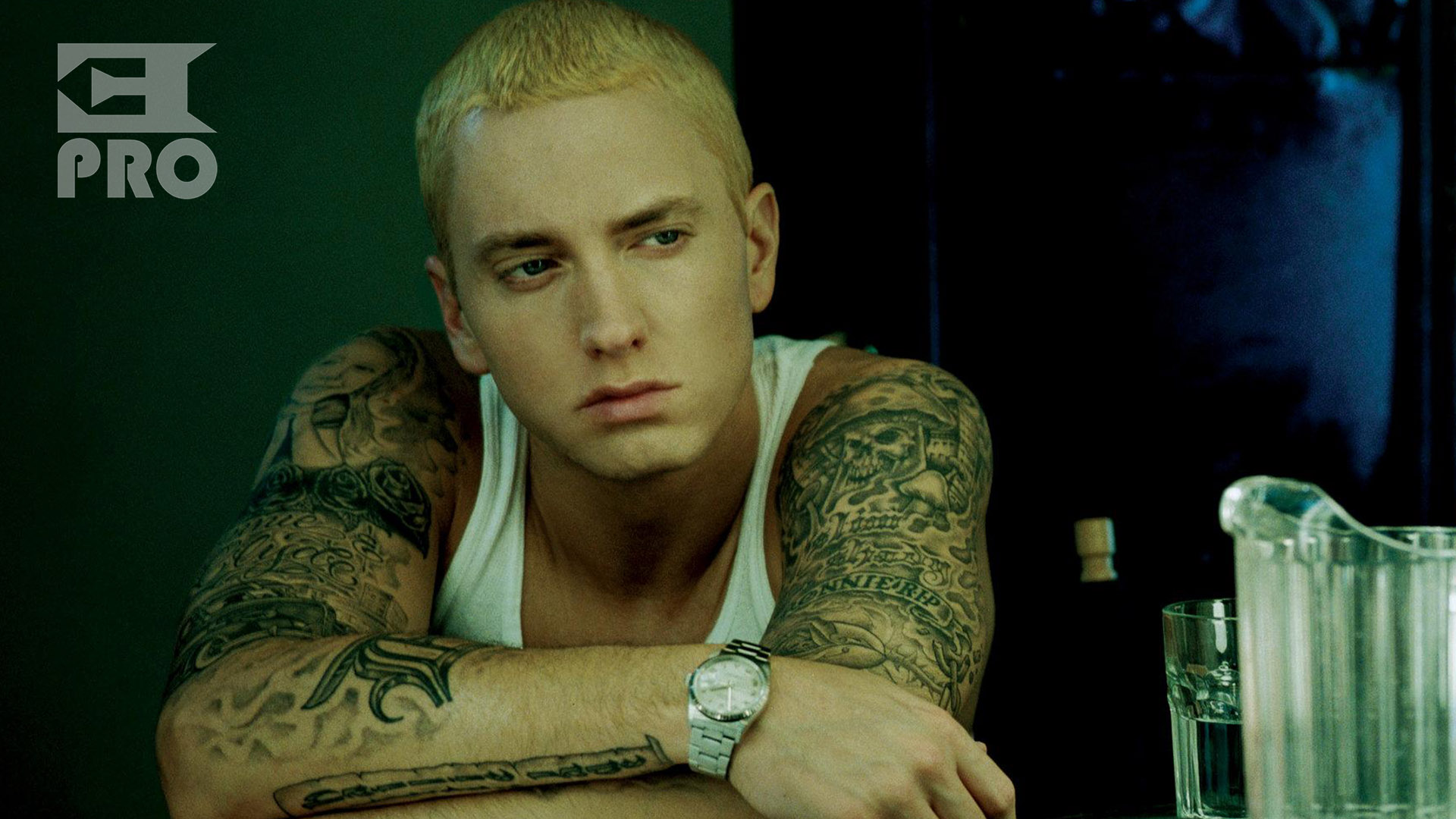 Multiple reviews point out that Encore was just a failed sequel of The Eminem Show, and very few appreciated the level of artistry he maintained. Rap Reviews published this response: "Nevertheless, "Encore" does prove one thing: that even half-trying, Eminem is still better than most of the rappers beside him with plenty of personality to spare. "Encore" actually imitates Eminem's manic, moody personality, shifting as quick as his temper from "Puke" to "Crazy In Love," or from "Mosh" to "Mockingbird." Em spends half his time burning bridges and the other half rebuilding them. Overall the album is really just an encore of the manic-depressiveness you heard on "The Eminem Show." It's just more of that rambunctious, raving maniac insulting everyone within ear shot, but hey, isn't that what you buy an Eminem album for anyway?"
Indeed, no matter how hard critics tried to criticise the album, Marshall played them all on his following albums, we know that now, five albums later. Encore has become a Slim Shady classic and has got platinum four times. On this record Marshall said whatever he deemed important without any fear to be forced out of the game. Many declared that he was just allowed more freedom because he was a "white" rapper, but we think that this is a result of his gift to hit the mark with every word. People exclaim "He's naughty!", but deep inside agree with his every sentence. He does not pretend, he is honest.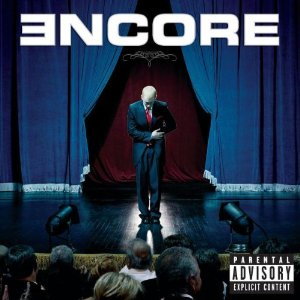 We do not see this album as the peak of his career. Yes, these beats are already familiar (Never Enough, Yellow Brick Road – we heard something similar on "8 Mile" soundtrack and it's catchy) but admit that you feel goosebumps when Evil Deeds starts playing. Marshall's lyrics on some tracks (Ass Like That and Puke) are not up to the standards of the talented hip hop artist. You expect to see powerful lyrics, but this is just not up to par. Until you hear Mosh or Like Toy Soldiers. The album is not consistent, some tracks just call to be skipped. However, we liked guest features (and we would like more of that). We have been missing this massive hip hop support for quite some time. Fyf, Dre, Nate… Featured guests: 10 out of 10.
Would this style be relevant nowadays, 15 years later? It's difficult to say. Tastes and trends keep changing. However, it is clear that the album is worth remembering even after all these years.
I wonder if there are people who appreciate Encore strongly enough to consider it the best work in Marshall's career.