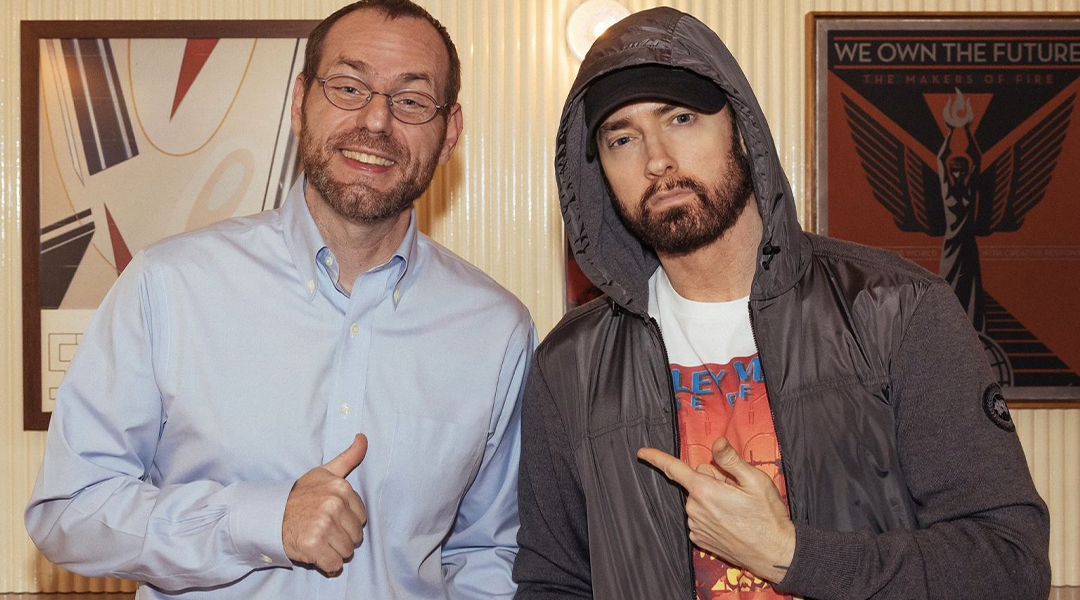 The full interview that Marshall gave to the Shade 45 host at the Mom's Spaghetti opening gives more detail on how Eminem decided to open the diner.
Rude Jude: This is kinda crazy of a song lyric turned into a meme turned into a restaurant.
Eminem: It's funny, because in "Lose Yourself", I was saying it from the perspective of Jimmy Smith Jr., the character I was playing in the movie. Spaghetti sandwich is definitely some white trash shit. I hate the tangy zip of Miracle Whip, but spaghetti – that's a touch of class. White trash. But I still eat it today.
If you never put spaghetti in a bread and ate it like a spaghetti sandwich, you should. Sliced bread, man. You'll never go back. What makes it so delicious I don't know. Maybe, it's nostalgia.
Rude Jude: Did you make it a lot at the crib?
Eminem: Uhmm, hot dog, spaghetti, mac n cheese, four for a dollar, ramen noodles. All that shit.
Rude Jude: Do you plan on serving fancy versions of that stuff too or are you going to stick to just spaghetti?
Eminem: Paul, are we gonna stick to just spaghetti or branch out? Yeah, for now. But hot dogs, ramen noodles should be sold here too. But we'll start with mom's spaghetti and see where it goes.
Rude Jude: How did the conversation go between you and Paul on whether you guys were going to do this?
Eminem:It started off as a joke.
Paul: But then it became a thing that might actually be something cool to do.
Rude Jude: And now you got this pimped out 500 seat restaurant on Woodwork.
Paul: Well, we are small part of it, within a bigger restaurant. The Union Assembly guys partnered with us for this. We have a kiosk downstairs with a walk-up window.
Eminem: What really started it off was that "mom's spaghetti" just rhymed with "palms are sweaty". Really, it's just that. That happened and then Mom's Spaghetti became a thing.
Rude Jude: Are you tried everything on a menu?
Paul: We were testing it, yeah. And we did pop-up restaurants too.
Eminem: We need to do mac and cheese. Who's gonna say no to mac and cheese? But it's gonna be a really cheap con, 'case I'm telling you, that's the best kind. Four for a dollar mac and cheese! I should sit at home and get some mac and cheese. Four for a dollar, I'm sure they still sell them, and make it to my liking. And then give the recipe to Paul so he can make money off it. I'm here because he paid me in a sticker. He gave me a sticker. I don't know where it is now.
Don't even eat a bite of your spaghetti until you put it in the bread. Then eat it. Because otherwise, you're going to ruin the whole fucking thing. Don't be stupid. Do the fucking bread. Before anything else, you put your spaghetti on the bread. If I fucking catch you doing that without the fucking bread!.. I don't know what I'm gonna do. There is gonna be hell to pay. I'm not trying to offend anyone, but if you are fucking idiot – don't eat Mom's Spaghetti.
That's it. My balls itch, so I'm gonna have to scratch that. I've got a couple of things… Busy schedule today.
Here is the interview in full: