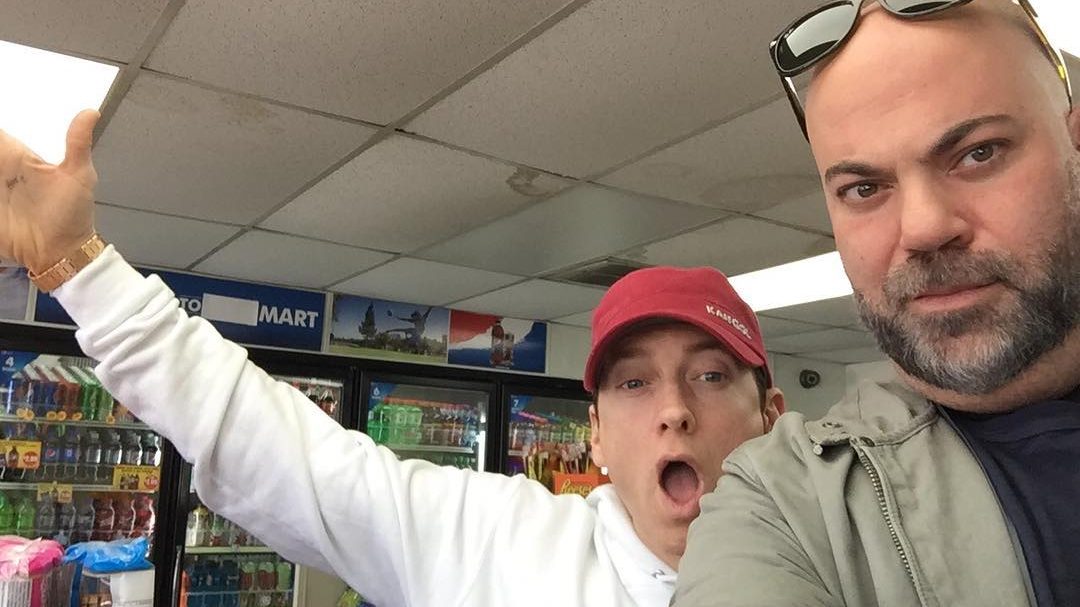 Paul gave a detailed account of how Eminem and he moved from joking around to actually selling spaghetti.
Paul also managed to put his sandwich on the menu of a restaurant that hosts Mom's Spaghetti, and he sounds proud. He was pitching their new project on Shady 45 for 15 minutes.
Paul Rosenberg: I'm here not for a long time, just for a good saucy time. You get that? That was a pasta reference. That was cheesy. Get it? I'm on a roll!
Rude Jude: It's mind-boggling to me. Never have I seen a 20-year-old rap lyric turn into a meme and then have the meme turn into a restaurant. How did that happen?
Paul: It started off like a merch item, kind of a joke. It started off like the merch item that somebody made, and then it was like," Oh, wouldn't that be funny if we really made a place called Mom's Spaghetti?". It was a joke, but the idea wouldn't go away. So we just kept coming around to it. You know, Marshall is a pretty good rapper, and I'm a pretty good manager, but neither one of us knows how to run a restaurant. And I learned a long time ago to stick to what you are good at and what you know. I don't know running restaurants, and neither does Marshall. So we needed to find a partner. And we also felt like it should be somebody from Detroit so that it would make sense and have a natural synergy and be authentic. We kicked it around for a while, and we were, like, well, why not go talk to the guys that run the restaurants that we like going to? The Union joints guys were a great option for us. We went and talked to them, and Kurt, Ann, Eric and the team were just super excited about the idea. Then it was just a matter of how we are gonna flesh this out, how we are gonna build this. Because it was never like, we're just going to open up this spaghetti joint one day in the middle of Detroit and throw up a shingle. It was like, how are we going to see this? How are we going to build the brand over time? How are we going to lead up to the point that we're at now? Where we're actually in a brick and mortar location.
So, we were gonna do a food truck. And then Marshall had the "Revival" album coming out. So we said, well, why don't we start off and we can do a pop-up, and we can do something down at The Shelter in Saint Andrews. We did it there, then we did one at the Rag & Bone pop-up in London for our Rag & Bone collaboration. Then we brought it on the road, we did it at a few different festivals. We did it at Coachella, Firefly, Governor's Ball, maybe one more. It was seated. Fans had seen it, fans had the opportunity to try the spaghetti, to get familiar with the brand. We'd grown it at the concept on social media and got it to a point where we were like, okay, it seems like there's enthusiasm for this. There were long lines everywhere we did it. Why don't we give this a shot? But we weren't gonna open up some massive Mom's Spaghetti restaurant. It was like, what's the next baby step? It just so happened that the Union guys were looking to launch their new flagship restaurant, which is called Union Assembly, which opened up last week here in Detroit. Originally this whole thing was scheduled to open in April of 2020, but we all know what happened, so it was severely postponed.
As you can see, it's right across the street from Comerica Park, where The Tigers play and right around the corner from Ford Field, where The Lions play, and Little Caesars Arena is right down the street too. So if no people were coming down here for games, what are you opening for in the middle of winter in Detroit? It's probably not the best idea. So they decided to wait until there were people coming back down here, sports were happening again — and here we are.
Rude Jude: Congratulations. I think is awesome. So, what can you get at Mom's Spaghetti?
Paul: Well, you can get spaghetti. No, I'm just kidding. Obviously, it's focused and centred on spaghetti. There's spaghetti with sauce, spaghetti with meatballs, spaghetti with no meatballs, and then there's the spaghetti sandwich, which is basically garlic bread with spaghetti inside, which is something Marshall loved when he was growing up. And I think he still does make spaghetti sandwiches. It's a thing for him, and he's very proud and adamant about it, and hopefully, he'll talk to you about it later. It's really something that he enjoys, so we added it to the menu, and we're sticking with that for now. It's just pasta. We'll see where it goes from there, but we wanted to establish ourselves as that, keep things simple. The concept itself right now is really small and simple. It's a walk-up window right on the alley in between the restaurant and The Fillmore, which used to be the state theatre for all my old school people. You can grab your pasta and you can pop inside. There's some seating for you if you want. But then it's within this whole other flagship 500 seat restaurant called Union Assembly. It has a whole menu, not just pasta. It's got everything from sandwiches and appetizers, and comfort food…
We weren't gonna live and die by the fact that we were just selling spaghetti, and haven't really proven it. This gave us an opportunity to take another step, make it a permanent place, but don't put your life on the line with it.
Rude Jude: What was the conversation like with Em about this shit?
Paul: He thought I was joking. I don't know if I called him, or if I was with him. I'd probably shown him the shirt and somebody, I don't know who it was, but somebody was like, "Uh, it'd be really funny if you put Mom's Spaghetti in jars and sold them in the grocery store". And then it was like, hmm, maybe there's something else. It was literally just like, how far can we take this? How far can we take this concept and this sort of inside joke and meme? Where can we go with it? So, here we are. It's been really fun and obviously a learning experience. It's definitely exciting for the city and for some fans to have that. There was never previously an Eminem place to go to before. And now there is. It's not just the restaurant. Oh, somebody just handed me a menu, they wanted me to read off the actual menu. So, spaghetti, spaghetti with meatballs, oh, this is what I forgot, spaghetti with vegan meatballs! hey And the spaghetti sandwich is on buttered Texas toast.
Rude Jude: You get your sandwich. Where did you get your sandwich?
Paul: I've been eating as a customer at The Union Joints for years. When Kurt was talking about the kind of stuff that he wanted to have there, I said like, "You know, it'd be great to get a good sandwich on there. Like a nice deli sandwich". right right so we started talking about a Reuben, which is one of my favourite deli sandwiches. Corned beef is a Detroit thing. It's weird because most cities aren't like that, corned beef is not a thing in like, you know, Philadelphia. But in Detroit, there are corn beef spots. So, it's called Paul's Reuben, which is a double entendre because it's also a reference to Paul Rubin, who is Pee-wee Herman's real name. So, it's Paul's Reuben, and I'm Paul, and it's on rye bread with corned beef, Russian dressing, sauerkraut and it's grilled together to perfection with some Swiss. It's delicious, man.
Oh, this is what I was gonna say! Upstairs from Mom's Spaghetti is a place called The Trailer. We call it a trailer because it's designed to actually look like a trailer. It looks like there's a physical trailer within the building, like a trailer you'd live in. Which is another nod to 8 mile. In The Trailer, there is a merch shop and archive of Eminem things. We've got his Rap Boy costume from the "Without Me" video, we've got like old vinyl, posters, stuff from videos. There may or may not be a pair of shoes in there. You know, cool stuff to look at, like a mini-museum. There's all sorts of merch. Everything from Mom's Spaghetti merch to Eminem merch, to dead stock, to vintage Detroit sports gear… It's all there.
Rude Jude: Also, Em's debuting a song. Where can you hear that?
Paul: Yeah, from the "Venom Carnage" movie, which comes out this week. There's a new song. It's Skylar Grey featuring Mozzy, Polo G and Eminem. That song actually comes out tonight at midnight on the streamers.
Rude Jude: Well, I'll let you go 'cause I know you wanna you wanna jam.
Paul: Yeah, it's all good. The store opens in 30 minutes and there's a special surprise coming down the alley. And Marshall may or may not be here. We'll see.
Here you can listen to the interview in full: