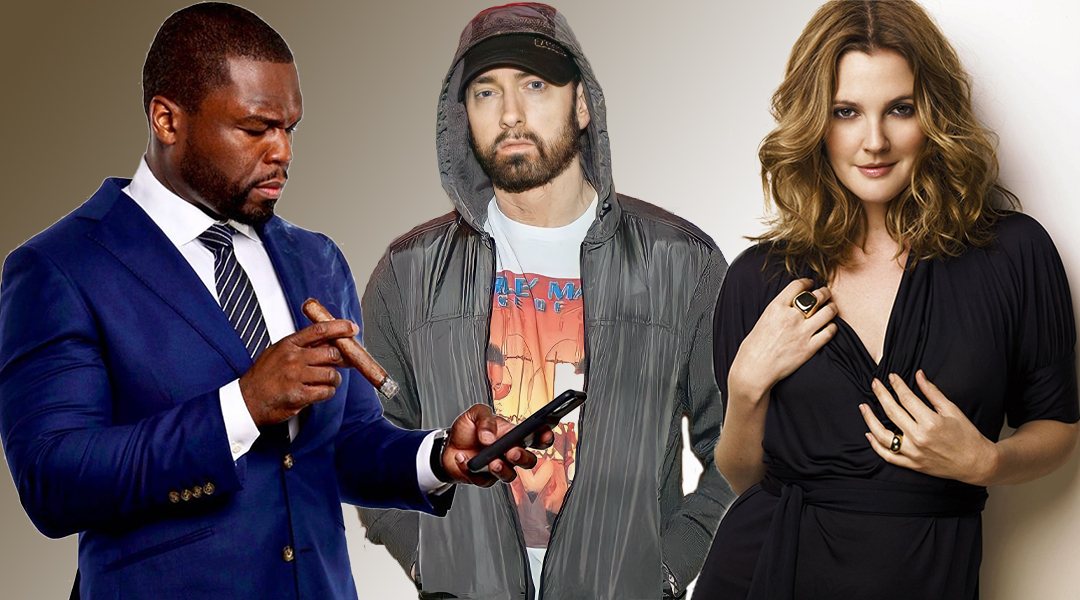 Drew Barrymore and 50 Cent recorded a video message to Eminem live on her talk show.
Fifty sat down with Drew to talk about how he became a TV mogul and his new show BMF. Then the conversation moved to Eminem and Dre, who knows that Marshall casually texts Fifty from time to time, wanted to know what these random texts look like.
Oh, he might see something I'm doing, like, I'm on the Drew Barrymore show and he'd be like, "Yo, you was right there? How was it?". Like, he'll say something to me.
Drew looked in awe and suggested texting Eminem immediately. Fifty was on board with the idea, but he did not share Marshall's number with the actress, just passed his phone to her.
He also did not disclose what type of communication Eminem prefers – texts or video. Clearly, Drew did not see Marshall's selfies, otherwise, she wouldn't have asked. 50 Cent encouraged Drew to record a video and the absolutely flustered actress taped a message for Marshall, with Fifty talking over her shoulder:
Drew: Um, hi, Marshall. We just felt compelled to text you.
50 Cent: Yeah, we live on TV. This is big dog status stuff going on here.
Drew: [Turning a camera to the cheering audience]. Here is everybody, saying hello. And because I found out you send Curtis random texts, we thought we would send you one.
50 Cent: Yeah. And look, I'm sending you videos with a really hot attractive woman in them. Send me something back! I'd like to see a video in return.
Drew: That's right, absolutely. Oh my god, we love you! Bye!
Watch Drew Barrymore blushing while sending a video message to Marshall whom she also called a genius on her show: