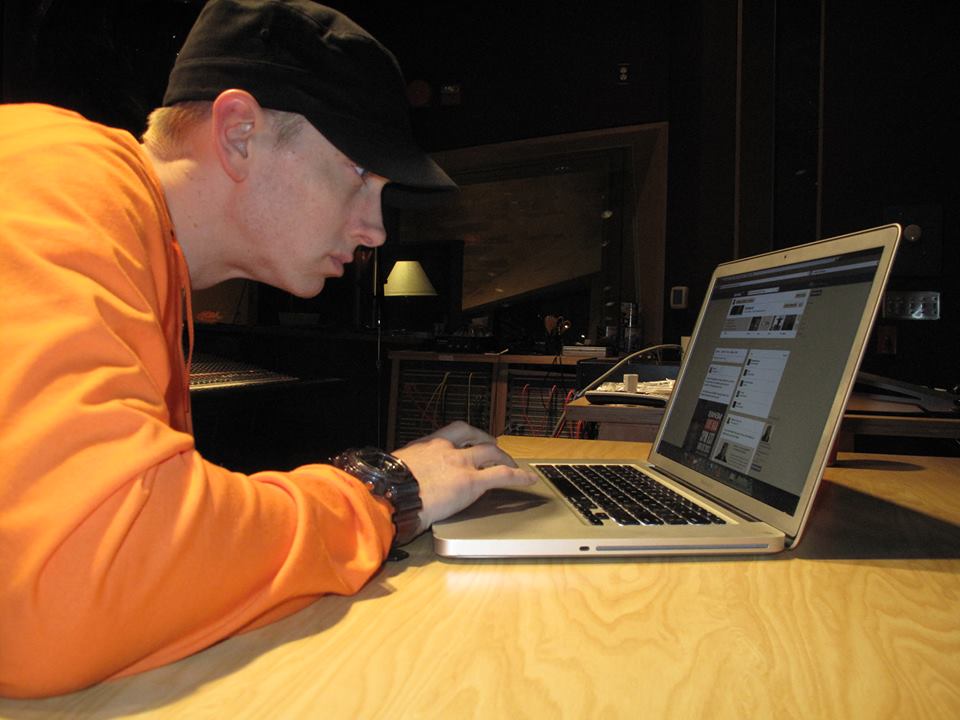 The idea of chatting with Marshal while listening to iconic "The Marshal Mathers LP" to celebrate 20 years since its release was brilliant. Only the conversation was difficult to follow when thousands of people are involved.
Marshal himself had some tough time following the endless flow of love confessions, invitations, shout outs and genuine questions. As a real pro he adopted a manner to quote a question he was answering but it also made him clip his answers to the shortest possible.
Here is the collection of all Eminem's messages on this chat:
Stan: Em You got snare for me??
Eminem: Yes I do
Stan: Favorite verse…
Eminem: 2nd verse to I'm back
Stan: where's Ken ?
Eminem: ehhhhhhhhhhhhh Connecticut. I'm back..kinda
Stan: How many songs did you record for MMLP that did not make the final album?
Eminem: 1or 2 didn't make it
Stan: Favorite batman
Eminem: …bale
Stan: Will you ever shave the beard…
Eminem: Why ?
Stan: Favorite song…
Eminem: FACK!
Stan: Fack is a lyrical masterpiece…
Eminem: I KNOW
Stan: What show have u been watching during quaraintine?
Eminem: Accused
Stan: In an interview you said that the first take of Stan was messed up by the engineer, how was it better than the one we have today?
Eminem: It just sounded better to me
Stan: when r u coming to Dubai??
Eminem: i was just there
Stan: favorite beat I produced.
Eminem: runnin' tupac and biggie
Stan: favorite actor.
Eminem: denzel, mark wahlberg, or stallone, or pacino
Stan: EM I UNDERSTAND YOUR FEAR OF GIRAFFES.
Eminem: thank you for understanding
Stan: Favorite boxer.
Eminem: Roy Jones Jr.
Stan: Favourite 50 Cent album?
Eminem: get rich
Stan: have you ever written a song while being naked…
Eminem: every single one
Stan: favorite ufc fighter.
Eminem: not at the moment, but have been watching it more lately
Stan: How did you come up with the idea of FACK?
Eminem: drugs
Stan: favorite cereal…
Eminem: raisin bran crunch
Stan: Favourite video game…
Eminem: donkey kong
Stan: Did your mom actually make you Valium Spinach?
Eminem: long standing family recipe
Stan: Which rap album is your favorite at the moment?
Eminem: young m.a. red flu
Stan: Is this lagging chat pissing you off to?
Eminem: definitely making things tough
Stan: Have you ever done Stan in accent?
Eminem: at every single rehearsal..drives Skylay crazy
Stan: what's your favorite sport….
Eminem: football and boxing
Stan: Who do you want to collaborate with the most that you already haven't made a song with?
Eminem: 3 stacks
Stan: Is ken inspired by a real person that you met?
Eminem: not really…no
Stan: The Sopranos or The wire?
Eminem: wire
Stan: Favourite track from Music To Be Murdered By?
Eminem: Godzilla
Eminem: a lot of questions about my salsa ???
Stan: 🙂
Stan: how long do I spend writing each day?
Eminem: sometimes all day
Stan: em do you remember of suce mes boules?
Eminem: how could I forget
Stan: Who's your favorite South Park character?
Eminem: cartman
Stan: How much can you bench?
Eminem: do you even lift
Stan: who inspired you most as an MC?
Eminem: kool g…ll. treach..redman..tupac…a ton
Stan: Shout to Mike Strange for helping make your shit sound incredible.
Eminem: Not mentioned enough. nice try Mike
Stan: most underrated rapper?
Eminem: kxng crook
Stan: Do you watch stranger things?
Eminem: yes
Stan: what is your favorite 50 cent song?
Eminem: places to go
Stan: What happened to your childhood house?
Eminem: got burned down
Stan: Is Paul with you right now?
Eminem: no
Eminem: paul is in quarantine stupid
Stan: 🙂
Stan: Favorite Detroit Lion of all time?
Eminem: Barry
Stan: Favorite avenger…
Eminem: hulk
Stan: Fav 2pac song?
Eminem: straight ballin' …..all of them
Stan: Do you still write by pen?
Eminem: yes
Stan: EM what is one of your go-to BEASTIE BOYS songs??
Eminem: rhymin' and stealin'
Eminem: gotta go…..thanks for stopping by