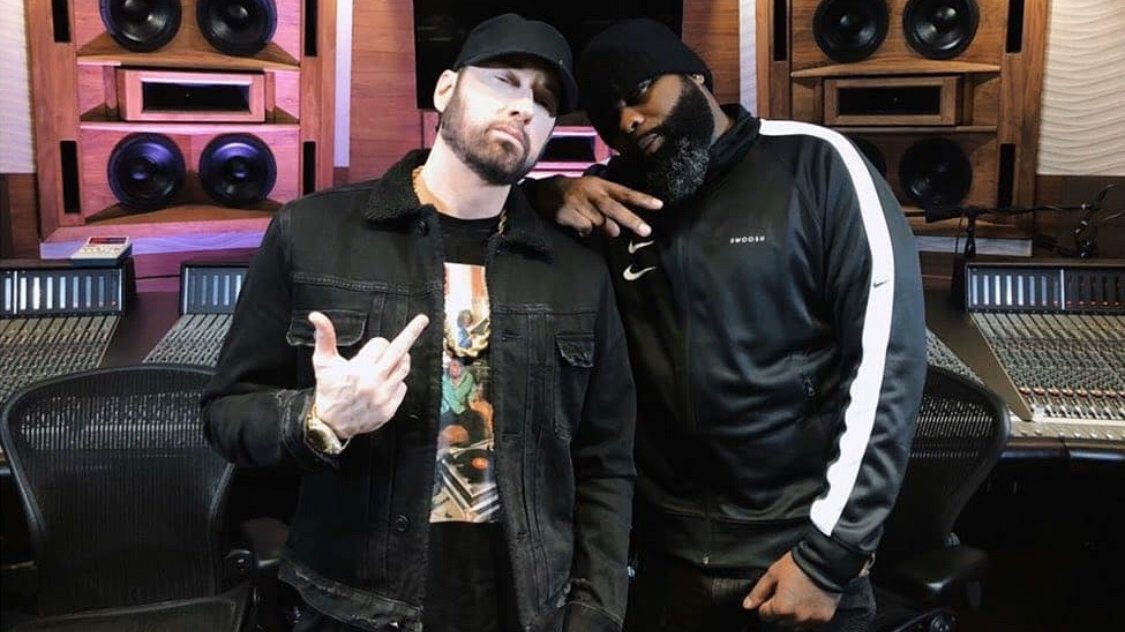 Things have been going differently for KXNG ever since Marshall threw him in his Top 10, he says.
His rates went up, new people notice him, and we all hope that Crook will keep getting more and more recognition. The recognition he undoubtedly deserves. The consistency of his art as a poet and as a rapper and the lack of said recognition was the reason Eminem named the most underrated rapper.
Crook explained to the host of Nothing Beats Experience how it made him feel:
It makes me feel good. It gives me motivation because, you know, I've been in it for 20 plus [years], I've seen a lot of people who haven't been able to keep that consistency over the years. Some dudes who started when I started, they don't sound so good right now, they didn't adjust. To be able to keep that level of consistency over a 20-25 year time span and then have somebody like Marshall Mathers, Eminem recognise that and say, "Hey man, I feel like you're one of the most underrated artists in the world and you're in my top 10 greatest rappers of all time"… It means a lot. Because he's a technician. Not to say it wouldn't mean as much from someone else, but I think it means a little more coming from somebody who understands how to write, who understands how to deliver, who understands breath control, who understands live performance, who understands metaphors, punchlines, similes, storytelling. When you've got somebody on that level who gets it, and he says, "Hey man, you're in my top ten", it means it means a lot.
However, to be that close to Eminem means not only praise and recognition, it also means being constantly on your toes. But this is the challenge that Crook cherishes:
I'm very fortunate. I'm around all the Jedi's. I'm saying steel sharp. I'm blessed. If I take a day off, I get my head cut off. I love it that way. I don't want to be in those situations where I'm surrounded by people who don't take the craft seriously and every time I get on the mic I'm just smacking people around. Nah, let's get it, I want to be a gladiator. So being with Marshall Mathers, that's gonna always push your pen. If I got to do something with him, my pen is going to get pushed. I got to do something with Royce. My pen is going to get pushed. Joell, Slaughterhouse – the same thing. Horseshoe Gang – if I know I got to go in there with my younger brothers, they are like younger me but even more crazy. I gotta push my pen, and I'm very fortunate to be surrounded by those guys because the consistency falls off. I don't care what nobody's saying. You could love me, you could hate me, you don't like the type of music I make, you like to listen to this kind of tunes and not those kind of tunes, say whatever the fuck you want to say not too many motherfuckers can come from streets, "This is the art of, manslaughter, when I'm rockin' I'm more shockin' than droppin' a boom box in bathwater", come from that in the fucking 90s as a teenager to what I did on "I will" just last year with Eminem and have one of the verses of the year.
That was indeed a show of persistence and brilliance when KXNG interpolated himself from his 1999 joint with Kurupt "Step Up" on the latest Eminem's album.
The whole conversation where Crook talks about his time with Death Row, the experience of working with Dr. Dre, his grind before and after Slaughterhouse – this is almost an hour of a brilliant mind generously sharing wisdom and inspiration. Do yourself a favour and watch all of it on Smoothvega's channel.
Meanwhile, here are segments where KXNG talks about Eminem: