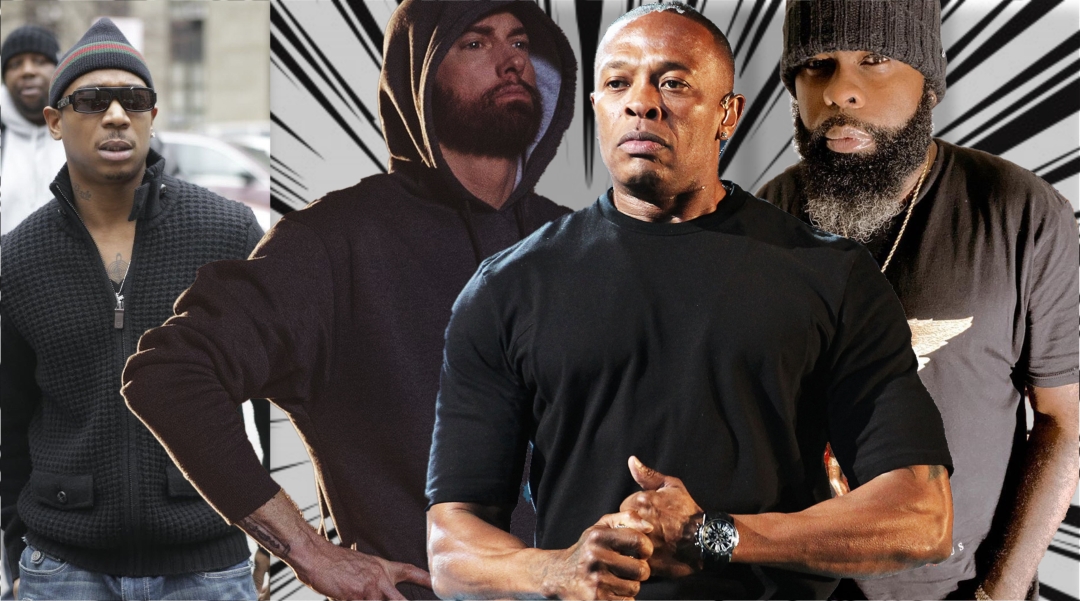 Back in the early 2000s, Crooked I was under pressure to join Ja Rule's beef with Eminem, but he refused and maintained his integrity. It all paid off, believes Crook.
In the conversation with Math Hoffa, the Slaughterhouse MC established that to get Dr. Dre and Eminem produce a song one has to earn their respect first of all. A talent, skills, a dedication to the craft – all of it is important, but integrity is something that is often even more difficult to find. And it looks like KXNG Crooked has it in buckets and has always had. The story he told reveals how every decision taken on the road defines the direction one is going:
We just talked about me being on Death Row Records and to slide over there and to be able to… Being myself. I always tell artists to do this. It's a life jewel, really, but for artists in particular: be yourself. I was on the radio, live with Ja Rule, Irv [Gotti], and Ja played that joint ["Loose Change"] that he had dissing Em where he said uh some real crazy stuff about Em's daughter and all that. He premiered it on the radio, and you know, it was lit, he was at it. And the host was like, "Yeah, so Crooked, you're up next! You're about to send some shots to Dre and Em, you got something for them?" And I was like, "Nah, that's not my beef. I just got over here, you know. I'm trying to make great music. I'm trying to bring that back to the W. That's my focus, Yo, Dre is the greatest producer ever. Sounds like Em got bars and all that". The gist of what I was saying was I don't believe that Suge brought me to Death Row to be a wind-up doll, go after people and to be a paper soldier. I believe that it was something deeper than that, and I don't have no problem with these guys. I don't even know what this whole shit is about, I just got here. What I'm gonna do, just jump in?!

And little did I know… I was at [record store] Fat Beats. I was about to do this mixtape called Young Boss vol. 1, and half of the beats was going to be Chronic 2001 beats, and the other half was going to be DJ Premier beats. So I went to Fat Beats, got The Chronic 2001 instrumental vinyl, and my phone rang. That was Dre. I was off Death Row at the time, and he was like, "Yo, I heard you that night when you was on the radio. Me and Em was listening", or some to that effect. And he was like, "Yo, you never took a shot. Every time they try to get you to shoot at me — you never did". And he said, "I respect the fuck out of that. So, you know, you want to get down — holla at me".

I truly believe that that night is one of the reasons why I was able to have a Death Row past and still be able to go over there to Shady and have a future, and it's all good. It would have been easy for me to say, "Hell yeah, fuck them niggas, let's go!". That was easy. But I was like, "Nah, I'm not gonna do that". And that's just what was on my heart.
This message echoes the one that Royce da 5'9 recently sent to younger rappers: It is important to set boundaries and make your decisions following your own rules and values, not following trends.
Watch the video below:
Full interview: