Yesterday, thousands of fans from around the world came to our channel and website to tune in to Eminem and Royce's Halloween Special on Shade45. For over 40 hours we were keeping each other company in the chat, counting down to the beginning of their show. We were waiting for Bad and Evil, for their funny jokes, and maybe, just maybe, some news about their new music that has been eagerly awaited by the fans for years.
But when the clock struck – nothing of that happened because Shade45 put on an old record of Bad Meets Evil 2011 Halloween show.
The promo of this event was posted on the official Shade45's website and stated that Eminem and Royce would be guest DJs. Well, we were misled. Was that some Halloween/April's Fool joke? "Let's make them wait and then disappoint them!" – if that was not the intention of a Shade45 staffer who posted that then what was?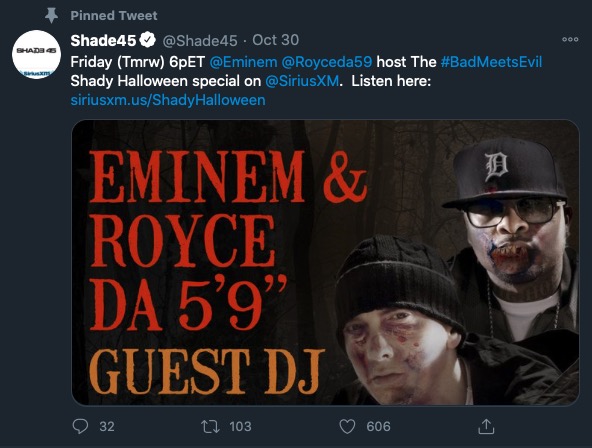 Yesterday was not the first time when Shade45 manipulated fans' expectations, and we think that its management and Shady Records have to look into it. Yesterday we got a lot of comments from the upset fans, and we could see that people were hurt, disappointed and angry. Some with Shade45, some with our team, some even with Eminem. This doesn't seem right. Because the radio station's lousy attitude exploits and damages the artist's reputation.
That was not ePro's fault that after all this hype Shade 45 did not deliver a glimpse, a snippet of Eminem and Royce talking. We only followed the information we and thousands of others saw on Shade45 official channels.
But you know what, we had a good time. There was no interview, no show, no DJ set – but there were people, the fans who came together and stayed together. I would consider that a good outcome. In our world ravaged by the pandemic, many feel isolated, many feel the lack of human connection. But for the time being, we were together; we felt connected to like-minded people from every part of the world.
The live stream yesterday demonstrated that many fans from across the globe want to be connected. We should probably think about how we can make it possible with the resources we have on our website and our channel. Maybe it can be Q&A sessions, perhaps something else. But it is going to be good.
Stay tuned!
Happy Devil's Night!