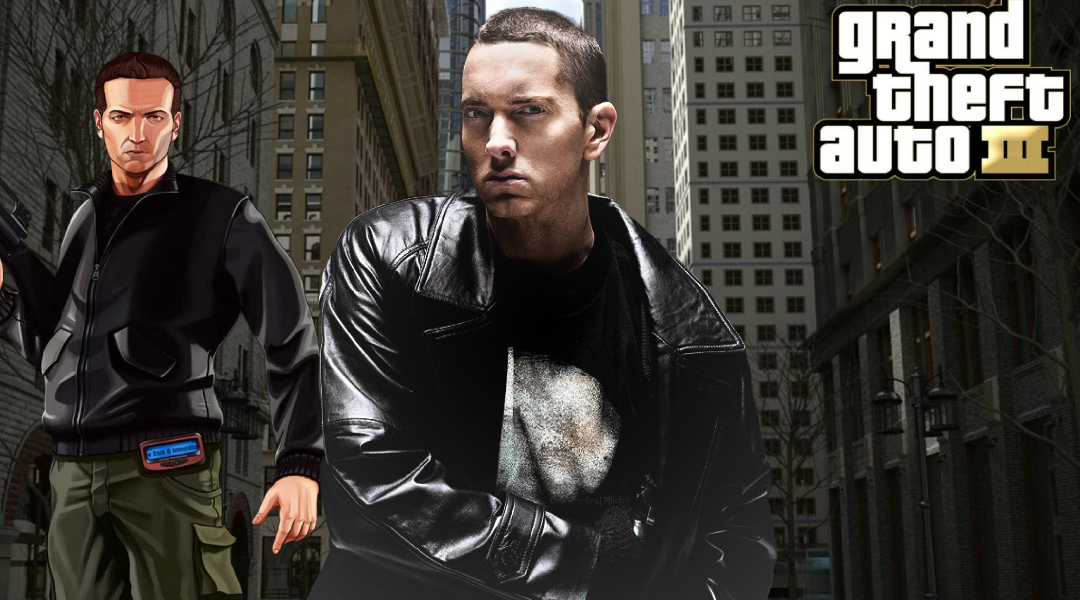 It was 2001. Grand Theft Auto 3 was rising to mainstream prominence, and there was no hotter rap star than Eminem. It could have been a collaboration of a decade, but it has never happened.
Gaming industry veteran Kirk Ewing shared this revelation recently, as he was a person in the middle of this deal.
British rapper Bugzy Malone loves Grand Theft Auto so much that he recorded an 8-episode podcast about it for BBC Radio 5. He invited Kirk Ewing, who is friends with Sam and Dan Houser, the creators of the GTA series, to the opening episode.
Kirk might have a very short filmography list, but his network is vast, and he is well-connected with both the gaming and filming industries. That's how he became a middleman for a possible deal with Rockstar Games. A producer from Los Angeles, whose name Kirk did not reveal, reached out to him and asked to discuss the possibility with the studio owners. He wanted rights to a GTA movie he was planning. While Kirk had a preliminary conversation with Sam Houser, he felt that the deal could have been reached. And then more information came through. The producer suggested Eminem, who was topping the charts and wrapping up his "8 Mile" project, as a lead; Tony Scott, who was known for directing highly successful action and thriller films, such as "Top Gun" (1986), "Beverly Hills Cop II" (1987), "Days of Thunder (1990), "The Last Boy Scout" (1991), "Enemy of the State" (1998), filming. But it didn't sound attractive to the Houser brothers.
In a conversation with Bugzy Malone, Kirk recalls the producer calling him at 4 am:
He said, "Kirk, we've got Eminem to star, and it's a Tony Scott film – $5 million on the nose. Are you interested?" And I phoned up Sam and I said, "Listen to this. They want Eminem in the Grand Theft Auto movie and Tony Scott to direct". And he said: "Not interested".
As far as kirk knows, that was the only time the possibility of the game adaptation into the movie was discussed. And he supposes that the Houser brothers saw a bigger potential in their brainchild:
They realised that the media franchise that they had was bigger than any movie that was going on at the time.
GTA has indeed obtained legendary status. We could only wish the Houser brothers could have found a way to develop this movie and retain uncompromised rights to the game.