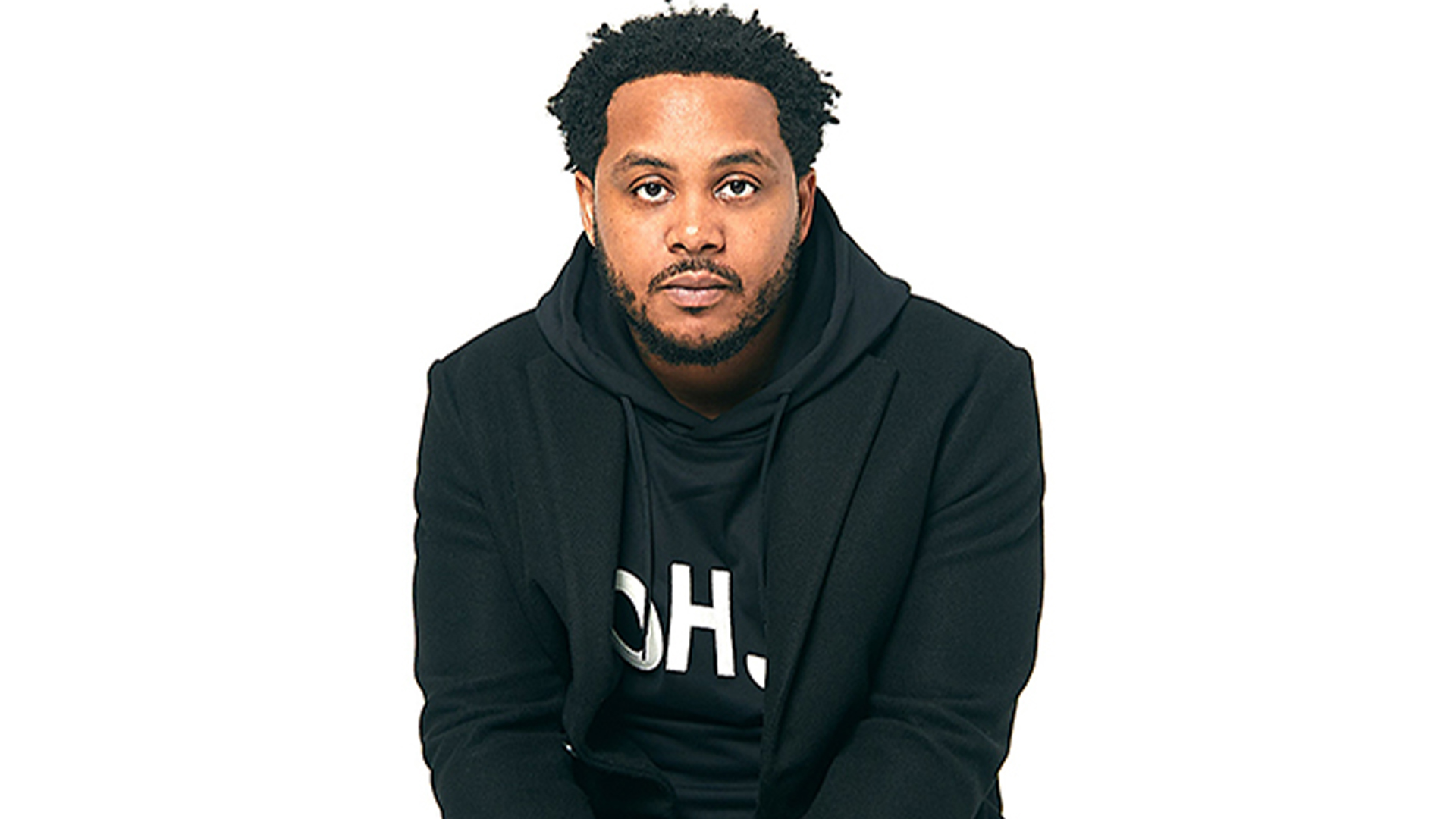 Grip does not have expectations from his upcoming Shady Records album "IDFT!?". But he has a passion, purpose and tons of experience. Grip has put a lot of work into his new project, and he vouches for its quality.
In his busy schedule on the eve of a big debut, Grip found time to hop on a livestream to answer Shady fans' questions and let us know the person behind his music better.
When in early July Shady Records announced the arrival of a new artist to the family, many fans, especially outside the US, were not aware of Grip's body of work and the skillset that captured Eminem's attention. His first Shady Records album drops on August 27. There have been under two months for the fans to learn more about his music, but what about his story, his personality, the soul he puts in his art?
So we set up a call with Grip to get the Shady fans direct access to the artist.
It was a hot day in Atlanta. Grip was running around, getting ready for his release party that takes place today, Thursday, August 26. He had to pause and park his car to chat with our LA contributor Ellena and all fans that joined the stream.
One of the first questions after the exchange of pleasantries was one that Grip had heard multiple times, for sure. Yet still, it feels fresh when he explains how it feels to be signed to the label spearheaded by Eminem.
It's still a little surreal. I'm waiting till the album drops to soak it in and embrace it fully. But so far, so good. It's been dope. The responses have been dope. The fans have connected and reached out and let me know that they're rocking with it. You know, Team Shady.
Grip got to Eminem through Paul Rosenberg, and the very first conversation with Em gave the Atlanta artist enough inspiration to resume his work on the album.
We heard that Paul had heard the music and was originally going to reach out, and I guess he might have played it to Em. Em heard it and just wanted to talk and see what he could figure out. So I jumped on the call with Em. Me and Em talked for a while, actually. Just talked about everything, you know. Just his stories about coming up, and how his path was getting into it, and being in the game. How he appreciated my craft and what I was bringing to the table. That was last year, 2020. We talked and it kind of sparked the fire under me. I went ahead and finished my album up. It was already halfway done, and by the time we signed the deal, the album was pretty much already done, aside from the Royce and Eminem features.
However, when Grip heard about Eminem expressing interest in him, he did not quite believe it. Years of hard work that seemingly did not take him far felt like a heavyweight, and Grip did not feel optimistic. It all changed quickly.
Tig, my manager, broke the news. He was like, "Yo, Eminem is interested", and I was just like, "Yeah, right. Sure". But once I talked to him, our first conversation was on the phone, so once I talked to him, it was just one of them things. Like, oh shit, I'm on the phone with fucking Marshall. They were throwing around the word Marshall so loosely. I'm just like, damn, man, okay. I'm gonna call Marshall Mathers right now. Me having grown up listening to him, and him being one of my favourite rappers of all time… I couldn't even tell you what my favourite song of his is, it's too many. His discography is fucking sick. "Infinite" is one of my favourite songs. "Mockingbird", just because of my kids. "Role Model". He's got so many tracks, I can't just single out one of them. He's been doing this shit for a long time.
However close to defeat Grip felt before Eminem called, his family believed in him and had always been supportive. They were not shocked by this development because they knew it was meant to happen.
They were just like, "Oh man, this is amazing and congrats". You know, all that good stuff. I think they had already known that it could happen. Though they were surprised, they weren't overly surprised. They expected for some shit like this to happen.
I think it was a thing where they gave me the benefit of the doubt. Like, this guy's not a dummy, so if it's not working, of course, he would do something else. I just stuck with it. Of course, I had support. And now we're here.
It looks like Grip is dropping his debut just mere months after signing the deal, but in fact, it had been over a year of ironing out the details before the official announcement. Grip knew where this path was taking him, but he needed all the patience he could muster.
It took a while. We had to get everything right. The legal side of things is always a bitch, but it's needed. I just kept my head down and kept working. I finished the album up and waited. Just waited till the time was right. Until all the paperwork was done. And once it was done, flew out there and met with Em and played him the album. Yeah, it took a long time, but looking back, the time flew by.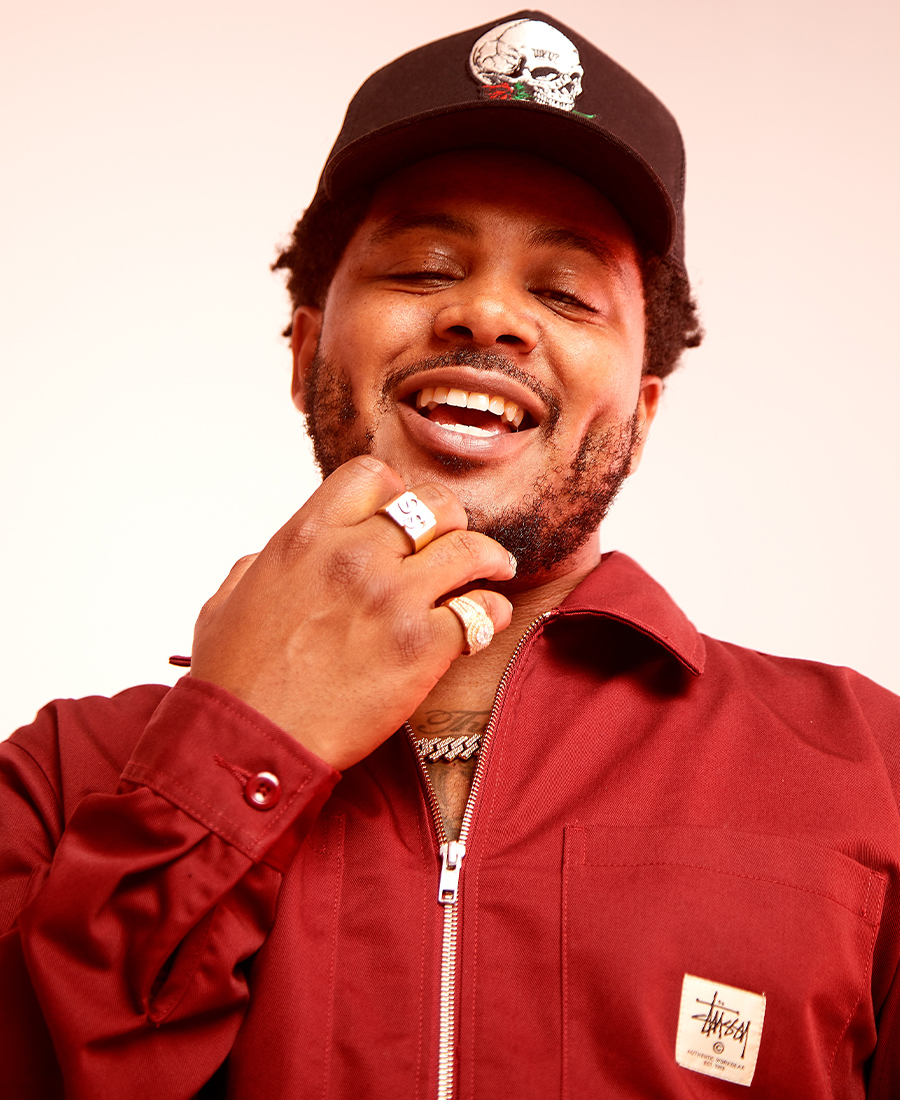 So, while "IDFT!?" is his official Shady album, Grip created the project as an independent musician. What about all the opportunities, technical and otherwise, that he can access now as a Shady artist?
Actually, that hasn't started yet. I created the whole album between my house and some local studios in Atlanta. Aside from Em and Royce, this was all done with my team. We haven't even begun to tap into the resources that are probably available to us now. So I'm excited about the next project. I'm excited to see where my mind takes me this time with all the resources that are going to be available. I'm excited to see how far we can take it next time.
But before Grip moves forward, let's talk about his past work. What song made Eminem stop and listen and made him want to reach out to the artist?
"226", it is a song on "Snubnose". For all that don't know, 226 is the date when Trayvon Martin was shot. It was February 26. And the flow on it is like rapid-fire, is just going, I'm switching cadences. Em said when he heard that shit, he was blown away. He said this shit gave him anxiety. So I think that was the track. He saw that it was a conceptual project and what my focus was on musically. I think he was impressed with that and wanted to reach out and give it a shot.
And a shot he gave. In several hours Grip's album "IDFT!?" will be available for the public on all platforms. How long did it take to record the project?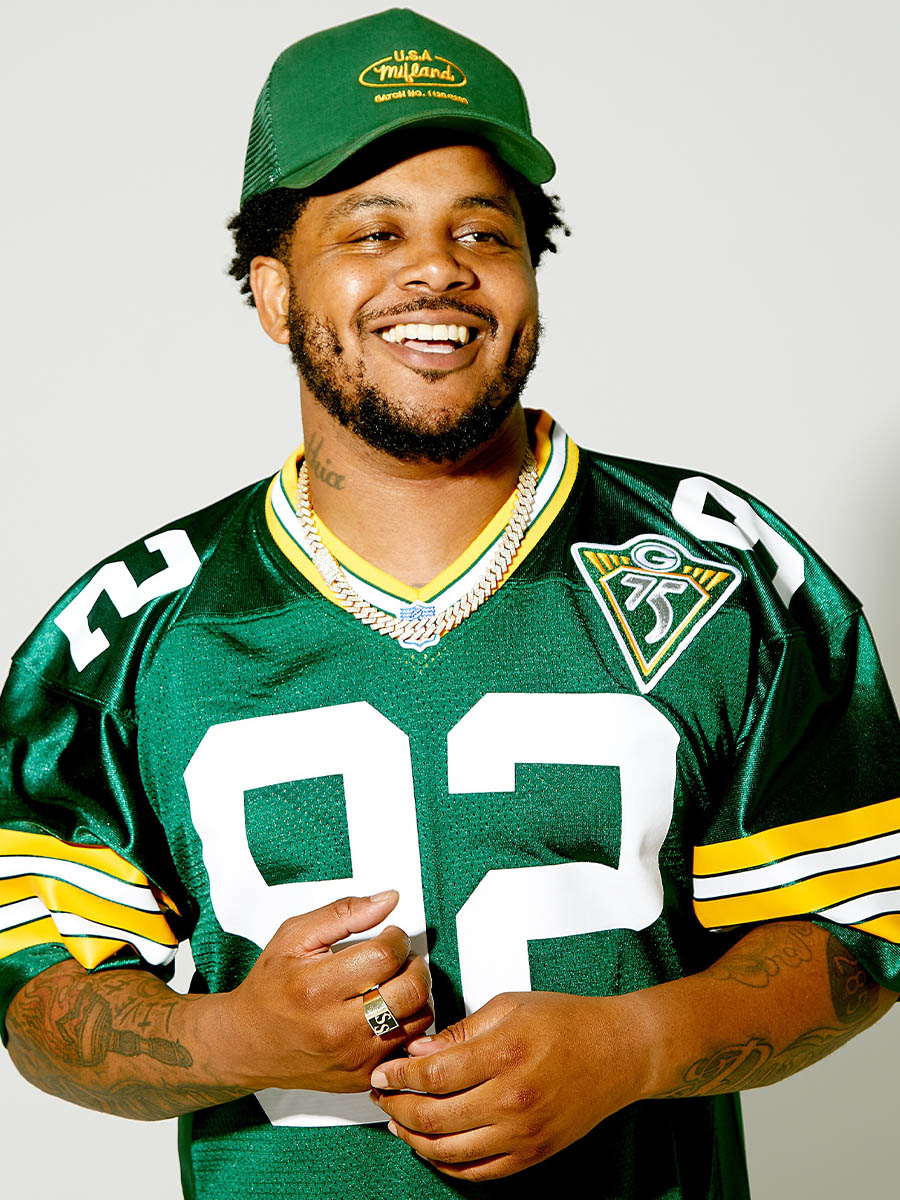 We started, I think, January or February of 2020. We kind of paused. I made two projects in between that time. The first was "Halo", which I recorded in a week probably. Then it took me about the same time to record "Proboscidea". Then Em reached out some time in the summer. So after we had that phone call, it kind of lit that fire in. I went ahead and finished the album up. I started recording, and we finished it up fairly quickly. After that, we just had to wait on those features. If it wasn't for Covid, it wouldn't have taken a year and some change. But because Covid is affecting everything and everyone, it put everything at a standstill. We weren't able to wrap it up as quickly as we wanted to, but I'm more than happy with the finished product. I'm excited for everybody to hear it.
It is difficult to summarise an album concept in a couple of sentences, but answering our question, Grip tried to boil down the essence of his new project.
With my previous full bodies of work, "Porch" and "Snubnose", I spoke on my community and my roles from a child to now, where I stood as a product of my environment. I wanted this one to be a little more personal. That's why I feel "I" being the first word of the album, "I died for this", is kind of okay. Now it's more personal. I'm giving you a closer look inside, like to you to know who is Grip. That's what I heard a lot. Like, "Who is Grip? Who is Grip? Who is this?". Okay, this is me. This is who I am. This is what I'm giving you. I feel like that's a perfect introduction on such a large platform. And I did not want it to sound like "Snubnose" or like anything that I've done. I don't want any body of work to sound like another body of work that I've done. I always want to push the boundaries and try to expand musically. I want to get lost in the music and take the fans on that journey. Music is all about creativity, so finding new ways to create — yeah, I'm big on that.
We know that Grip constructs his albums as complex conceptual artefacts. With "IDFT!?" it seemed like even the cover art offered the audience a riddle to solve. It is because it did. Grip had an idea in mind even before he met with an artist, and there are no random items in the frame; every object tells the story.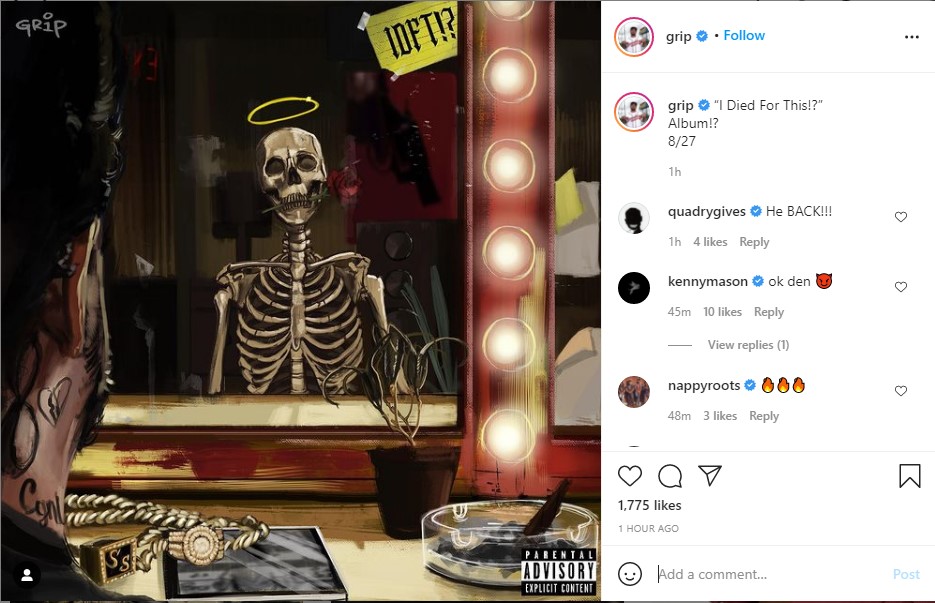 Shout out to Gordon Rowe, he's done the art. When I linked with him, we already knew it was going to be like a play. Me and Tu! had this idea of looking at myself. On the front cover, there's the back of my head, and I'm looking into the mirror at a skeleton. I put easter eggs in there. All my previous work is in there. The halo over the head, the Proboscidea plant, "Porch" is the CD that's on the counter, and "Snubnose" is a poster in the background. This is everything that led me up to this point, every body of work I've put out. On the backside, you have the tracklist written out with lipstick on the mirror, and then you have a guest list. When you get to the show, you have a guestlist written on paper. Most of the time, I have the time when they should go on and shit like that, but for this one, I decided to put the features on there. I just figured it was something creative to do. The fans looked at it and were like, "Oh shit, you trying to keep the songs separate?!" I was like, nah, that's not necessarily the case. But it worked out like that, so it's cool. Also, that was something fun for the fans to try to figure out who was going to be on what.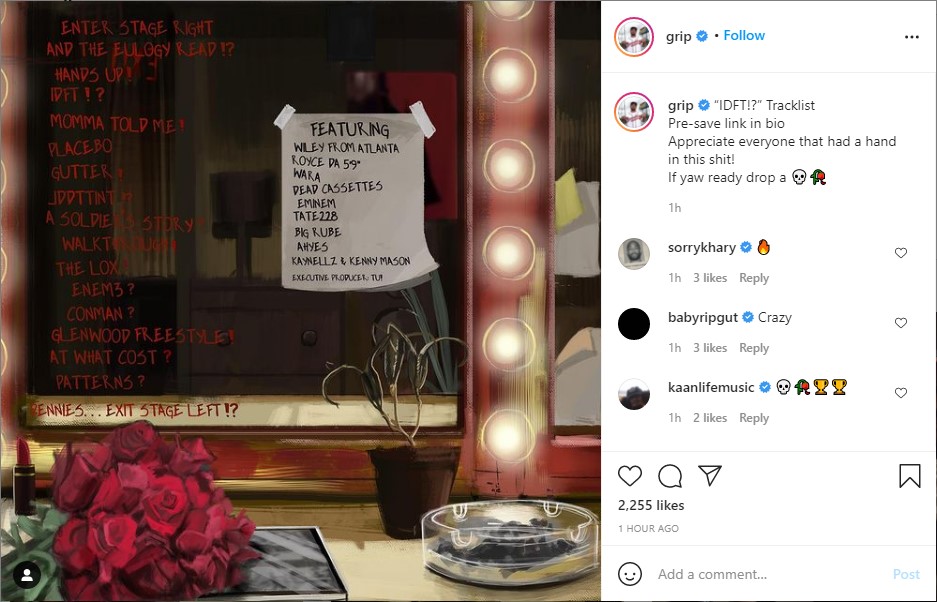 Talking about features, the Atlanta scene is confidently represented on the album. It is because Grip is deeply rooted in the rich culture of his city, and the guest list reflects that.
Aside from Em and Royce, everybody else is somebody from Atlanta that I'm connected with, or I love their music or people who deserve more shine and that I'm a fan of. I wanted to get them on there and let them stay timeless. I figured it would be a decent opportunity for them to be heard on a project on such a huge platform. Even before starting out, we knew the Shady deal was a thing. We knew that this would be bigger than "Snubnose". It is just people who I love working with. Big Rube is a constant in my catalogue. He's on "Snubnose" as well. He was on OutKast's Dungeon Family all way back in the day when I was growing up. He's a legend, so I had to stamp the project with him. Once the Royce feature came in, it was like, okay, now we're onto something. And then the Em feature came. It was dope. My biggest feature ever.
"Walkthrough!" is the biggest feature on the album. What about the most challenging track on the project? And what is the song that Grip is proud of?
I'm probably most proud of "JDDTTINT", we just call it "Just Don't Die Just This Time". It's not a rap song. I was able to push myself and make what I heard in my head. I feel like I executed what I heard in my head. I'm most proud of that track because it shows growth. I've never made a song like that before. And the most difficult… When I figured out that Em was gonna jump on some shit, I was trying to scramble and make a song. All the songs were pretty much complete, and I didn't want to just throw him on some track that's already done. I pretty much had to make a song from scratch for him to be on. I had to pick which beat I could hear him on and all of that shit. It was cool, though. It was cool, but that was probably the most challenging. And then I'm like, "Damn, it's Eminem. I gotta come with that shit because if I don't, he's going to fucking annihilate me". I feel like he's gonna go hard regardless, but I just had to craft something dope for him. It was almost like cooking for a chef.
We all remember how Grip announced that the album was delayed because he could not put a particular song out. It sure has to be a very important song that we could not wait to learn more about.
It's a song called "Conman". The song has an interpolation on there that we found out late in the game. It's a beautiful song, and it's very personal. It's about how I dealt with a relationship. I put too much into the relationship when I should have been putting it into the music. It's an apology. It's very truthful and very vulnerable, one of the most vulnerable tracks on there. And the fucking beat is beautiful. I love the beat, the instrumentation on there is crazy. I felt like the album needed that. I've got all these cuts, I've got some hard shit, I've got some melodic shit. I felt like it needed to be on the album to get it locked in, and have the full album experience. That was a song that we were waiting on. I jumped over fucking hills and jumped through rings of fire to make sure that song gets on there. So y'all make sure y'all run that shit up when it drops.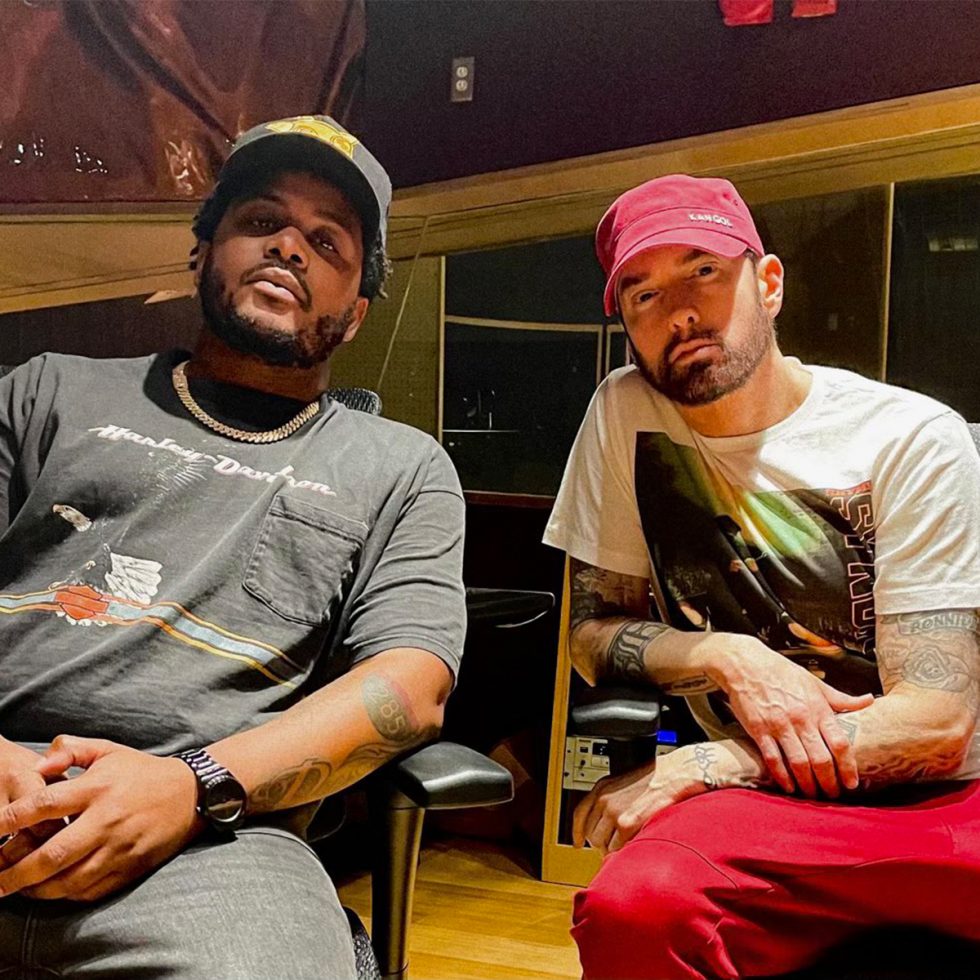 While the audience is waiting, Eminem has already listened to the album. The feedback he gave Grip is encouraging.
He said the shit was dope. About a certain song ["Enem3?"] he was like, "Whatever y'all was on when you got when y'all made this, make sure you do that again". Overall he thinks the project is dope. I played it for him in person, and we talked afterwards, talked before, and I think that all is well. I think he fucks with the project.
At any other time, the next question would be about touring plans. But in this uncertain era of a pandemic suffocating the music industry, it felt tactless. And yet, this is precisely what Grip sees as his next step.
I want to hit the road. Once the album drops, I want to see if I can get on the road. Maybe with somebody, but I'm definitely going to start. I went from not having many expectations outside, or anticipation built up for projects — to now. When you have a plethora of people who can't wait for your shit to drop, it gives you a whole new lease on creating music. You want to get out there and just keep creating and keep feeding the fans. And cement your legacy. So I'm going to keep working.
I definitely want to get out there and get in front of the people, touch the people. I have a show in Atlanta on September 23rd that I'm headlining. But other than that, we're going to figure it out.
Our readers wanted to know more about Grip's favourite musicians, artists who influenced him. Knowing how vast his musical taste is, we felt that the "Top 5" structure would be too restrictive for him, and we were right. Grip shows versatility and good taste that you can hear in his music. And the list of his artistic influences is long.
Andre 3000, my favourite rapper of all time. Jay-Z, Eminem, Nas, Kurt Cobain, Anita Baker, Earth, Wind and Fire, Radiohead. I love music, so I was just like it's a lot of different eras. Marvin Gaye, DMX. I can go on and on.
Now Grip is big enough to start influencing other artists himself. He feels comfortable in this new role. Even more importantly, he does not feel like he has to restrict or censor himself now when he gets to a big elevated platform. His artistic integrity is not something that magically appeared the day he signed the deal with Eminem. This is something he has been building over the years of creating music.
I think my content has always always been somewhat digestible. I ain't just out here talking crazy. I got nephews, I got daughters. My daughters listen to my music. Of course, I might say some shit here and there, but I'll never just be out here talking crazy. So I don't get too much to worry about with that. I have a decent moral code; I don't think I gotta adjust too much. I'm just gonna go harder.
It is a very dignified and confident way to approach future endeavours. What about good company on the way? The readers wanted to know who Grip would like to get on his track someday. The list of his dream collaborations was not shorter than the list of his musical influences and included Andre 3000, Schoolboy Q, Frank Ocean, Tyler the Creator, Jay, Westside Boogie, Conway, Anderson Paak, Kendrick, Drake, and J Cole.
Another question from a Shady fan sent Grip into a long introspection. Deciding to what song he would like to contribute a verse if he was signed to Shady back in the early 2000s, Grip looked like he was virtually going through the catalogue of Eminem beats and bars in his head, being tempted by too many. Eventually, he settled on the answer that was his first gut reaction – "The Way I Am".
For those who wanted to know more about Grip's tattoos spelling "passion" and "purpose", he explained the whole philosophy behind this ink.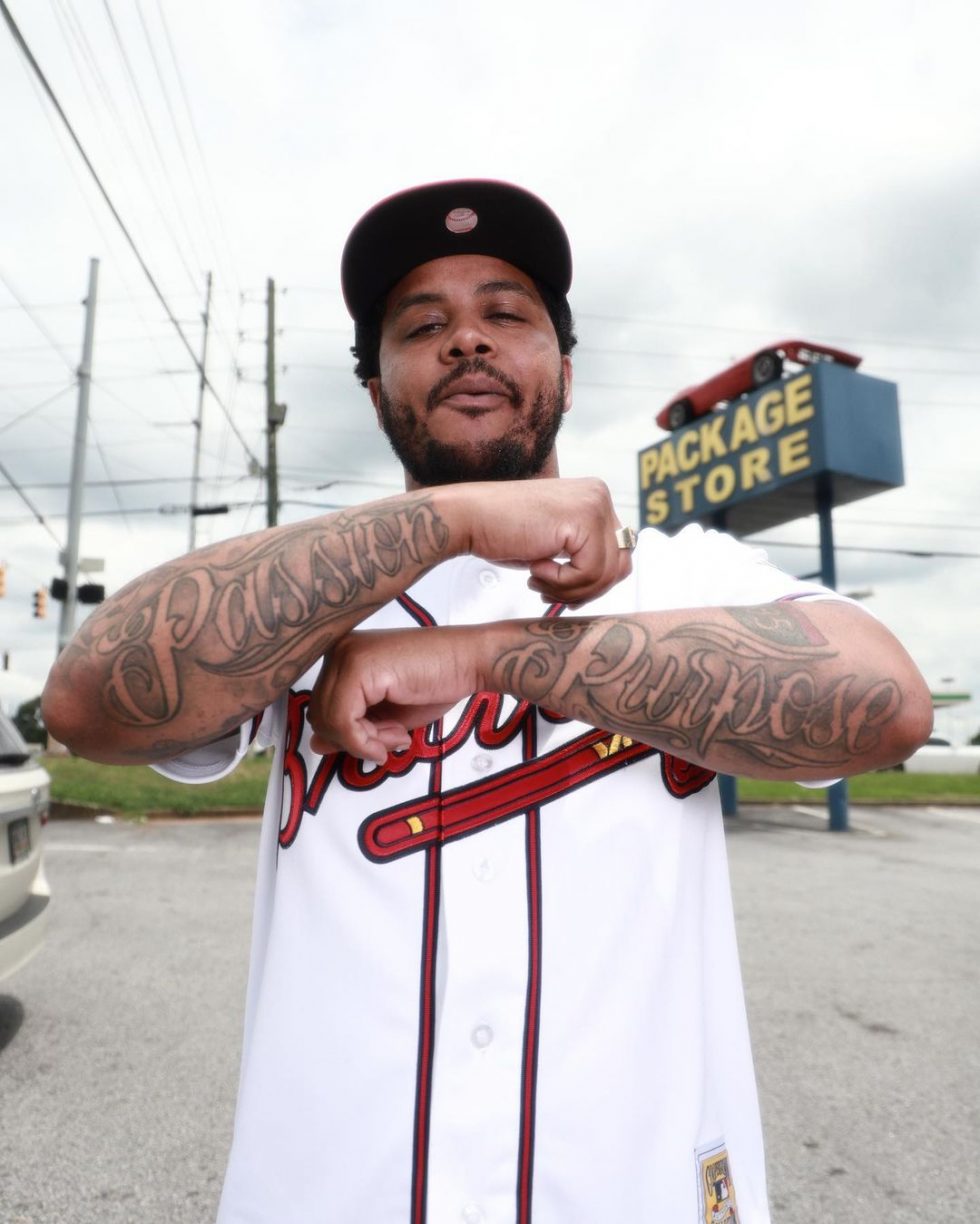 Make your passion your purpose. Music is my passion, so now it's my purpose. I'm living in that purpose. If you can manage to do that in everyday life, then maybe it's the key to happiness or the key to what you call success. Or whatever you define as success. By making your passion your purpose.
And here is another one, Stray Society. It's my collective that I came up with. Got a few artists under there. I'm still Stray Society and Shady Records. I came up with the name because I felt like today, especially with the internet, it's a lot of trends and a lot of people just copying off of what other people do. But I think that if you embrace your true self, if you be yourself — you're unlike anybody else, which makes you unique. It's about embracing your true self and stray away from society's norms and all of this shit. Just not following those trends and be yourself.
After all those years, does Grip feel that the work he has done is finally paying off?
Most definitely. When I was releasing my work and was feeling like, ah, man, they didn't get this, or it didn't get recognised, and whatever — it was just shaping me up for these moments right now. I feel I'm more poised. I know a lot of people was just like, "Damn, he just signed with Shady; why is he already dropping the album?" I've been rapping, bro. I've been dropping shit. Just because people didn't know about it doesn't mean that this shit wasn't happening. I think that we often get down on ourselves, like, "nobody's listening to this shit". Even if we have fans. We often get obsessed with what we feel should be going on, but everything works itself out. All that shit just prepped me for now.
All the hard work and long wait are about to culminate with his solo album released on the major label. However, Grip does not hold his breath in anticipation of big things to come. It goes against everything that life has taught him so far. We asked the Atlanta rapper about his expectations from the release, and the answer was decisive:
I have none. Where I come from, and how I grew up, expectations are the quickest way to be let down. I always expect the worst. Not on some pessimistic shit, just that way if it doesn't happen, it's like, okay, cool, didn't happen. But if you expect something great — it's just setting yourself up for the letdown if it doesn't go how you plan it to go. I hope the project does well. I know it's a great project, I vouch for it. I know it's a great body of work, but I don't have any expectations.
We, the audience, however, have our expectations, and they are high. The more we learn about Grip and his music, the better we understand the deep and complex world manifested in his albums. Grip is ready to take us on a new journey, and we have learned to trust him. Buckle up.
Watch the full conversation below:
Stream: