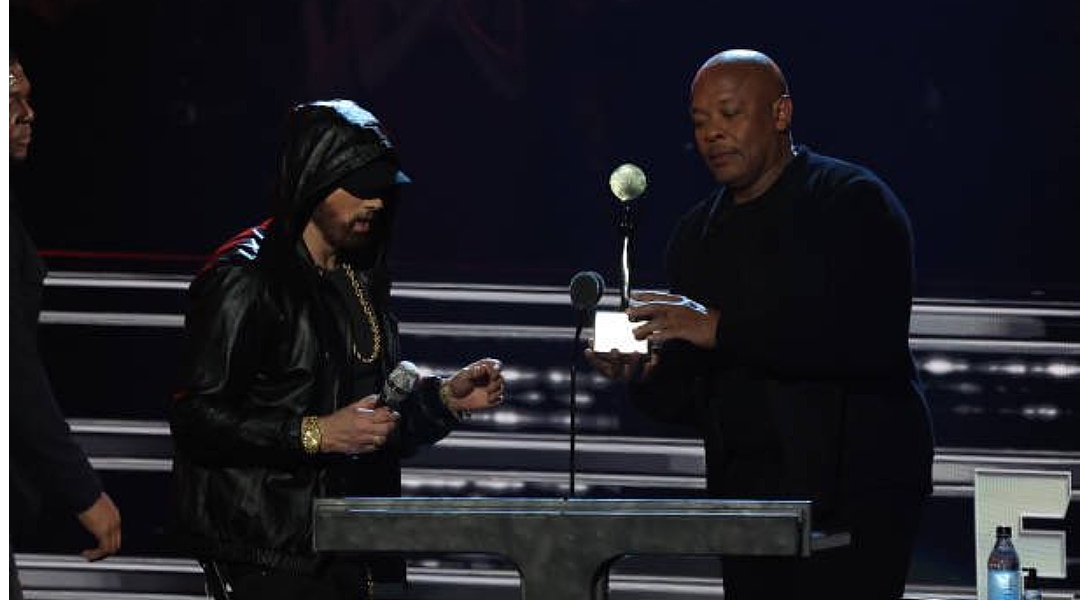 There was only one person who could give Eminem a proper introduction. The one and only Dr. Dre who had faith in Marshall in the late 1990s and who can see how his vision captured the imagination of music fans around the world.
When I started working on this speech I asked Eminem if there was anything specific he'd like me to say to everybody and something that he would like them to know. And he said, okay, number one, I want you to tell everybody I have a huge penis. But when he started counting I was wondering why he decided to use the [little] finger.
But all jokes aside, Eminem is an artist with huge influence, a huge catalogue and huge sales. That's what Dr. Dre paid attention to in his speech spiced with a healthy helping of humour:
Little did I know, he was going to be one of the best selling artists of all time. Facts. From the moment he introduced himself to the world with The Slim Shady LP, he skyrocketed to the top of the charts and stayed there for 100 weeks, earning himself a Grammy for Best Rap album and Best Rap Solo performance. And can you believe, after promoting violence to little children, killing his daughter's mother, this guy still had more shit to get off his chest? And then the sophomore album comes out. The Marshall Mathers LP drops. On that album alone his alter-ego Slim Shady tied me up in the basement, had sex with his mother, killed his daughter's mother again while proceeding to offend about every special interest group we had. It clearly struck a chord and became one of the fastest selling albums in United States history. Eminem would go on to overdose, relapse, recover, and not only on his albums, in real life. Let me tell you something. This guy goes through a lot of shit just to get a concept for a song. But here's Eminem's genius. With his incredible wit and wild imagination, he was able to hold a mirror up to white America while also expressing the pain of poverty and dysfunctional families devoid of hope. Eminem brought hip hop to middle America and offered kids who looked like him a way to connect to it.
Dr. Dre finished the speech with a line that sent Eminem onto the stage and his legacy on to be remembered by generations:
Ladies and gentlemen, it is my honour to induct my friend Eminem into the Rock and Roll Hall of Fame!
Watch the video below: