On the day of the "Curtain Call 2" release, The Trailer announced a unique and limited opportunity to grab a signed physical "Curtain Call 2" CD Box Sets from a merch shop at Mom's Spaghetti.
The restaurant's official Instagram account announced the campaign:
💥 First 100 to #TheTrailer can purchase 1 Curtain Call 2 CD Box Set, which has been autographed by @Eminem! Each limited edition box set includes 1 CC2 CD + 1 CC2 T-shirt [of 2 possible CC2 designs, each exclusive to the box sets | Sizes limited!]. #TheTrailer door opens at 4PM above #MomsSpaghetti… 2131 Woodward Ave. We've got plenty of non-autographed box sets too. Come get 'em, Detroit! 🍝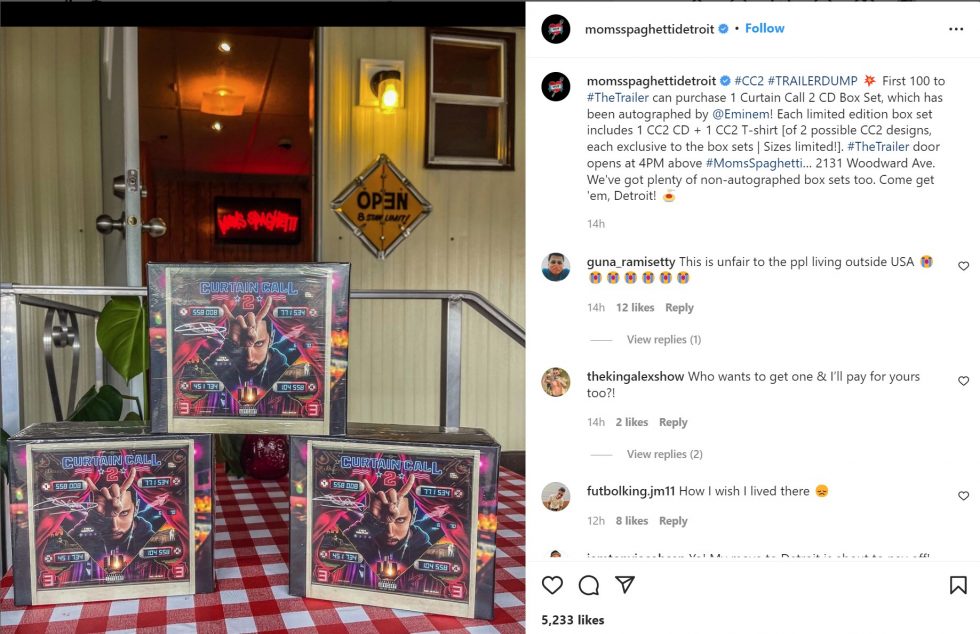 The benefits of being a Detroit-based Eminem fan are evident. With only 100 signed copies available, there is a tiny chance that people from other cities will make it to the Motor City in time.
Listen to "Curtain Call 2" below: