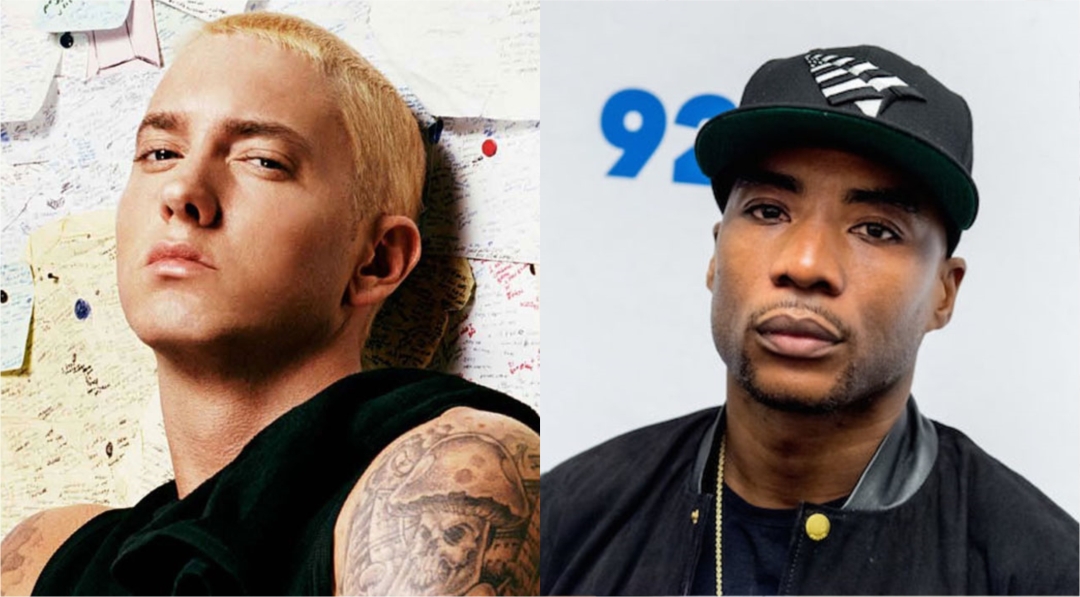 Radio personality Charlamagne Tha God has never been an Eminem fan, but he knows why all attempts to dismantle his legacy are fruitless.
He shared his views on The Brilliant Idiot, pointing out that however shocked Gen Z kids feel due to exposure to old Eminem tracks, this is their issue to handle. They have no understanding of where his lyrics are coming from, no power over his actual existence and popularity:
TikTok is trying to cancel Eminem. I think it's funny as fuck when kids go back to the eras where they should not be even playing around. If you were talking to a child, you would be like, "don't go in that 90's box". They are just playing old Eminem lyrics and doing what outrage culture does. Trying to build a case against Eminem. But I'm going to tell you why it will never work. That's Eminem's whole stick.

Eminem was the reason we thought we could get away with that type of shit. For real, though. In the era we grew up, where there is a bar so if you are growing up in entertainment, you are a performer, you are rapper, comedian, radio personality, if your bars are the Howard Sterns and The Stars and Eminem, all these people you hear saying wild shit, what are you supposed to do? It's crazy, but the funny part is seeing little kids being upset about it. You are not going to build a case against Eminem. You know why? Cause all the people who have the power to cancel or whatever the fuck that means, they grew up loving Eminem too. Eminem was one of the biggest stars in the world and, at one point, The Biggest Star. He was everybody's guilty pleasure. I never was a fan. I respected him as a lyricist, but I never was a die-hard Eminem fan. But he has a lot of die-hard fans.
Surely, Charlamagne is not a die-hard Eminem fan, he can barely say a good word about him, and he certainly doesn't know much about him if he thinks that Slim Shady's acidic satire is the only Eminem's stick. Nobody listens to old Howard Stern's interviews, and not many people are interested in his new ones. However, Eminem old songs are now as relevant as ever, and his new music still resonates with old fans and teaches new generations to appreciate his lyrical genius.
Watch the video below:
EJ Magazine #34 Side B Available Now
Good Evening, ladies and gentlemen. This is ePro with the new EJ. Perhaps, you have already noticed that this issue is special and complements the one that was released for MTBMB. We call it EJ #34 Side B. It's packed with exclusive hi-res images and photos that you've never seen before. They will make your heart skip a beat. Or ten.
So, sit back, relax and enjoy our reviews for Music To Be Murdered By — Side A & Side B… The coroner is on his way.
Download for free from ej.gs or Google Drive.
EJ 34 Side B Teaser: