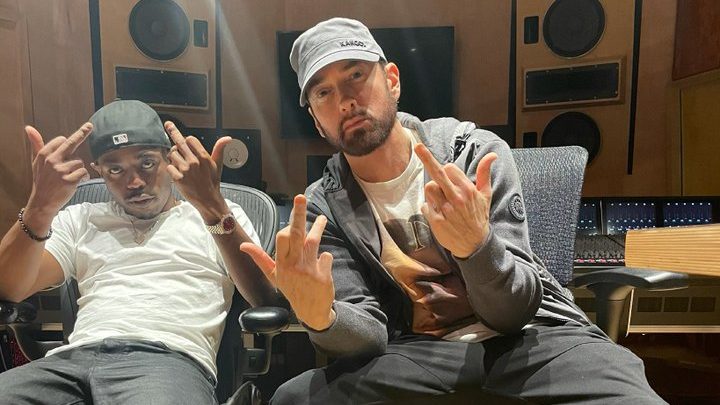 Westside Boogie was promoting his new album on "Sway in the Morning" when a call came through.
Sway Calloway was chatting with him and Iman Shumpert when the whole crew knew who was holding the line awaiting their turn to speak to Boogie.
Videographer Tyrell Davis, who works on the show, shared short videos from behind the scenes, perfectly capturing the excitement that engulfed the studio that day. He was whispering to the camera:
Marshall Mathers on the line! This about to be crazy!
And indeed, when Sway welcomed another caller and heard "You are talking to Marshall", the room exploded.
Anyway, the Shade45 star exchanged pleasantries with Em, Em threw some shade on Paul Rosenberg escorting Boogie to the station, and they smoothly moved back to business. Sway asked Marshall if he had listened to the "More Black Superheroes" project, and the answer was a heartwarming yes:
That's why I'm calling in. I just wanted to congratulate Boogie because the album is incredible.
Boogie did not bask in the glory of Eminem's praise. He pointed out that this type of interaction is unusual:
Oh wow. I'm not gonna lie, usually, he's always got a joke at the beginning like, "That's the worst shit ever". But then he tells me it's okay. But here, he tells me that's good from the start!
Of course, after that, Em immediately served Boogie a sobering dose of a friendly banter to the amusement of the whole audience. The dynamic between the Shady Records boss and one of its most consistent artists is unique, and it is always good to see the support Marshall shows to his artists.
Listen to Westside Boogie — "More Black Superheroes" below: