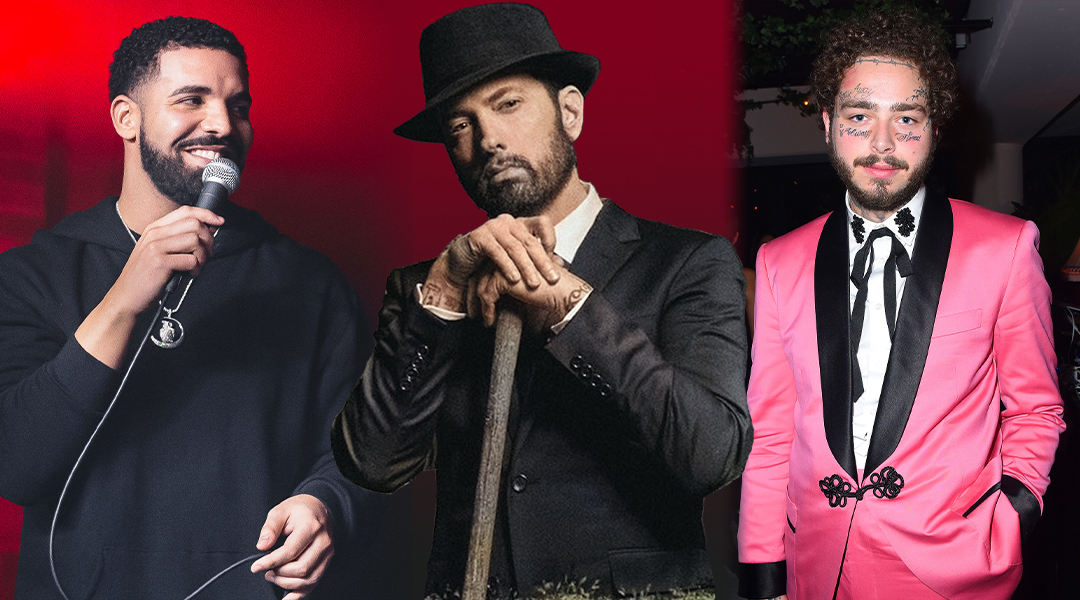 Only three hip hop artists on the platform have gained over 20 billion streams from their main catalogue.
ChartMasters published the list of the most streamed hip hop/rap musicians ranked by the number of streams as lead artists:
1. Drake 39.17 billion
2. Post Malone 24.53 billion
3. Eminem 23.75 billion
4. Kanye West 17.72 billion
5. Khalid 17.55 billion
6. XXXTentacion 17.18 billion
7. Juice WRLD 16.61 billion
8. Travis Scott 16.49 billion
9. Kendrick Lamar 13.25 billion
10. Future 12.41 billion
Spotify most streamed rap/hip-hop artists (leads only)

🥇Drake 39.17b
🥈Post Malone 24.53b
🥉Eminem 23.75b
4 Kanye West 17.72b
5 Khalid 17.55b
6 XXXTentacion 17.18b
7 Juice WRLD 16.61b
8 Travis Scott 16.49b
9 Kendrick Lamar 13.25b
10 Future 12.41b

— ChartMasters.org (@chartmastersorg) July 16, 2021
The gap between the top 3 and the rest of the pack is impressive and shows how relevant and popular Eminem music still is.
He just reached a new streaming milestone that combines his streaming numbers as a lead artist with the numbers coming from features – a whopping 27 billion.
Interestingly, this trio is the same who holds the Top 3 on the list of the most streamed artists of the 2010s decade.