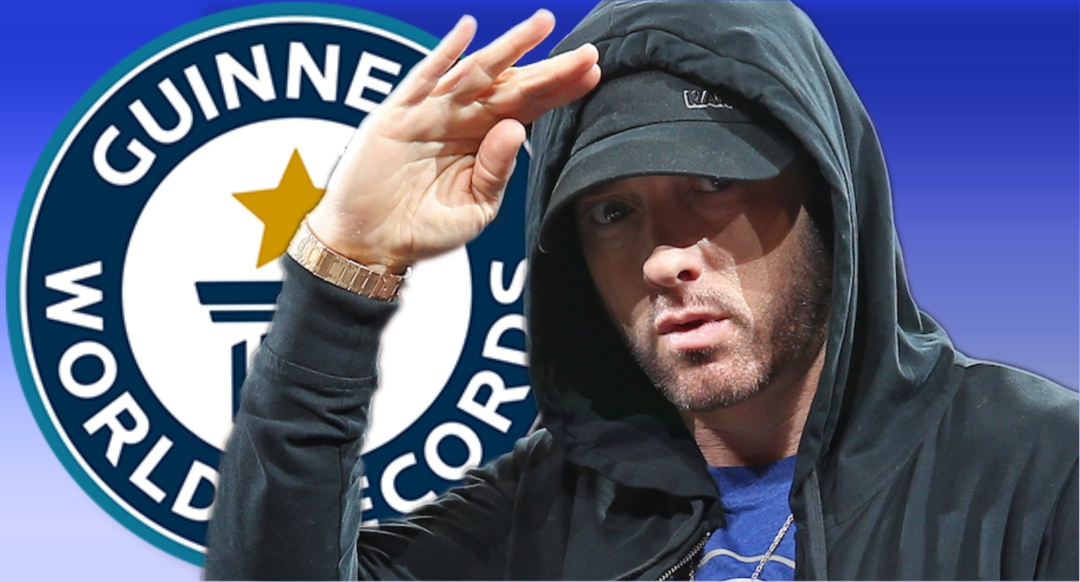 Eminem's achievements have been logged into the Guinness Book of Records: ten consecutive No.1 albums, the fastest rap and the biggest chart leap.
Marshall achieved a record-breaking result when in January 2020 his surprise drop "Music To Be Murdered By" debuted on top of the Billboard charts. Basically, Eminem updated his own record as he was doing since "Recovery" became his sixth top-chart debut in a row.
Now he has a new one: Most consecutive No.1 debuts on the US albums chart. And a fan from Reddit made a snap of an actual book page for everyone to see: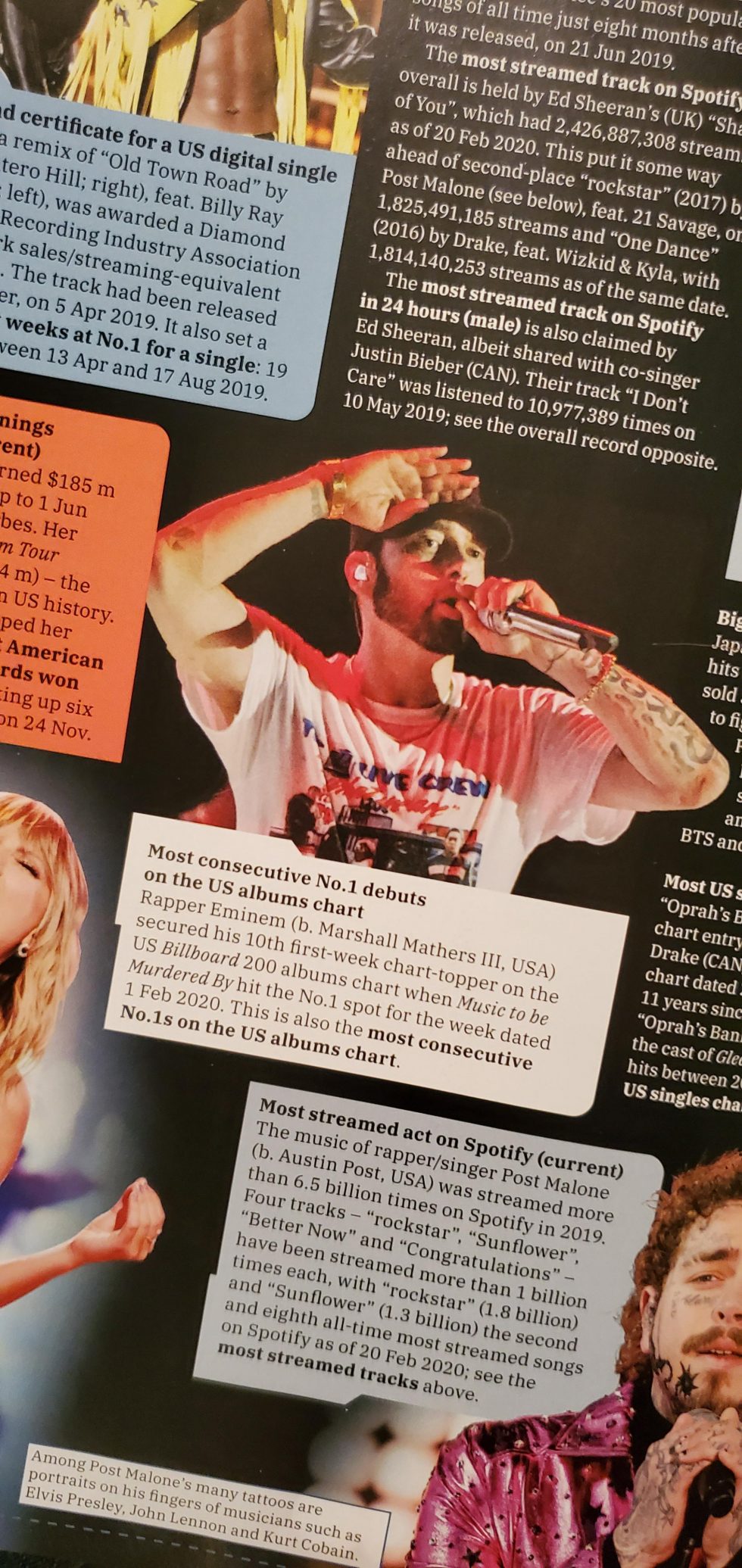 This January release added another new record to Eminem's book. Or rather, again, updated his own, set earlier with "Rap God":
In the third verse of "Godzilla", Eminem packed 225 words into one 30-second segment – that's a rapid 7.5 words per second! "Godzilla" (2020) smashed the record he set as a guest on Nicki Minaj's "Majesty" (2018), when he spat out 78 words in 12 seconds (6.5 words per second), which in turn eclipsed his performance on the 2013 hit "Rap God" (97 words in 15 seconds; 6.46 words per second).
The third new record Eminem broke on the last days of 2020. For years he has had the record for Most entries jumped on US Billboard Hot 100 chart – after "Smack That" with Akon vaulted to No.7 from No.95. Now Marshall bagged the biggest chart leap for an album when "Music To Be Murdered By" rocketed to No.3 from No.199, breaking the record set by Bob Dylan in 1970.
21st century's top-selling album act (USA)
These are just three records out of a dozen that Marshall has registered to his name. Here are some of them:
Eminem was the biggest-selling album act in the US in the first 10 years of the century, with sales of 32,241,000.
Largest vocabulary for a recording artist
According to a June 2015 study, Eminem has the largest vocabulary, with 8,818 unique words used in the lyrics of his 100 lengthiest tracks. He also has an "N.W.I." (New Word Interval) of 11, meaning that, on average, each 11th word used across all 100 of the Eminem tracks analyzed is a word he has never previously used in one of his lyrics.
Most likes for a musician on Facebook (male)
With 86,461,596 likes on his Facebook page as of 13 May 2020, Eminem is the most popular male musician on the social network – well ahead of the likes of Justin Bieber, Michael Jackson and Bob Marley. The rapper is the second most liked musician overall on Facebook (after Shakira) and the fourth most liked male celebrity overall after footballer Cristiano Ronaldo, actor Vin Diesel and football player Lionel Messi.
This record is attributed to Marshall's daughter Hailie Jade Mathers but is certainly her father's doing. Haile is listed as the Youngest R&B chart entrant in the book.
She became the youngest performer, aged 6 years 210 days, to be credited with an R&B hit when "My Dad's Gone Crazy" — where she recited exactly these words — entered the charts in August 2002.
Another achievement with a tangential connection to Marshall was registered last year by a fan from Scotland, is the record title for the most tattoos of the same musician tattooed on the body.