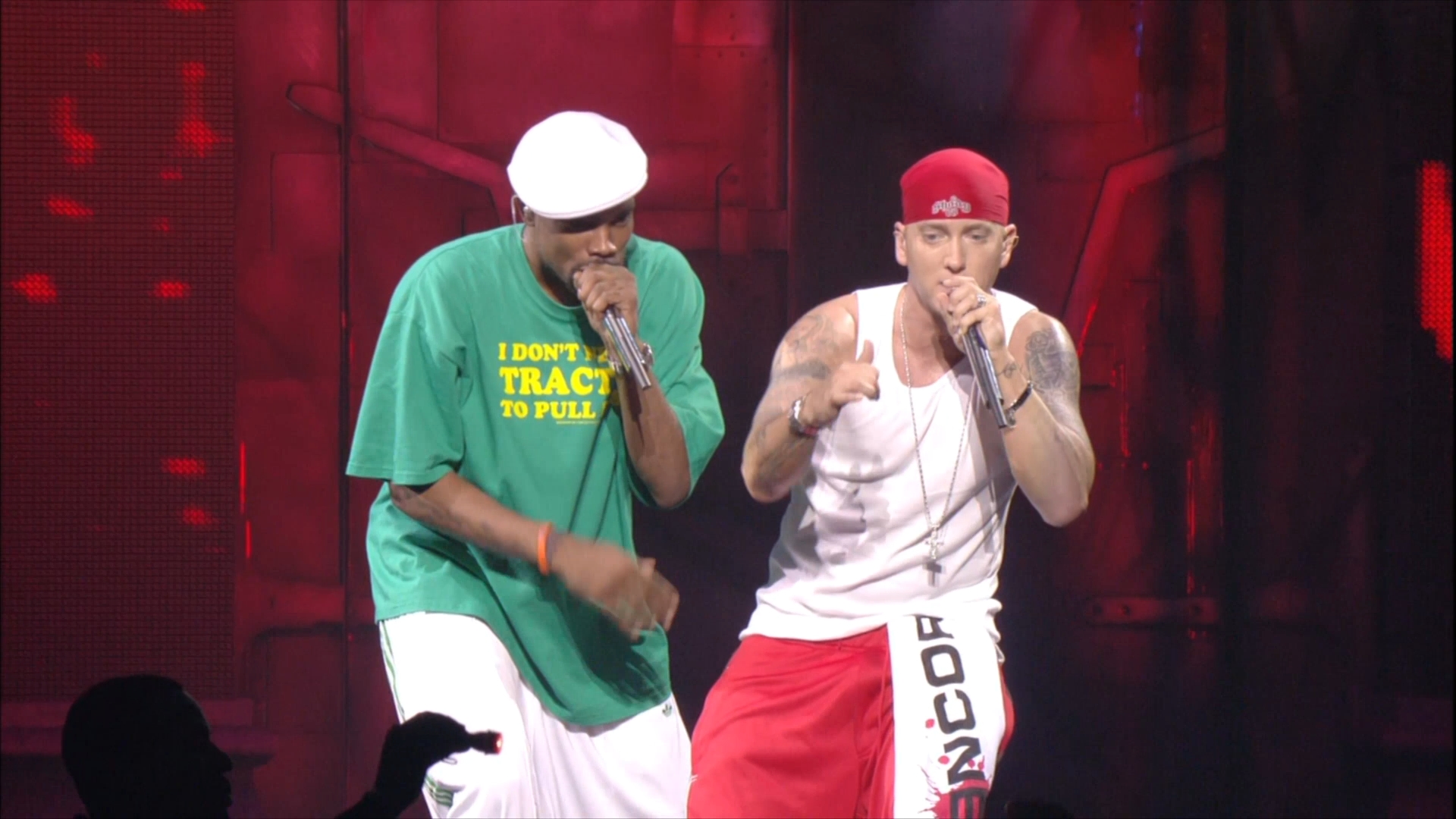 In 2002 Eminem and Big Proof stopped the DC crowd from crushing the front rows by pausing their performance and addressing the audience.
The amateur footage resurfaced on the Internet recently, showing how Eminem and his friend and hype man Proof talk the audience down and prevent a crowd surge that could have cost lives. In a well-synced harmony Em and Proof traded lines:
Ayo, hold up, stop it! You gotta fuck the calm down. You gotta quit pushing towards the fucking front, or we cannot perform. I got police telling me that show is cancelled if you all do not stop pushing towards the front. You guys gotta cool the fuck down so we can do the show. Ayo, if you got somebody on the ground in front of you, help them up. Help them up above the ground. So we can not continue the show until you chill the fuck out. Calm the fuck down, DC. Calm down, quit pushing. DC, everybody back the fuck up so we can continue the show!
That is the perfect example of Marshall's behaviour that a crowd management expert Gil Fried praised in his recent interview. Professor Fried mentioned that he observed Eminem turning this dangerous situation into a game at one of his shows:
He said, "Okay, everyone, I'm going to start a new dance with you. Okay. Two steps back, one step forward, two steps back, one step forward." And he was trying to alleviate the pressure of everyone that was pushed up against the barricade by doing that. And an artist can do that.
Yes, in 2002, Eminem perhaps was not skilful at talking to big crowds, but the intention was there – he stopped the show and was not going to continue until people were safe. At no point in his career Em was ready to sacrifice people's lives to the stage thrill of his success.
Watch the video below: