Ed Sheeran and Eminem did not give up their leading roles on the YouTube UK popularity chart.
Built on streaming numbers over the week starting November 5, the chart shows that Ed Sheeran is still way ahead of everyone, with whopping 8.31 million views in the country. Eminem trails behind with 3.92 weekly views. Adele, whose comeback shows fantastic performance, is still unable to catch up with Marshall and remains at No.3.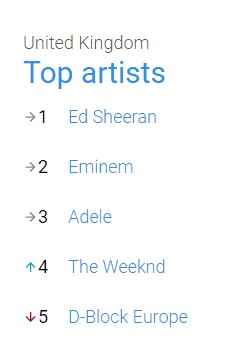 Mind you, Eminem is keeping these numbers up without releasing any new music videos since "Higher" in January 2021.
In the US, Eminem fell out of the Top 10, unfortunately. Even 20.5 million weekly views only secured him No.11 on the chart. Overall, Eminem gained 81.2 million views on YouTube over the recent week.