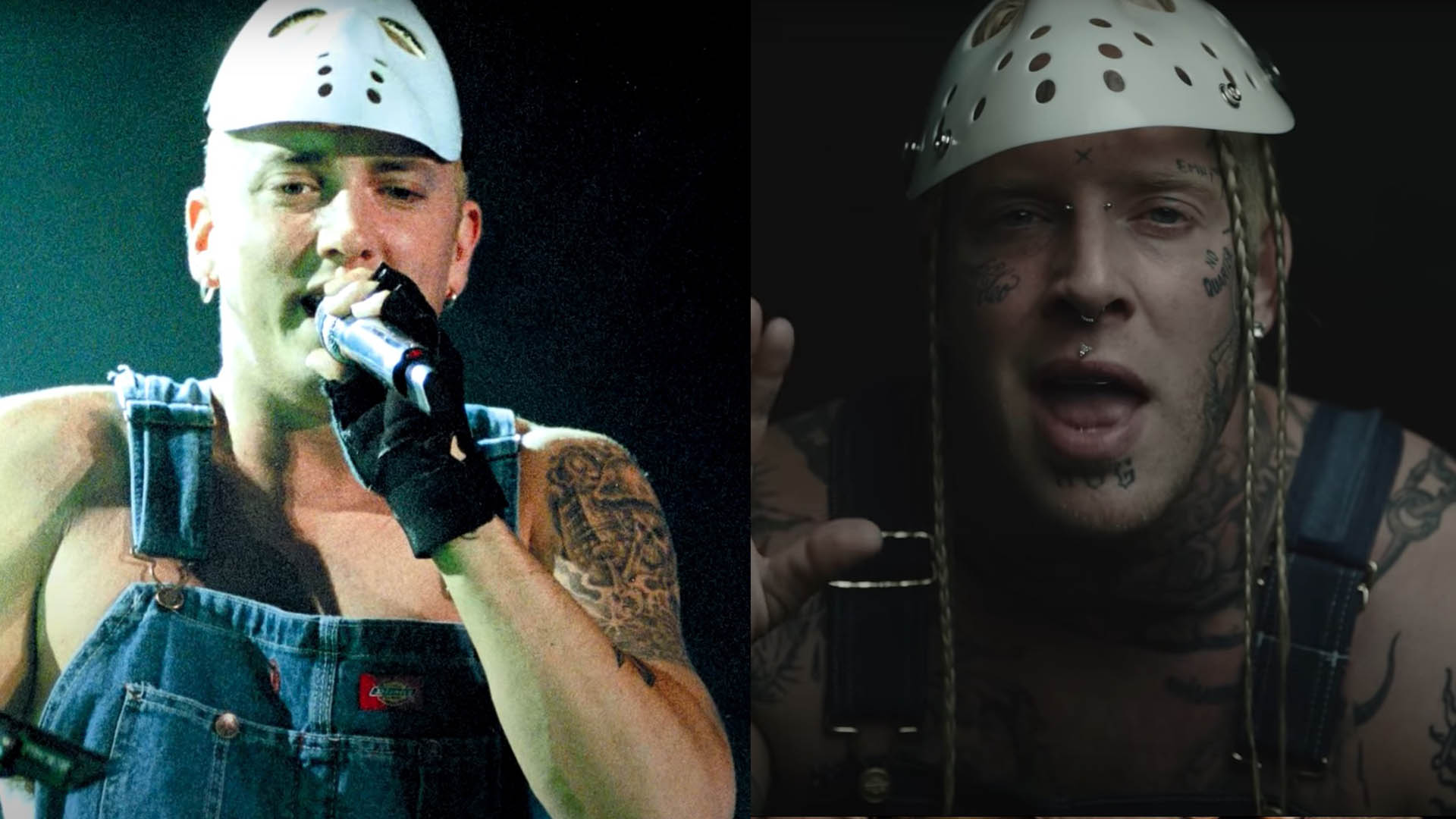 Having heard that many Eminem fans were going to boycott his new Eminem exploit, Tom McDonald mobilised his followers for his defence.
We informed our audience that many Eminem fans felt uneasy about the Canadian rapper promoting his single while heavily relying on references to Eminem. He tried Slim's iconic looks on and used Marshall's classics as props in his photoshoots. He tried to balance between being defiant and reverent at the same time, without much success. He managed to piss off his own followers and annoy Marshall's audience. Guess everything goes to draw more media attention.
Tom's followers claimed that he was better than Eminem and shouldn't have bought "the piece of garbage" that is more commonly known as "Stans' Revenge" NFT beat. McDonald recorded a video message for them, justifying his decision by the fact that Em had always inspired him and that he just made history with this NFT auction.
Eminem fans were treated differently. The "independent artist who made history" by buying a digital token that proves that "Stans' Revenge" was made by Eminem went after those who posted the "Stans' Revenge" video online. McDonald manually sent who knows how many takedown requests, using a link to an NFT auction as his copyright registration information. YouTube doesn't bother with verifying these requests, so now many fan channels have their videos taken down, copyright strikes added to their records with the potential threat of deleting their accounts looming.
And then Tom reposted our article about the boycott, with no credits, and his picture changed to another that disguised the fact that he exploited Marshall's name for self-promotion. That was a dog whistle for his followers to start crying blue murder and drugging Eminem fans, and sometimes Eminem.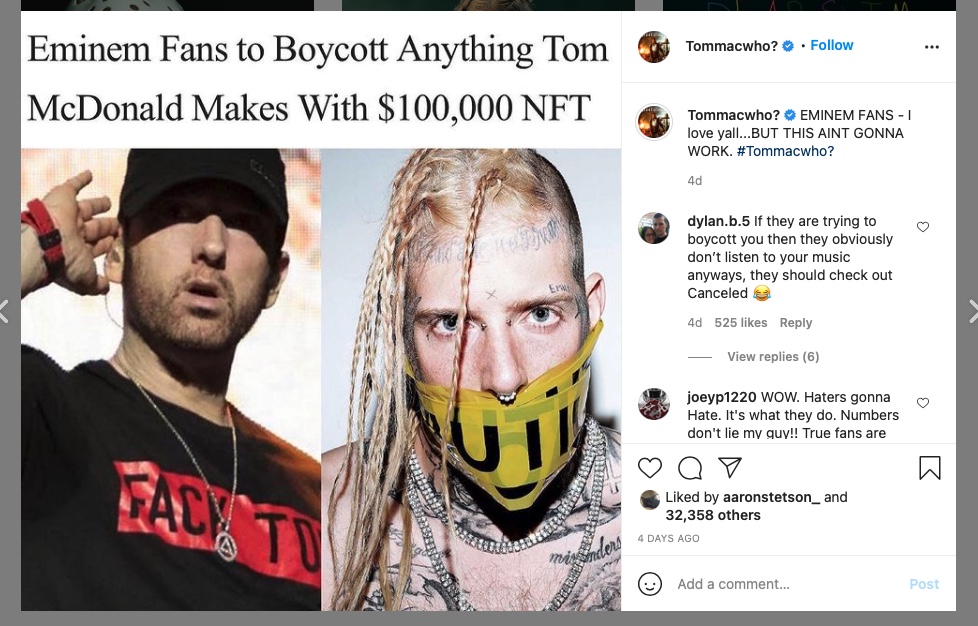 Do not get us wrong, we are not offended. It is impossible to be offended by some ridiculous claims of deluded characters. No Eminem fans would be able to recognise themselves in monsters this gang paints us. Here just some gems:
Eminem still has fans? Didn't they cancel him not that long ago? 😂
Well based on [Eminem's] political stances his remaining fans are mostly a bunch of soy boi snowflakes and cancel culture, skinny jean wearing, pronoun having nerds.
Eminem is a pansy who bows to the Illuminati and only does what he is told to do and He's jealous because he would never make it like you are.
The list could go on, but who cares, indeed.
Well, maybe Tom McDonald does. He repeated the same trick with reposting our article again in his stories, hyping up his then-upcoming release with even more references to Marshall.
Tom's dedicated audience went to harass people on Twitter who were discussing boycotting him. To the extent that people had to delete their tweets and asked us to delete the article. As if it would matter anything to Tom's pack with a beehive mind that has already got orders to kill. And who cannot stand anyone who disagrees with their idol.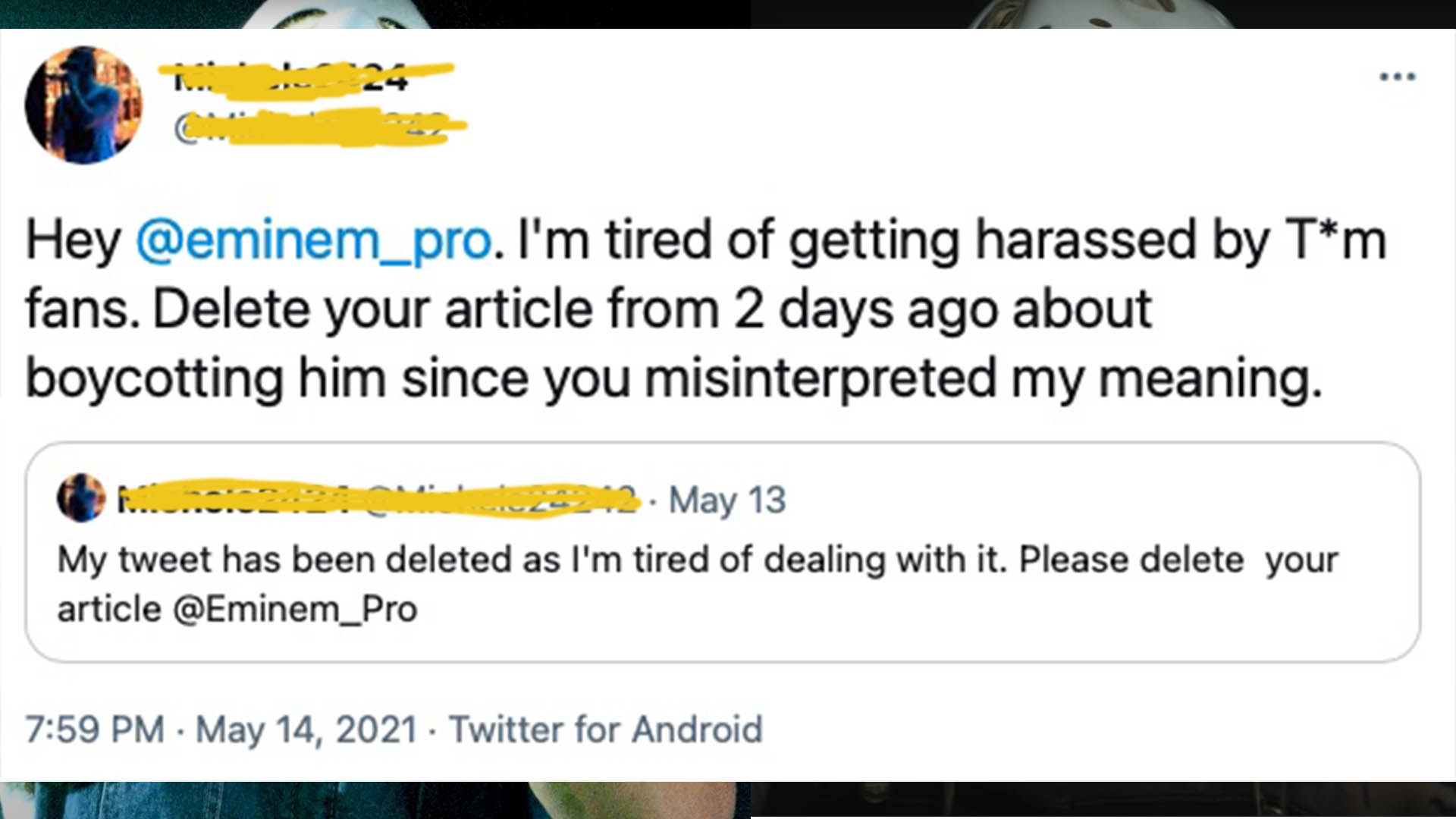 Meanwhile, McDonald benefits from instigating fan wars on Twitter and seeking attention by all means. He even marketed his song "produced by Eminem" when he finally dropped it. Well, it's not. Eminem produced the beat, not the song, and any artist knows the difference. Tom is either dangerously oblivious or misleading on purpose.
Now Tom making rounds giving interviews where he again calls Eminem his inspiration. Maybe so. Maybe even more than that, the lyrics he wrote for this beat are bursting with unresolved daddy issues, to the point of a second-hand embarrassment. Some things should stay between a man and his therapist.
So far, it looks like Tom cannot decide what brings him points – publicly loving Eminem or dissing him. He is trying to do both, but this position is so precarious, so soon, he should either choose the side or fall through. The main the Canadian man knows for sure is that his numbers run up every time he mentions Eminem.
He can be proud that he floated high enough to get the headline in HotNewHipHop: "Eminem Fan, Tom MacDonald, Drops $100,000 On "Stan's Revenge" NFT".