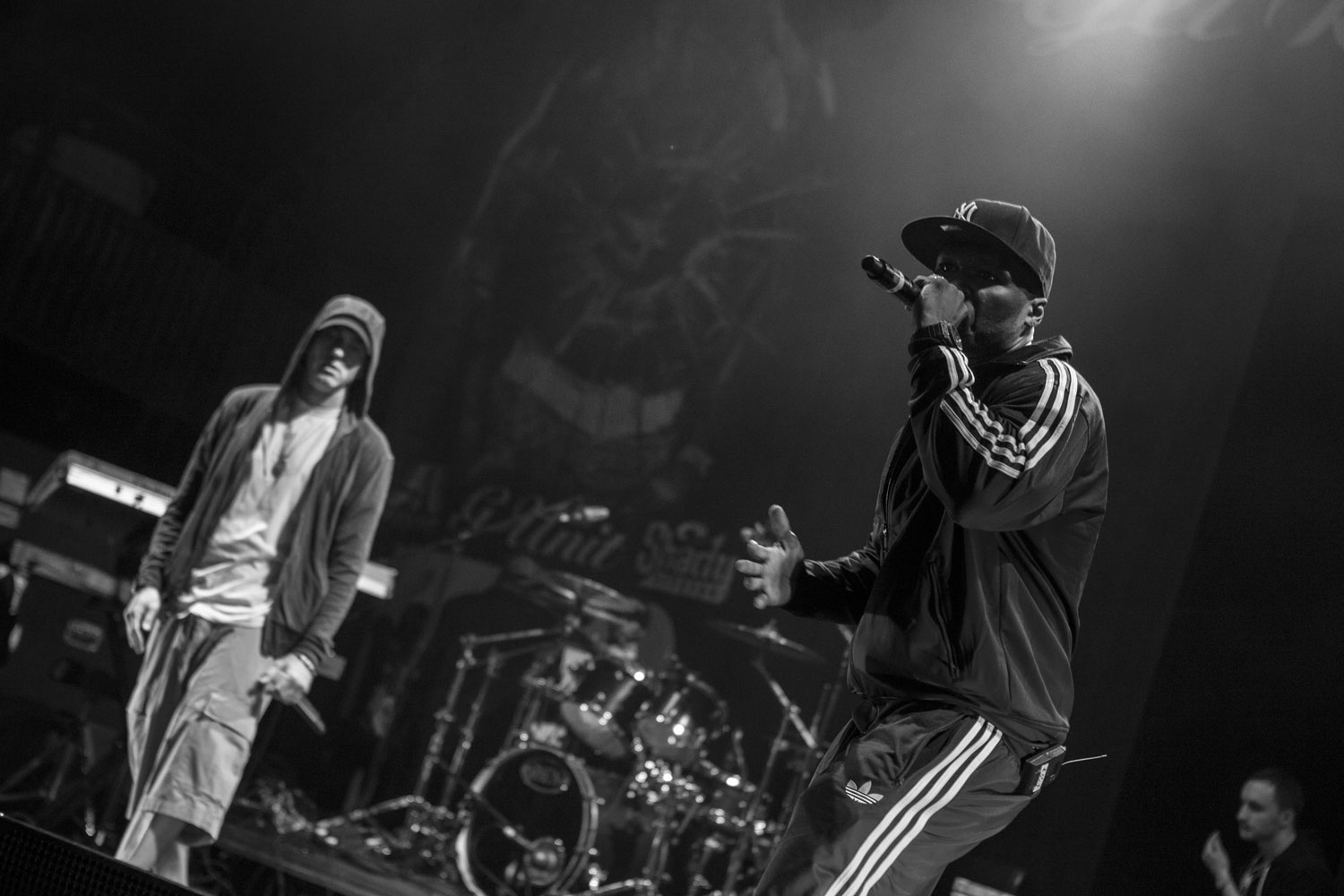 Shady 2.0 SXSW Showcase Recap (photos & video)
This is the stuff legends are made of… Music fans at the SXSW conference in Austin, TX received a special surprise last Friday night at the Austin Music Hall- Shady style. People began lining up early that day for the Official Shady 2.0 SXSW Showcase. The event was hosted by Sway of Sway in the Morning on SiriusXM's Shade 45 radio station and house music duties were handled by DJ Statik Selektah.
Kicking things off was the 1st ever Next Phase new artist showcase featuring acts hand-picked by the staffs of Shade45 and Rap Radar (www.rapradar.com). High-energy performances came from The Foodchain, S.T.S., Action Bronson, Don Trip, Schoolboy Q. with guest A$AP Rocky and Big K.R.I.T. But the legend was just unfolding…
Shady Records artists took the stage beginning at 10pm with Slaughterhouse. Comprised of Crooked I, Joe Budden, Joell Ortiz, and Royce da 5'9″, the group showcased the lyrical skills and masterful verbal interplay that has created a deafening buzz around the group as well as high anticipation for their upcoming Shady Records debut welcome to: OUR HOUSE this spring. Slaughterhouse's set was punctuated by live programming from "Hammer Dance" producer Araabmuzik and salutations from the World Champion NY Giants' star receiver Victor Cruz. Both the Next Phase showcase artists and Slaughterhouse's sets were livestreamed on Fuse network's YouTube channel.
At 11 o'clock, the evening's headliner took the stage and Fuse continued their broadcast live on their television network. 50 Cent was on hand to perform his "Get Rich or Die Tryin'" album in its entirety to commemorate the 10th anniversary of the album's recording sessions. Playing in front of a full band, 50 (flanked by G Unit's Tony Yayo) tore through the tracks on the album, which has reached diamond certification having sold more than 10 million copes since its release.
Many in the crowd hoped that a billed "surprise guest" might be a certain rapper from Detroit as speculation had been swirling all week in Austin and on-line. Sure enough, the already energized audience went through the roof when Eminem ascended from beneath the stage for his verse on the Get Rich track "Patiently Waiting". Eminem then disappeared for the remainder of the set, allowing 50 to finish what he started and bring out G Unit's new artists Precious Paris and Kidd Kidd for guest performances. Eminem returned for join 50 for a three song encore consisting of the 50 Cent remix version of "Till I Collapse", "Love Me" from the 8 Mile Soundtrack and the #1 single "Crack A Bottle," giving the crowd an explosive wrap to an unforgettable evening, and providing one of the most buzzed-about moments at SXSW for 2012. The 2012 Shady 2.0 SXSW Showcase… a legendary night indeed.