It's painful to watch Eminem sales and streaming numbers grow and not be reflected in the RIAA statistics.
A fan shared her frustration with the situation on Twitter and suddenly found understanding in KXNG Crooked. The West Coast rapper responded to her plea with a striking sports metaphor:
I need my plaque ASAP man I came off the bench in the 2nd quarter and knocked down a 3 at the buzzer to tie it up
Crook is still waiting for his Platinum plaque for "I Will", a joint with the three-quarters of Slaughterhouse published on the latest Eminem album "Music to Be Murdered By". Even if Eminem no longer cares about piles of new certificates, other artists might appreciate the recognition.
So Crook's remark was probably a magic spell, as it summoned no one else but Paul Rosenberg to a tread. And Eminem's manager promised to address the issue:
We just didn't make them yet guys… we shall. And Crook, you know we appreciate you!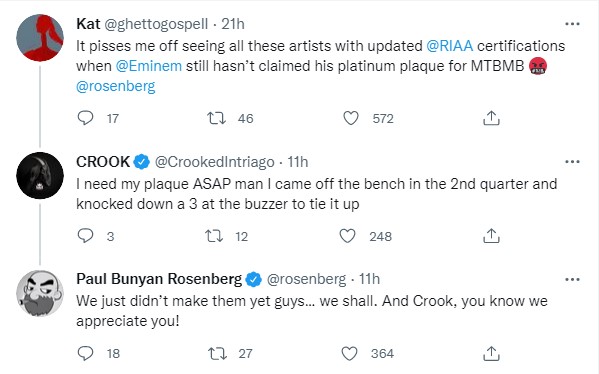 Hopefully, after this little nudge, we'll have something to report on new Eminem RIAA certifications soon.