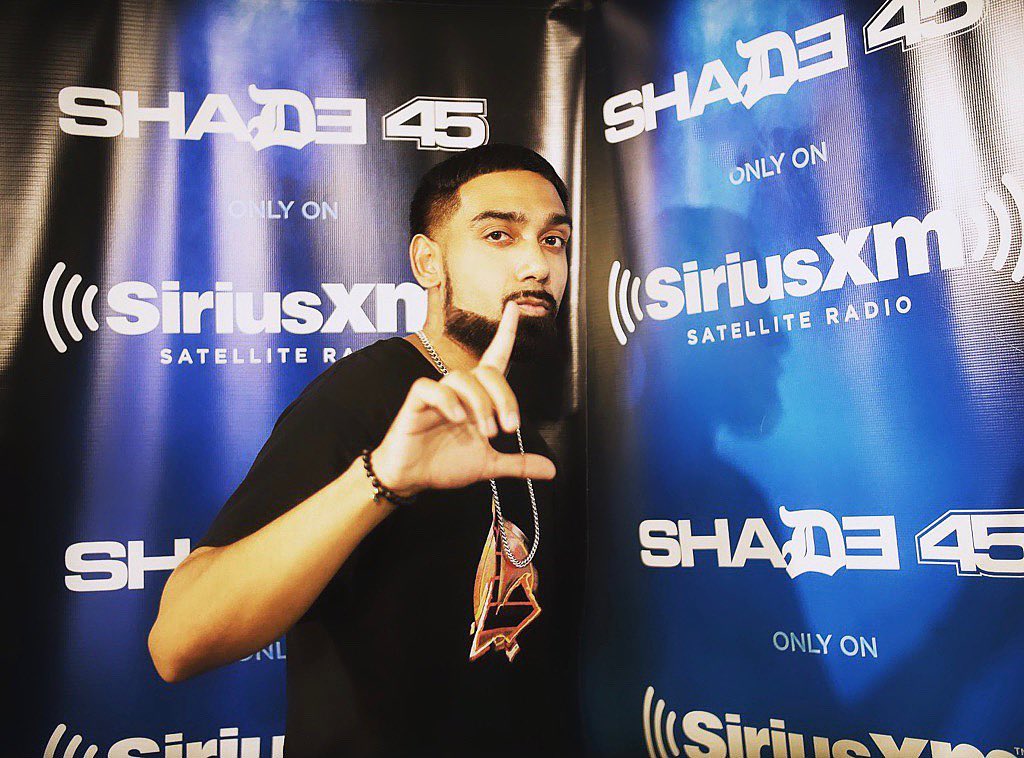 For some, Detroit rapper Lazarus and Dr. Khan, MD, might seem like a symptom of a split personality. But far from it, they are two sides of one medal, the example of how hip hop unites different worlds, different walks of life, different races and cultures, making each part stronger than before.
Lazarus joined the Mainly Eminem podcast in association with ePro as our first guest of the new season. In under an hour, he managed to give us a brief outline of his journey in the hip hop world, the journey where sometimes unbelievable coincidences that propelled his career forward were never random but the result of methodic efforts, the consequence of smart moves that set things into motion so later the pieces of a puzzle can fall in place, building a new page of his story.
He was born as Kamran Rashid Khan into a Pakistani family in Detroit. Family expectations were high, and being taught to recognise the value of science and education, he decided to pursue a medical career. He attended Wayne State University, where he received a bachelor's degree in biological science and then became a Spartan and went to medical school at Michigan State University. It is the story of Dr. Khan. What about Lazarus? How did he come into being? Apparently, his awakening is tightly linked to studying biology and being a college student, says Lazarus.
I was just infatuated with hip hop my whole life, but in high school, I got super passionate about it. I wasn't just listening. I was consumed by hip hop. Songs of Wu-Tang Clan became a big part of me. It consumed me. I was listening to hip hop every single day, to and from school. I met up with my friends, and we would discuss hip hop and what was coming out, about the best rappers. Hip hop became a big part of our everyday dialogue. One day, I was in the basement of my friend's house, and we started randomly throwing instrumentals on for no reason. And they started rapping on those instrumentals. I'm like, "What, y'all think y'all are rappers now?" We started laughing and making fun of each other. They like, you got to say something? Now you got to write a rhyme. I was like, man, I can't rap, what you're talking about? That day, I was learning something about biology. So I just started putting some biological terms together and started rapping, and it became a thing. We just started doing it. Every weekend, we started rapping and built from there. Then, I went to college at Wayne State University, that's Downtown Detroit. The hip hop movement and culture were growing so rapidly, and you could see it, feel it there. When I was downtown, there would be cyphers everywhere. Outside the classrooms, there would be circles of people rapping. I had begun my thirst for hip hop already, so I dabbled into this and started going into these cyphers and other stuff. The radio stations would come to the campus because that's where the radio stations were close by. They would come by and start looking at some of the rap talent. 95.5 was a big radio station in Detroit, and they wanted to invite a couple of guys to the radio station to battle. I was one of the guys they picked. I was like, wow, I'm going to be able to battle rather on the radio station. So I started battle rapping on their radio station and won their championship there. And then, from that point, I started noticing a shift in my life. I've always been a loner. I never really had a large circle of friends, I've never been that type of person. But ever since I started battle rapping and doing stuff on radio stations, the whole campus started to learn about who I was. It added to my character, and I started building from that. People started coming up to me saying, "Yo, let's work on music, I'm going to get you for free in my studio, let's start recording". Then I started putting mixtapes and going to school, going to my classes at the same time, that was the birth.
Of course, there were many other radio stations in Detroit. And Lazarus did not confine himself to radio sessions. He was involved in the battle rap scene and eventually made some connections there that would define his future.
There was a slew of radio stations, and as I started making buzz on one radio station, I started sliding to other ones. Not only that, there were so many venues. There was the Lush Lounge, the Magic Stick, the Shelter, a lot of those different places in the early 2000s. I would start going in battle rapping anywhere, and that's where I met Proof. And that's why I met Swifty [McVay]. That's why I met all the guys from D12 because they were taking off. D12 was really, really blowing up. They would be going around all different places of the world, but they still come down and show support to the up-and-coming talent in Detroit. I remember specifically Swifty judging a bunch of my battles. And then, sometimes, it would be Proof. And then, I think Kuniva was a judge at one point. That's how I came to build a relationship with the D12 members.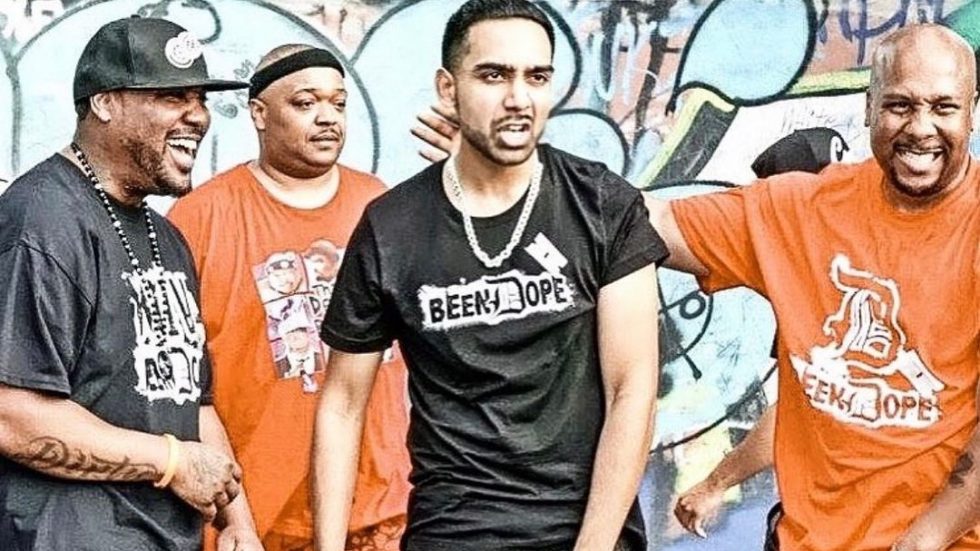 By 2004, Lazarus established his position on the Detroit scene, became friends with upcoming starts and even opened up shows for D12 and for G-Unit alike. A couple of years later, in 2007, Lazarus dropped his debut album "Chapter One: The Prince Who Would Be King". It was both a reason why he met Royce da 5'9 and an outcome, says the rapper.
There was an engineer, his name is I.V. Duncan. As I was building my buzz around the city, he was a very well-renowned engineer and producer. He came to find out about my work and was like, "Yo, Lazarus, I really want to work with you". He brought me to his studio called the Mix Factory studio in Detroit. I started recording. I actually recorded my debut album there. I.V. Duncan was simultaneously engineering Royce. He did most of all of Royce's early works. So, at that time, he was full-time doing all of Royce's da 5'9 music. That's where I met Royce da 5'9. I remember being in the studio and just learning from him. He's been a mentor ever since that time. He always called me a bumblebee in the studio. He's like, "Lazarus, he's the guy in the studio that doesn't want to stop working. Once he's in the studio, he doesn't sit down for a second. He's always working".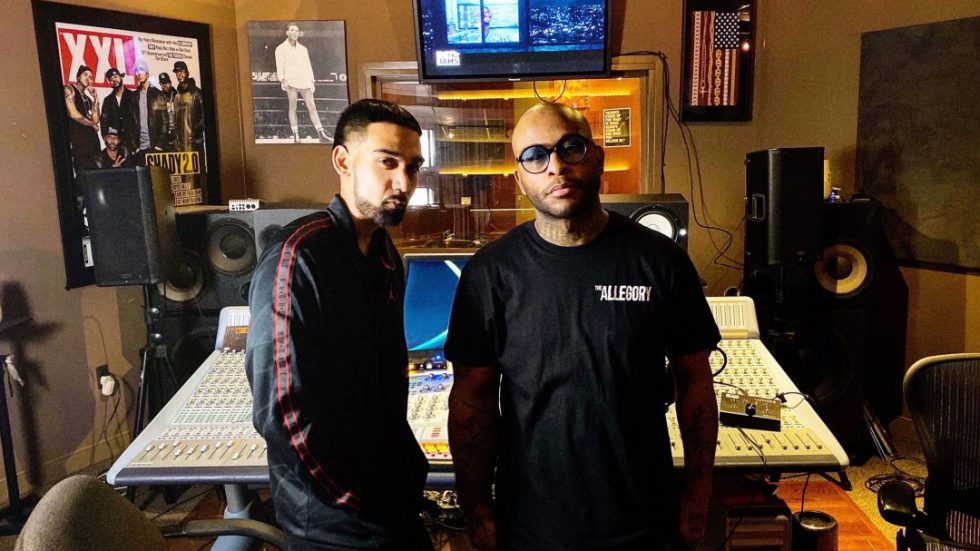 And that connection eventually led Lazarus to his first big collaboration. He would have more joints with Royce later, but that was the first, a very special record.
The first track I did with Royce was "Born to Die" on my debut album. But up until then, we had seen each other in the studio, spitting freestyles. I always spit freestyles every single time I see Royce. I'd be like, yeah, Royce, what's good, man? You know, I've got a little flow for you, bro. He's like, "Alright, let's hear it". I'd always give them a new flow every time I saw him.
The debut album has brought Lazarus three nominations at the 2007 Detroit hip hop Awards and a new perspective on the Detroit hip hop culture.
I had nominations for Lyricist of the Year, Album of the Year and all types of stuff. I performed out there, and even around that time, I saw Bizarre, King Gordy, and all those guys a lot too. The Detroit thing was very tight-knit. It's a very tight-knit circle of MCs, and there is an incredible amount of support that these MCs give each other. There's a lot of talk about Detroit MCs not really vibing with each other and that being disappointing. But I know that once you started really earning your stripes and getting in there, they started showing respect to you, and I always felt the brotherhood with the Detroit hip hop scene.
Three years later, in 2010, Lazarus dropped his second album, "Lazarus Story". Technically, it is a mixtape, corrects the rapper, even if the majority of the beats used in the project were original. However, at that time, Lazarus found a new challenge. He started experimenting with merging different cultures and languages into impactful hip hop records.
I started venturing more into a bilingual. I started rapping more in the Pakistani language and trying different things like that, which built into a different music genre that catapulted later on. "Drug of Choice" was a record where I featured a legendary Pakistani singer. Then I did an English verse, and I did a verse that I tried for the first time in the other language.
Lazarus could experiment with using different languages on his records, but he could not experiment with a limited time in a day. There was a lot of pressure to give up music whatsoever to keep up with the demanding pace of his medical studies. And yet again, his previous work opened a door he didn't know existed.
I was doing medicine at the same time, so there were many times in my career where I'm like, I gotta give up rap, or I got to give up medicine. So, I went to a medical residency and graduated from there in 2013. But while in residency, I questioned where I would go with my hip hop in 2013. Russell Simmons sits on a committee called the Foundation for Ethnic Understanding. One of his board members contacted me and mentioned that he's a big fan of my work. He saw a couple of my videos on YouTube, and he said, "Hey, I showed your stuff to Russell Simmons, and he would love to have you come out to this event at his private home in Manhattan to perform". I couldn't believe it at first. I was like, "What?! Russell Simmons's house and to perform, for real?!" He wanted me to perform about unity amongst races and ethnicities. I was like, yeah, that's just right up my alley. So I went up there. I performed in March of 2013, that video is on YouTube. Russell Simmons stood up and gave me a standing ovation. He put me on his YouTube channel, All Def Digital. He said, "Let's start producing content for you". That's fantastic. Then, I went back home to Detroit. The first record that I actually released from their channel was "Open Heart Surgery" with Bizarre.
That track was also nominated for Song of the Year at the Detroit Music Awards, and this time it won. Lazarus was proud of his achievement, and so were D12 members who practically served as his mentors in his early years.
I remember being on stage with the award in my hand; it felt amazing. Bizarre was super proud of me. The whole D12 were super proud of me. You've got to understand from their point of view. They saw me as the young battle rapper who they used to judge and used to battle, as battle rap people. And now they're seeing me with Russell Simmons, and now I'm climbing and bringing a new light to my career. Their continued support meant so much to me. And then Swift, Kuniva, and I dropped the record called "Lay the Law Down". That was in 2014 when we dropped that record, which was very well received.
The following year, an even bigger feature with Royce came out as a logical continuation of Lazarus's ascending trajectory.
It was only natural at that time because I had just dropped a record with Bizarre, "The Open Heart Surgery". Then I was talking to Royce, and he was super proud of me. He's like, "You did this thing with All Def Digital, and I like it. Listen, I'm doing another project on Russell Simmons's channel, and I would love to do a record with you". We were trying to think of what kind of record we would want to make; we were thinking of different concepts and were like, "You know what, let's just go into a boxing gym". Because me and Royce always talk about boxing. So we're like, why don't we go to the boxing gym in Detroit and shoot a video there? We just got off lyrically and called it "Underdog". That was another super dope record that we did. And that also came on Russell Simmons's channel.
However, that was a build-up to the groundbreaking feature that Lazarus got through his connection to D12, which brought him the amount of exposure he did not expect. All because of a D12 member Lazarus had not met yet, Eminem.
At that time, D12 were coming back together to do the "Devil's Night" mixtape. I remember Bizarre calling me, and he was like, "Yo, we're working on this big project. We got [King] Gordy there, we got Royce on there. We definitely need to get a verse from you on there". I felt so honoured because that was a heavily promoted project. It was just super dope to be part of that. I remember them sending me the track, which was "Raw As It Gets". I was like, yeah, I gotta kill this. They needed the verse in less than a day. I went to the studio, knocked it out, and sent it in. That was close to the release time of the mixtape. On the day the mixtape came out, October 30th or something, I was at the Ludacris show, opening up for him. I think it was Swifty who called me and said, "The mixtape just came out, but it's going to be re-released in a few hours". What do you mean it is going to be re-released? They're like, "Em dropped a verse". It was on the Shady Records page; it was on Eminem's own page… Everybody was listening to that mixtape. They only shot a couple of videos off that mixtape, and one of the videos was "Raw As It Gets".
It was certainly a pivotal career moment for Lazarus to get featured on the same project with elite Detroit rappers who inspired him earlier. Still, his musical influences were not limited to Detroit. He listened to different hip hop artists, but there was something that united them all: strong lyricism and an impactful social message.
I listened to a lot of Nas, I listened to Mobb Deep, I listened to a lot of Public Enemy, Run-DMC… All different generations and eras of rap. When I was starting to really get into hip hop, D12 and Detroit MCs had such a big impact on everything I did. But if there were one group of MCs, one reason that I took the pen forward and started rapping, I would definitely give the credit to Wu-Tang.

One of the things that inspired me so much about Wu-Tang was that a lot of the mainstream or popular rap was gangster rap. And I was growing into science and education. Then I started hearing "Socrates philosophies" and all these words coming out in hip hop. Inspectah Deck, the GZA, they were throwing a lot of technical words out, vocabulary. When I started hearing that, I was like, this is elevating my mind right now, hearing this music, and inspiring my brain, inspiring my intellect. I really loved that about Wu-Tang, And it wasn't just something that was in the underground. If you search and seek for this music, you'll find it. It was actually on the radio, it was on MTV, it was playing on Triumph. That was definitely inspirational to me because I would love to make rap with this level of technicality.
Little did young Lazarus know, but years later, life would bring him close to Wu-Tang Clan and send him around the world with his favourite rappers. Lazarus still sounds amazed by this turn of events.
It's the biggest mind-boggling thing I can imagine. In 2018, I linked up with Ghostface Killah and RZA's cousin, Divine, whom I met in Las Vegas. We started having a conversation about hip hop, and one thing led to another. I had released my song, "GODFLOW", and a video for that. Divine played that to Ghostface, and after he played it to Ghostface Killah, Ghostface Killah was doing a show out here in Vegas, and he wanted to meet up. That's how I met Ghostface. And once I met up with him, it was just like the chemistry; we just lit up. Ghostface got these shows; okay, we're going to have Lazarus open up on those shows. So, I started going on tour with Ghostface. We did a whole bunch of shows with him, and they were so successful that we ended up transitioning to the Wu-Tang Clan shows. The first show I did was in Washington, DC, at the Anthem, which is a huge venue out there. I remember going over there and performing in front of almost 10,000 or so people. I had performed in front of a large amount of people before. The Ludacris show was big, and there were a few other shows I did that were quite big, but seeing that many fans there for super lyrical hip hop was putting me to the test. Everybody was watching me. They were like, we want to see how he does it in front of this big of a crowd. And we rocked the crowd. RZA and the show manager for the Wu-Tang, they're like, "All right, what are you doing tomorrow? Let's take you to Boston". I was like, wow, okay, I'll call my work; I'm gonna be off for a couple of days. I went to Boston, and that was another successful show. Two or three weeks later was the Australian-New Zealand tour there. Before I knew that I was in Australia, I was in New Zealand; we were at the Sydney Opera House, which is a beautiful place. I remember riding in the car with RZA, and RZA was playing me beats and music and unreleased things of his. I thought, this is the music that made me start rapping, and here I am, driving around with RZA. I'm on stage with my favourite rappers. As time progressed, I started doing more shows, and then I started doing the whole UK tour with them. Then I started doing the whole USA tour with them. This brought a lot of light back to me as well. I was being able to represent for Detroit everywhere I went. Everybody was so proud of me: Royce, D12 and all the guys, just super proud. At that time, I was also working on soundtrack work for Swifty. On "Devil's Night: Dawn of the Nain Rouge", which is a movie he was working on with Eminem's brother, Nate. That was the project that I got involved in as well. When I opened up for Wu-Tang in the Detroit show, I had Obie Trice, Swifty, and Nathan on stage with me. They came out there to support me.
Oh, then one of the big ones came out while I was on tour with Wu-Tang. It was the "Leatherface" joint that Bizarre featured me on [with Hopsin]. That was a crazy one. It was after "Kamikaze" came out and the record "Fall" where Em mentions Hopsin in the song. Bizarre wanted to make that collab and bring Hopsin and Em on the same record. So, "Leatherface" was, originally, to feature an Em's verse on there. It was all Bizarre's idea. I'm not exactly sure how they developed their relationship, but they developed a relationship, and Hopsin actually produced that song. I don't think a lot of people know that.
Lazarus later mentioned "Leatherface" on his famous Shade 45 freestyle. He slayed mumble rappers, islamophobia, and racism and showed incredible lyricism and flow control. Does he have a secret or advice on how to deliver a perfect freestyle? The secret is open, smiles Lazarus.
When you go on a platform like that, you just got to let the beast out, and that was one of those. I got on there. It was Lord Sear's show; he invited me to Shade 45. That was actually while I was touring with Wu-Tang, right in the midst of the tour. So, I had a lot of energy. I learned so much from the Wu-Tang being with them in person and freestyling with them that it became so natural to do something like that. I'm excited to go back.
Having spent years linking up with rappers through music, Lazarus discovered that his medical experience is no less in demand than his rapping skills. It happened in those dark Covid times when life went upside down, changing the way we communicated with the world.
Covid opened up a lot of doors. I mean, it literally closed a lot of doors, but it opened up a lot of doors, too, if that makes sense. I'm practising as a full-time doctor, a physician. So, being COVID time, everything shuts down. And I was supposed to do the Wu-Tang tour. Chuck D has been a huge mentor of mine ever since the Russell Simmons event. So, Chuck D's looking at, like, okay, what's going to happen with the music industry now that Covid is here? Vlad reached out; that was the first time I got in touch with DJ Vlad. He reached out during Covid, and he's like, you're a doctor on the front lines, and you rap. So, we've got to bring you to the show. I started doing interviews with Vlad, and before I knew it, I was doing lives with LL Cool J. I'm talking to Ice T; Redman's getting in touch with me. RZA's asking for medical advice. I was the go-to guy for any question related to COVID-19 because can we really trust the media? There was a lot of information out there, and I was trying to use my personal experiences by creating a platform to speak about what I saw and what was really going on. I was working every day, to the point where even my colleagues were getting sick and taking time off, but I was overworking myself. I was working non-stop, every day, despite all the deaths I saw. I saw a lot of people die. It was a dark time.
Still, another good thing came out of that dark time. Lazarus had written and recorded a "Pale Blue Dot" track that NASA sent to the International Space Station. It was the first deliberate collaboration between NASA and a hip hop artist. How did that happen? It is another of those things where pieces of a puzzle just fall into place without you even noticing, says Lazarus.
During a COVID time, there was a Clubhouse event where I talked about the catastrophes and the deaths taking place with COVID and just showed some of the preventive things we can do. I didn't realise it at the time, but a lot of very big, important people were listening in the crowd. After that event in the Clubhouse, one of the people who reached out to me was associated with NASA, and he's like, "I want to introduce you to Jim Green, the chief of NASA". I thought that was just so bizarre, so crazy. All right, the chief of NASA, like, what? Is this for real? And before I knew it, I connected with scientists there, like Tara Ruttley. And then I got on the phone with Jim Green and had a meeting in DC at NASA headquarters with Jim Green. They were really happy to see the way that I'm able to incorporate education with my background as a physician into the music industry. One of the thoughts was, hey, what about getting a song about space? You know, like a hip hop song about space? And we can launch it from the International Space Station. That conversation happened maybe a year before the song came out, and it blew my mind. The thing about that song is, first, that I was trying to figure out how to make a song about space. Because I don't want anything to sound forced, not to sound organic, not to sound like it's coming from within. I had to figure out how to create a song that made sense to me and was not corny. Like, hey, I'm going to space, meaning something cheesy. I wanted it to be powerful and impactful. So, I enquired about what is the launch process. What does it take? Then I learned about how scary that process is and how much fear goes into the mind of the astronaut that's launching out into space. I was like, I'm going to capture that. I want to capture that feeling. I'm going to capture the moment that somebody's actually launching into space and worried about losing his life in the process because many have. Then, rapping about what you see when you get out there, how different it might be from what you would expect, and what you can learn from space. I wanted to put my all into it. The song was then loaded into a cube, launched into space with an astronaut, and then played by him on the space station.
Will this song find its way to Lazarus's upcoming album? It can be a perfect lead single with a fantastic story behind it. Lazarus doesn't feel enthusiastic about that; it seems he already has a different plan.
I don't know if it's going to be on an album or not. It might be a standalone project for what it was. It's been inducted into the Library Music of Congress in DC. So there are a lot of super dope accolades to go with it, and it is the first song and most definitely the first hip hop song to play from outer space. But most importantly to me, it is the art. It's a piece of art out there for people to listen to and, hopefully, appreciate. The first single from my solo album is going to be an upcoming track I have produced by Mr. Porter that's getting ready to come out. That song is something super special for hip hop fans. Few people have heard it so far, and my favourite MC, the GZA from the Wu-Tang Clan, told me he was blown away by it.
So, is the title of Lazarus's upcoming album "Detroit to Antophill", as his Wikipedia page states? Apparently, no. Before releasing his solo project, Lazarus wants to showcase an international collaboration again.
"Detroit to Antophill" is a collaborative project I'm doing with the biggest hip hop artists today in India. His name is Emiway Bantai. We did a song together, it came out last year, called "Lobotomy". That was a big hit. It was successful overseas, in that market. He raps in the Hindi language, and I rap in English. It's a unique blend of East and West. We got a collaborative album we are getting ready to release this year in the fourth quarter. My solo album will likely be pushed into the first quarter of 2024. So it's on its way. It's got features from the D12 guys and Royce. And, you know, the whole squad is up on this.
What about a single with Mr. Porter? Is there any chance to hear it earlier than in 2024?
People hopefully will be getting their hands on that this fourth quarter as well. I'm super excited. A lot of cool projects are being cooked up right now. My thing is, I want to make sure that Detroit is consistently and constantly represented, being showcased and embraced around different areas of the world.
Lazarus indeed keeps an eye on different areas of the world, both East and West, knowing what is happening on the hip hop scene globally. Ask him about the UK hip hop landscape, and he has an answer.
In the UK, there's an artist by the name of Lowkey that I think is really cool. He's a very, very thought-provoking artist. I know the scene over there, the grime scene and everything. People are always trying to put me up on that. It's just a very unique world in and of itself.
Meanwhile, Lazarus, who benefitted so much from learning from experience, from working with living and breathing hip hop giants, carries their torch now and helping develop younger artists. One of them is the son of Chester Bennington, the late lead vocalist of rock band Linkin Park.
I'm working with and mentoring Chester Bennington's son. It came out of nowhere. I linked up with Samantha Bennington, Chester's ex-wife and his son, Draven Bennington, and was checking out his music. I was invited to Jeff Bass's studio, and we were going through his work. We want to work with a mentor and build with him. I'm going to be back to Detroit next month to work on some stuff with him as well. And it was just super dope catching up with Jeff Bass.
In the studio with @linkinpark lead singer Chester Bennington's son Draven & Jeff Bass, producer of Oscar-winning song "Lose Yourself" by Eminem. pic.twitter.com/MpmaXc0iD2

— LAZARUS / Dr. Khan (@LazDetroit) August 4, 2023
Meanwhile, Eminem just introduced another young talent, Ez Mil, and hopped on a track with Mil to give his newest signee as much exposure as possible. What is Lazarus's opinion on the "Realest" track and a new Shady Records artist?
I thought it was phenomenal. Great new talent, Ez Mil. He lives out here in Las Vegas; he's a dope young artist. I like his ability to be multilingual. I think that it's very important going forward for MCs to be able to do that. And also to be able to have the vocalisation, the singing. It's always cool to mix all these different elements together in your vocals, and that's something he's definitely got. Eminem just destroyed that track. It's been a long time since we heard a verse from him. I love how he addresses the haters.
After all those years on stage and in the industry, if there are goals left, any dreams that are yet to come true? Yes, there are, and they look much more ambitious than you might expect.
The big goal I want to hit is to continue to make an impact and be able to continue making songs. The way the "Pale Blue Dot" was able to take hip hop into the astronomy realm, I want to be able to take hip hop and lyricism into different areas where people would not expect it to go. That's the niche I want to hit and start making an impact with this. Talking about important subjects, important topics using hip hop as a vehicle to do that, even teaching seminars and classes. One thing that I do is I take medical concepts and topics and figure out ways to give lectures to people in classrooms, to teach using the art of rhyme. I want to make that more of a popular thing. That's definitely a big goal of mine. Obviously, there are still some artists out there that I can't wait to collaborate with. Obviously, one of them would be Eminem. I think that's the dream collaboration. That'll be the day people will never forget.
So, the interview is coming to its end, and it is time to ask a dreaded question about a personal hip hop Top 5. It is always tricky for an artist to answer, but the audience is always curious about this one.
My top five… It's hard for me to put them all in a sequence, but right now, I think that Eminem and Nas are undeniably at the top. They have to be at the top of the list because they hold the most relevancy and longevity in hip hop. I love the Kendricks, and the Coles, and stuff. But when you zoom out and look at the longevity factor, at the amount of impact and influence — those two to me are unbelievable. The way that they've been able to have the longevity, to maintain relevancy from when they started, when they came out in the scene till now, is just beautiful. Every time Em's verse comes out, or anytime Nas's album or verse comes out, these guys are still talking about what's happening in 2023. It's now. They're not stuck in their old generation. For example, Melle Mel just came out with that record, and it sounds like he's still stuck in the LA time zone. By the ability to adjust and adapt to the modern day and still maintain your technical abilities, those two MCs are definitely at the top of the list. Then, my personal favourite that got me to write and rap is the GZA from the Wu-Tang Clan. For me to have a first-hand experience of touring with him personally on his own tours and touring with the Wu-Tang, and then to have him as a personal mentor, giving me advice on my music, that's beyond imagination. Tupac and Biggie —forever, legends. You can't ever take anything away from that. They've passed away since the 90s, and people still play their albums just as much as they play the new artists' albums, which is unbelievable.

I'll put on music from Kendrick, Drake, or these guys. And then I'm like, yo, let me put Tupack back on. He hasn't been making music in decades, you know. I put on "All Eyez on Me" and still feel like it's a song that just came out.
Time has changed a lot, that's true. Being one of the artists who came out in the early 2000s, does Lazarus see the difference between now and then, especially for young and coming artists?
Big, huge difference. The game is completely different than what it used to be. Before you're signed to a record label, and the record label has the ability to put you on platforms like MTV, radio stations, etc. Whereas now, because of social media, YouTube and stuff, a lot of the artists are really making headway. They're just doing it on their own, with their own audience and platforms. They don't necessarily need the major labels' support anymore, as they needed it before. Tech N9ne, who's also another friend of mine, I think he's the biggest independent hip hop artist in the world. He always gives me advice on this matter, too, preaching the same thing. Like, you don't need a label; you could do this on your own. You gotta build your own empire, build your own team, and know how to market your own music. That's something very new in this new generation of music. You have the abilities now to do this on your own, blow your music up and get it popular, get it out there and popping. The disadvantage of it is there's so much competition because everyone's doing this. So, you're going to end up in a bigger city of artists that you're competing with.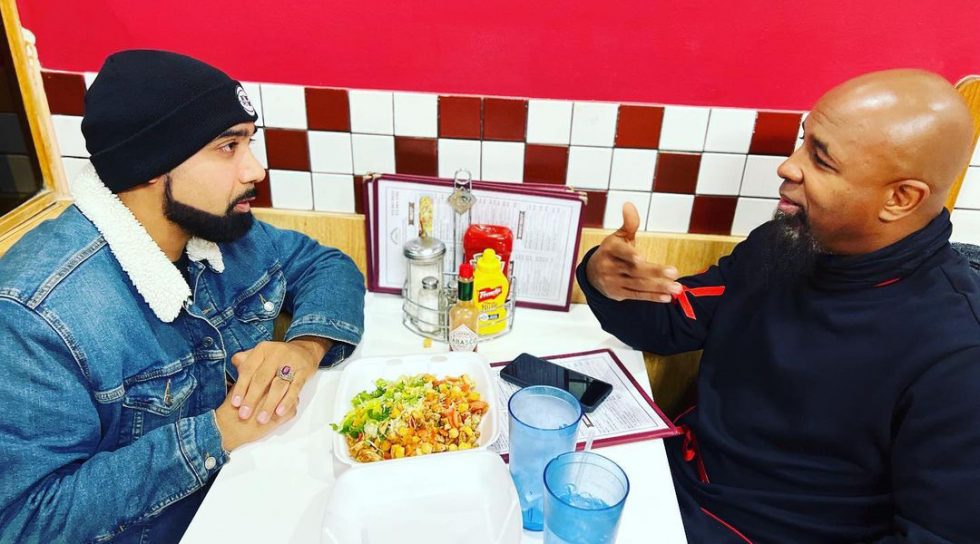 Looks like Lazarus has followed Tech N9ne's advice. He is an independent artist with his own label, which he also uses to develop younger talents. It is not about profit. This enterprise is about the agency, showcasing rappers' skills and letting music flow.
Laz Army Records has been a thing since 2017. I'm building it, and I'm building my record label. I signed a kid from Pakistan. He's a 13-year-old kid now; he was 11 when I signed him. Phenomenal talent. He raps in the Urdu language, building a huge buzz overseas. I want to be able to utilise my platform. As it gets bigger over time, I want to be able to showcase talent from different areas of the world. At the end of it all, the underlying theme is to show that hip hop truly brings people from all walks of life together.
Bringing different people, ideas, and worlds together is precisely what Lazarus does as an artist, medical doctor, and educator. His new project will deliver the same idea, no doubt. Still untitled and unfinalised, it is so tightly embedded in Laz's conceptual body of work that you can be certain of it. All more reasons to be excited about it and wait till the lead single produced by Mr. Porter will give us more food for thought.
Thanks:
guest – Lazarus aka Dr. Khan
mic – Danny McFarlane, Blake Lomas, Ross Eames
text – NK
host – Igor Basenko
You can listen to the interview on the podcast below: