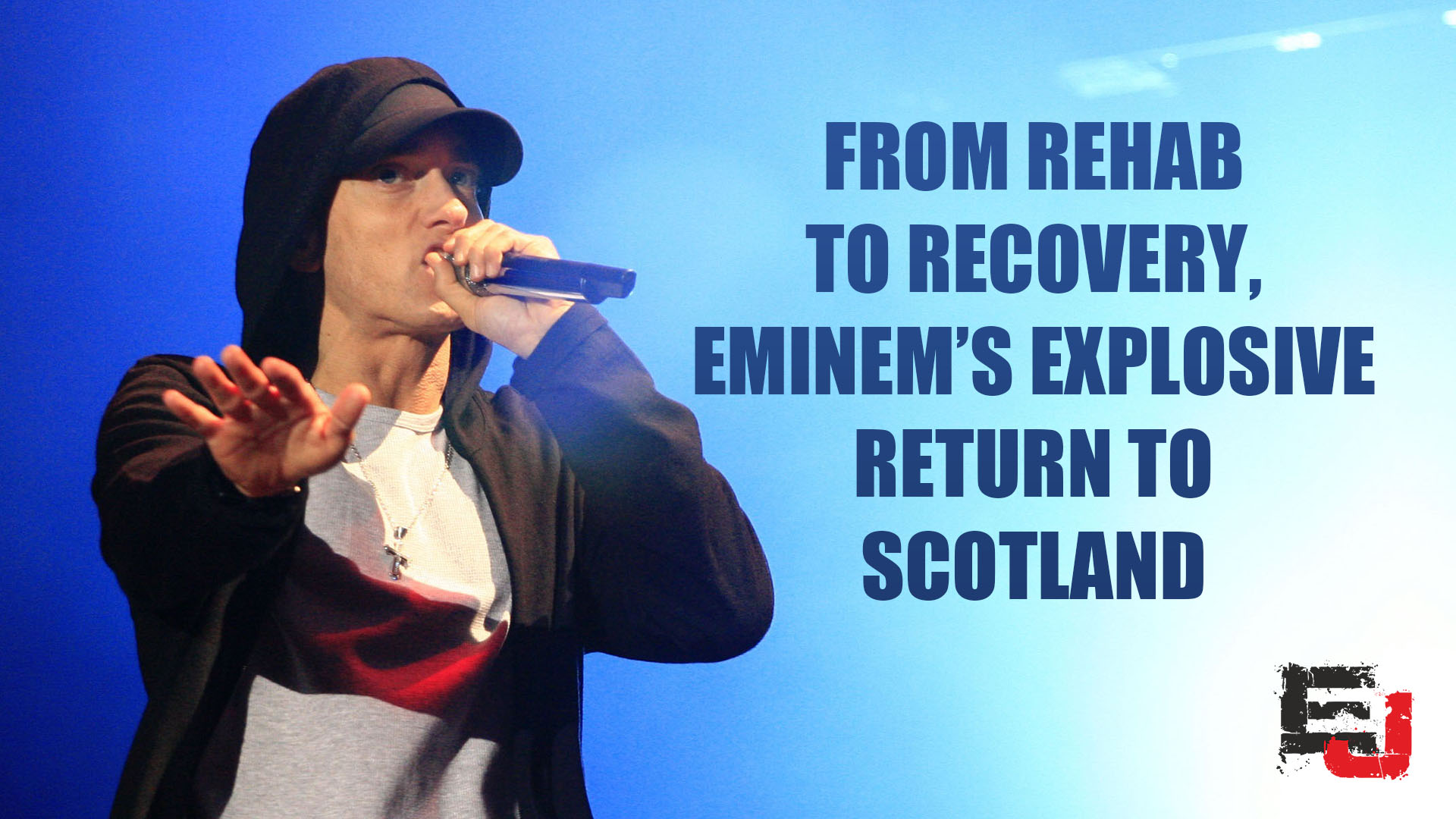 Read an editorial by Danny McFarlane written for Recovery's 10th anniversary for the 37th issue of EJ magazine.
It was one of the most anticipated shows in the festivals 16 year history back in July of 2010. Eminem had made his comeback to the big stage. After doing a few small gigs during The Relapse tour back in the states, Scotland was the second show of The Recovery Tour and a full capacity crowd of over 80,000 was waiting with anticipation. It was Eminem's first U.K show since November 2004 and his first Scotland show since he headlined Glasgow's Hampden Park for The Anger Management Tour back in 2003.
The Detroit MC had been due to take the main stage at Balado around 9pm local time. However moments before at least four green laser's appeared on stage. Unknown to fans, T in the Park bosses called in security teams to hunt for the gang of laser pen maniacs who had targeted the rapper. Security at the festival spent well over 40 minutes trying to find those responsible and eventually the culprits where found and taken away.
With all this going on behind the scenes the 80,000 strong crowd was getting pretty restless, with many minor stampedes happening in and around the venue. It was clear the area was overpacked and perhaps even more than the official 80,000 strong crowd. Police and security did try and help many of those in the crowd and thankfully by around 9:45pm it had all calmed down and Eminem took to the stage while the congestion of the crowd slowly eased out.
Backed up with DJ Alchemist, hype man & buddy Mr Porter and a full live band, Em opened with Recovery track and P!NK feature "Won't Back Down" playing over 29 songs and medleys from throughout his career including old hits "The Real Slim Shady", debut major label single "My Name Is" and "The Way I Am". Wearing a navy hoody & shorts, white T-Shirt and a Kangol cap he performed "3am", "Square Dance", "W.T.P" and "Kill You". Em shouted "Free Weezy" before playing his collaboration song "No Love" — although Lil Wayne couldn't be present at that time, after being incarcerated in New York for gun charges. D12 then joined him on stage. The group had also played earlier in the day at the festival performing tracks from "Devils Night" & "D12 World". They joined Em and performed "Purple Pills", "When The Music Stops", "Fight Music", "Under The Influence" and "My Band" in which he dedicated and gave a salute and shoutout to Proof.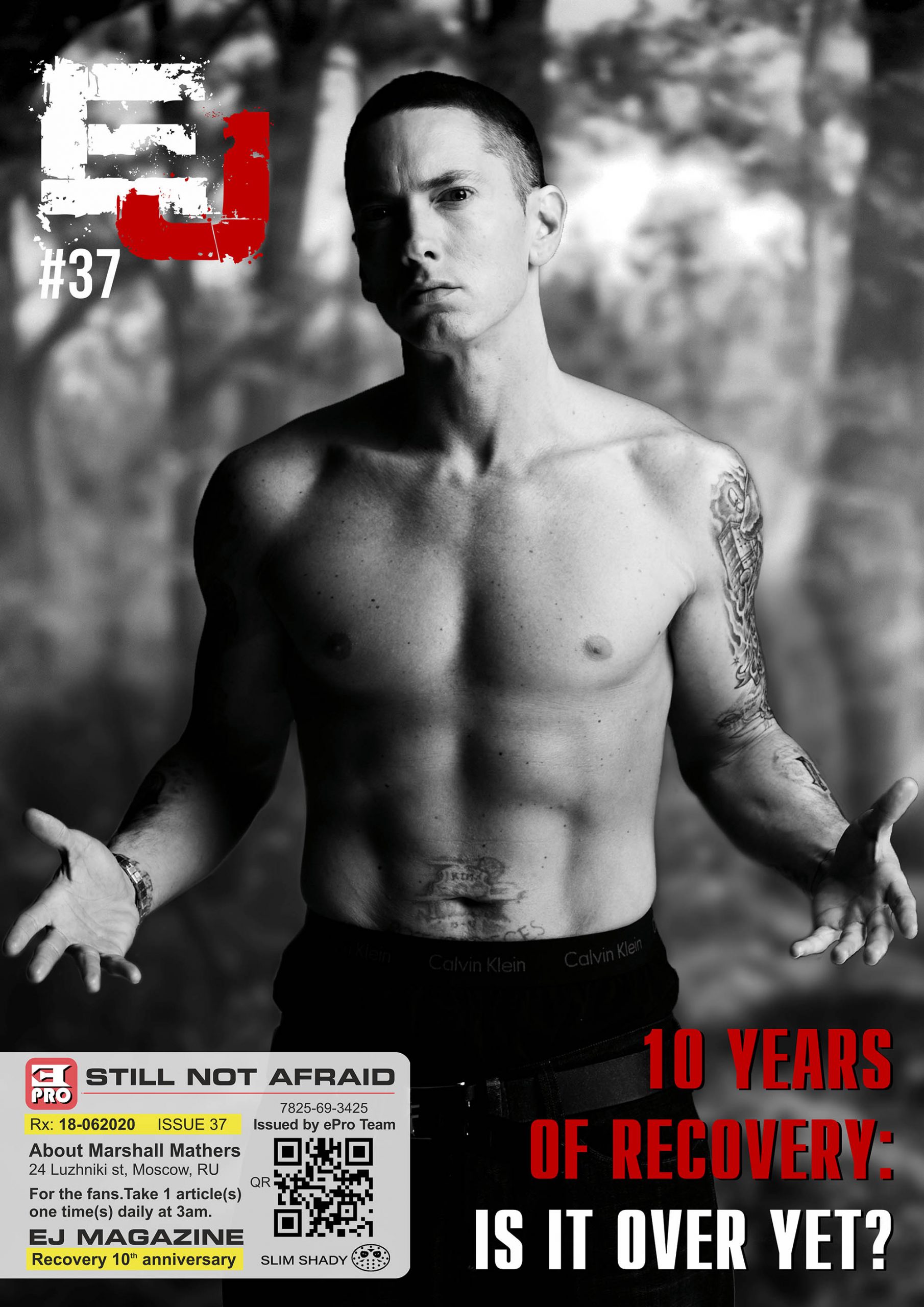 Download EJ (FREE!): PDF
Support us: Facebook / Instagram / Twitter / YouTube / Reddit / Reddit Sub
Followed by that was 'Stan' which became a massive sing a long with the crowd and then "Love The Way You Lie" which Em dedicated to "Anyone that's been in a fucked up relationship". He later acknowledged the weather, saying: "I know it's muddy and sloppy and shit but this is fucking fun," before thanking the crowd for being supportive of him during the past few years. "Everybody who's an Eminem fan, I just wanna say thank you so much for the support you've shown over the years, for not giving up on me," he said. "I hope you enjoyed the show as much as we did tonight. Peace."
He encored with 8 Mile and Grammy winning anthem "Lose Yourself", making hand movements and jumping in time with riffs played by his band to close the second night of T In The Park.
The show is now regarded as one of Eminem's best ever shows in Scotland, since that night in 2010 he has returned a further two times. Both of them in Glasgow. He headlined The Glasgow Summer Sessions in 2013 & 2017.
SET LIST FROM T IN THE PARK:
'Won't Back Down'
'3am'
'Square Dance'
'W.T.P.' 'Kill You'
'No Love' 'So Bad'
'Cleanin' Out My Closet'
'The Way I Am'
'When The Music Stops'
'Under The Influence'
'Fight Music'
'Purple Pills'
'My Band' '
Airplanes'
'Stan'
'Sing For The Moment'
'Like Toy Soldiers'
'Smack That'
'Til I Collapse'
'Cinderella Man'
'Beautiful'
'Love The Way You Lie'
'Crack A Bottle'
'My Name Is'
'The Real Slim Shady'
'Without Me'
'Not Afraid'
'Lose Yourself'