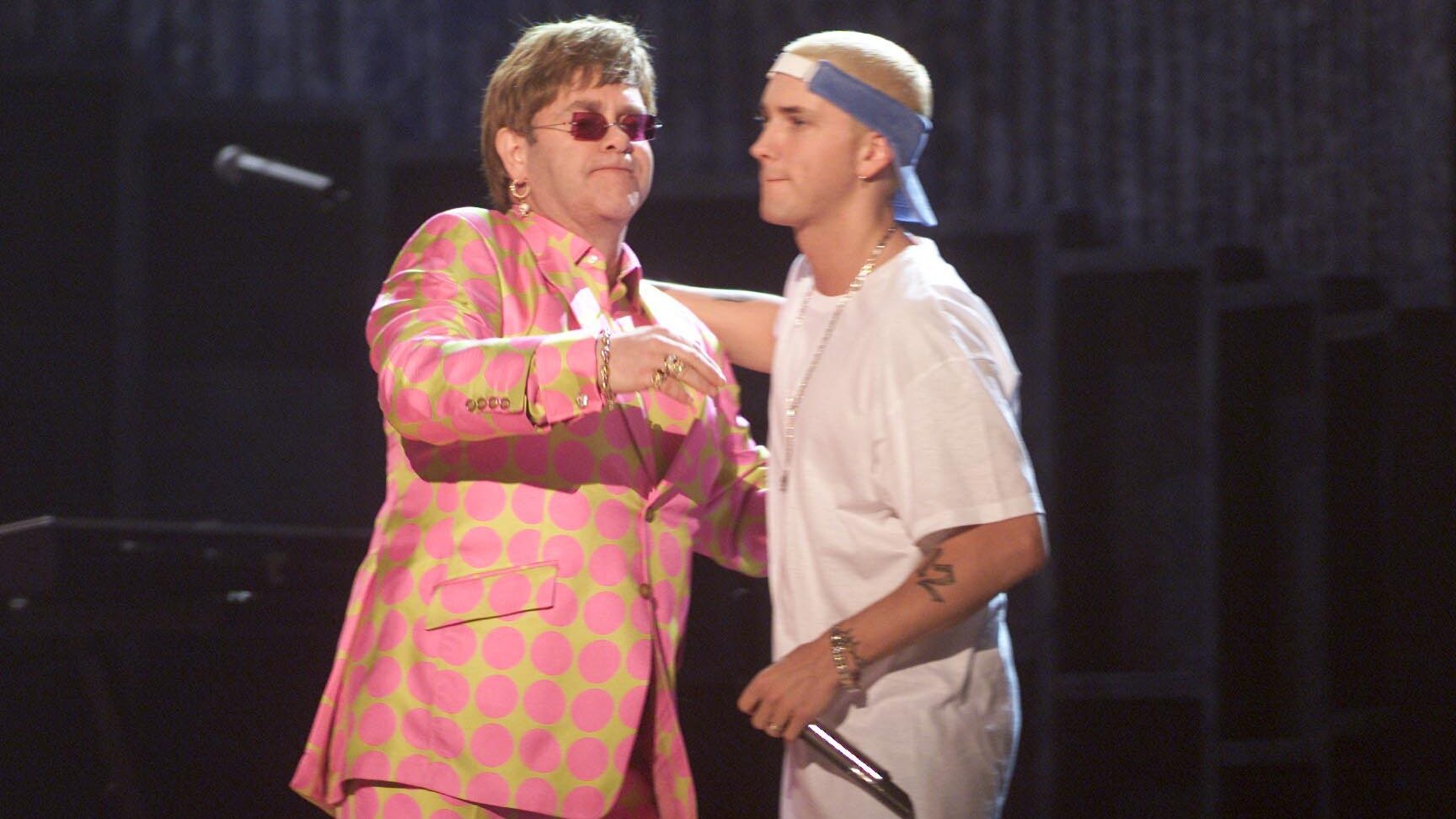 Every year around the Grammys ceremony time, media runs a story that long-serving and now former Grammy producer Ken Ehrlich shares with them. This year it is the retelling of an unforgettable "Stan" performance with Elton John in 2001.
Yahoo Entertainment made a hefty visualiser to introduce the first-hand account from Ken Ehrlich. The veteran producer shared that while understanding the risk of having Marshall on air, they wanted him on the stage anywhere, there was no artist more magnetic than him at the time:
I produced the show, so a lot of it was my decision. We wanted him, there wasn't any question. Granted he was — I don't want to even use the word controversial. He was an extremely unique artist who was not hesitant about expressing his point of view. And by the way, some of that point of view was pointed at the Grammys.
Elrich subtly implied that the idea to invite Elton John to the stage came from the Grammys, despite the widely known fact that Eminem suggested this particular pairing as the most improbable, without actually believing that it would happen. This is the producer's opinion:
Well, I don't want to rewrite history if he says that that's fine. It's not exactly the way I remember it. But, you know, great ideas have many fathers.
I remember getting a call. It might have been someone at the label, it might've been someone from [Eminem's team], but I think we had already been thinking about it, just not necessarily in those terms. We were looking for a duet partner because they had expressed to us that he was interested in performing with another artist. As soon as we got the message to Elton that we were interested, he sparked to it. He said, "This is exactly the kind of thing that I want to do. I want to break down these barriers. If [Eminem's] OK with it and he wants to do it. I'd love to do it".
The actual chemistry between the artists on stage was undeniable, admits Elrich:
It was a word I don't often use. It was palpable. You could see that they were both big fans of each other's. I believe it was Marshall's concept as to how to integrate Elton into it. It was Eminem's moment. So what I didn't want to do, and by the way, neither did Elton, was to step on that. So Elton was in the background. That was the way he wanted it. He didn't want to take the spotlight away from what Marshall was doing. It worked out for everybody.
Their duet was electric and remained one of the most memorable Grammys performances in history. And it was sealed with a hug, remembers the producer:
It was the picture that went around the world, where the two of them got up, Elton left the piano, came centerstage and they did this really remarkable and really emotional embrace. I'm a big fan of artists embracing when we do these moments, so maybe I mentioned it, maybe it was spontaneous. They obviously — they really did like each other and it really led to a continued friendship from that day on.
That night Eminem lost to Steely Dan in the Album of the Year category. But it is his performance that lives in history.