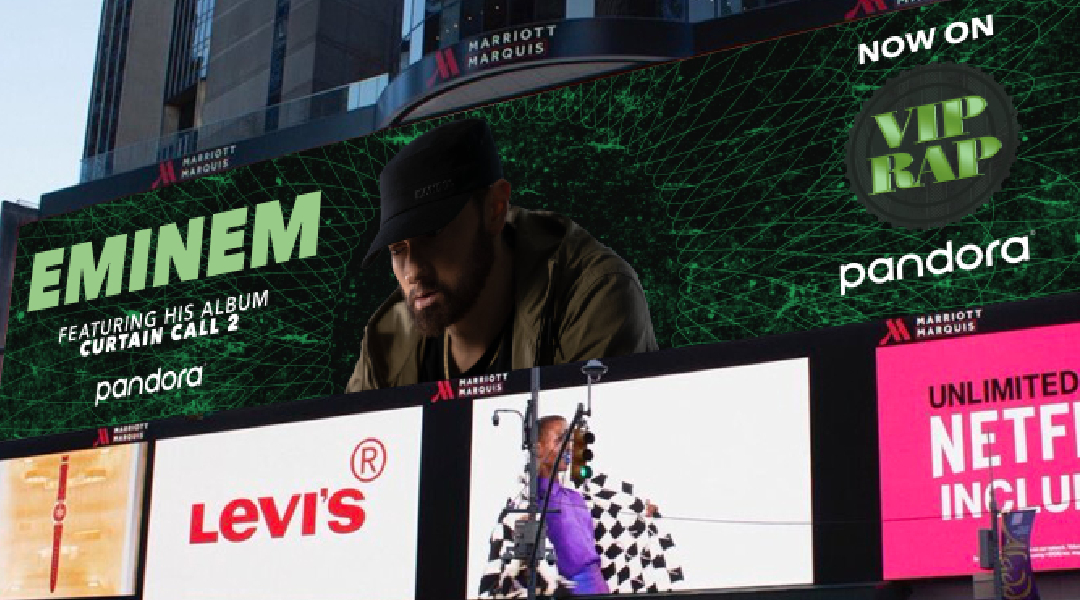 Pandora added freshly released Em's collaboration with 50 Cent to its rap playlist, and a billboard went up at the iconic New York location.
Shady Records proudly reported about it on the official social Twitter account, sharing a photo of Eminem dominating Times Square.
#CC2 🔥 @Eminem and @50cent's #IsThisLove '09 now on @pandoramusic's VIP Rap – https://t.co/KzJ5xcMSx7 #PandoraMusic pic.twitter.com/uJEZg4fT8i

— Shady Records, Inc. (@ShadyRecords) August 8, 2022
Pandora, meanwhile, lists "Is This Love ('09)" by Em and Fifty at No.2 on their Top 10.
Pandora is indeed one of the veterans of the online music market. However, it has not held a leading position for a long time. The service has about 55 million monthly users, which is less than Eminem's following on Spotify alone. Hopefully, Em's management team secured him a good promo on Spotify as well, it would certainly give his project a better reach.
Apple Music has already added "Is This Love ('09)" to the "It's Lit" playlist.
#IsThisLove '09 @eminem & @50cent – https://t.co/MwG4rWV09c #CC2 @applemusic #ItsLit! pic.twitter.com/pojBaFOoqV

— Shady Records, Inc. (@ShadyRecords) August 8, 2022
Listen to "Curtain Call 2" below: